French Immersion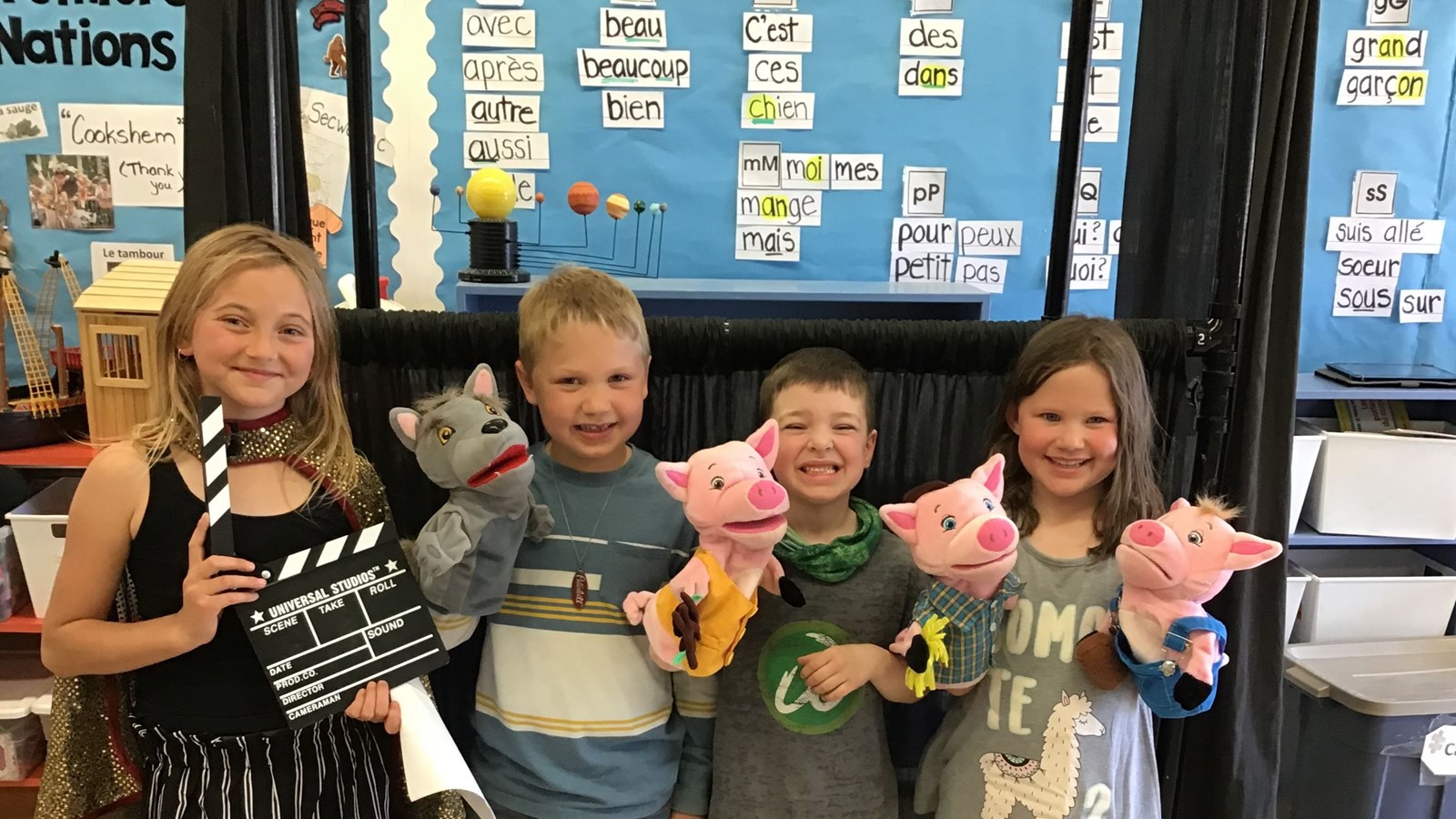 Early French immersion are programs intended for non-French speaking students who wish to develop a high level of proficiency in both official languages. Students enrolled in French Immersion study the same BC curriculum as students in the English language program. The major distinction between the English language program and French Immersion is that the language of instruction and communication in the immersion component is French. French Immersion is a program that can offer your child:
A fun, effective and challenging way to learn French at an early age
The opportunity to learn the same curriculum as the regular English program but in French
An opportunity to participate in rich French cultural learning experiences
A bilingual future


The Cariboo-Chilcotin School District offers immersion options for residents of 100 Mile House and Williams Lake.
Early French Immersion
Generally:
The BC curriculum is instructed in French from Kindergarten to the end of Grade 3.
From Grades 4-7, 50-80% of the BC curriculum is taught in French.
From Grades 8-10, 50% of the BC curriculum is taught in French.
In Grade 11, 25% of the curriculum is taught in French.
In Grade 12, at least 12.5% of the curriculum is taught in French.


Although research has demonstrated that French Immersion is an educational model with universal application, many parents have questions before enrolling their children into the program.
What can I do to help my child if I don't speak French?
The majority of French Immersion parents don't speak French but you can still do a lot to support your child in French Immersion. Here's how:
Concentrate on enriching your child's first language. Read aloud to your child every day in the dominant language of your home. This will develop your child's knowledge and vocabulary, as well as instilling an all important love of language and literature.
By fostering a love of books and by motivating your child to seek out books independently, you will lay the groundwork for life-long learning in French, English or any other language. It is critical that your child's mother tongue be as rich as possible and you have the ability to develop it at home.
Demonstrate an ongoing interest, participation, and commitment to your child's education.
Contact the local chapter of Canadian Parents for French in your French Immersion school for ideas on how to seek out ways of reinforcing your child's learning of French outside of school.


Related Web Pages
Will my child's English skills suffer, if they don't receive any formal English instruction before Grade 4?
Research shows that sometime between Grades 4 and 6, Early French Immersion students from English speaking homes catch up to (and sometimes surpass) the level of English skills of their regular program counterparts. French Immersion students who have English as a second language may or may not need somewhat longer to attain English skills at grade level.
What if my child already speaks two languages?
At least one of these languages must be properly developed for his/her age in order to provide a solid base from which to learn a third language (French). For many learners, learning a second language facilitates the learning of a third.
What if my child has difficulty in his/her mother tongue?
Research clearly indicates that a well-developed mother tongue is essential to learning a second language. The more fluent a child is in his/her own language, the easier it is to learn another. Simple articulation difficulties however, rarely impair a child's ability to learn another language. If in doubt, consult the Principal or Speech and Language specialist at the French Immersion school you are considering.
French Immersion Schools in the Cariboo-Chilcotin School District
Nesika Elementary School
1180 Moon Avenue Williams Lake, BC V2G 4A6
Grades K – 6
T: (250) 398-7192
F: (250) 398-8530
Lake City Secondary School
640 Carson Drive Williams Lake, BC V2G 1T3
Grades 7 – 12
T: (250) 392-6284
F: (250) 392-3362
100 Mile Elementary School
PO Box 460 100 Mile House, BC V0K 2E0
Grades K – 7
T: (250) 395-2258
F: (250) 395-3621
Peter Skene Ogden Secondary School
PO Box 910 100 Mile House, BC V0K 2E0
Grades 8 – 12
T: (250) 395-2461
F: (250) 395-2649
For additional information on French Immersion programs, please contact,
Anita Richardson
Director of Instruction
350 North Second Avenue
Williams Lake, BC V2G 1Z9
E: anita.richardson@sd27.bc.ca
T: (250) 398-3800
F: (250) 392-3600