First Nations Education Council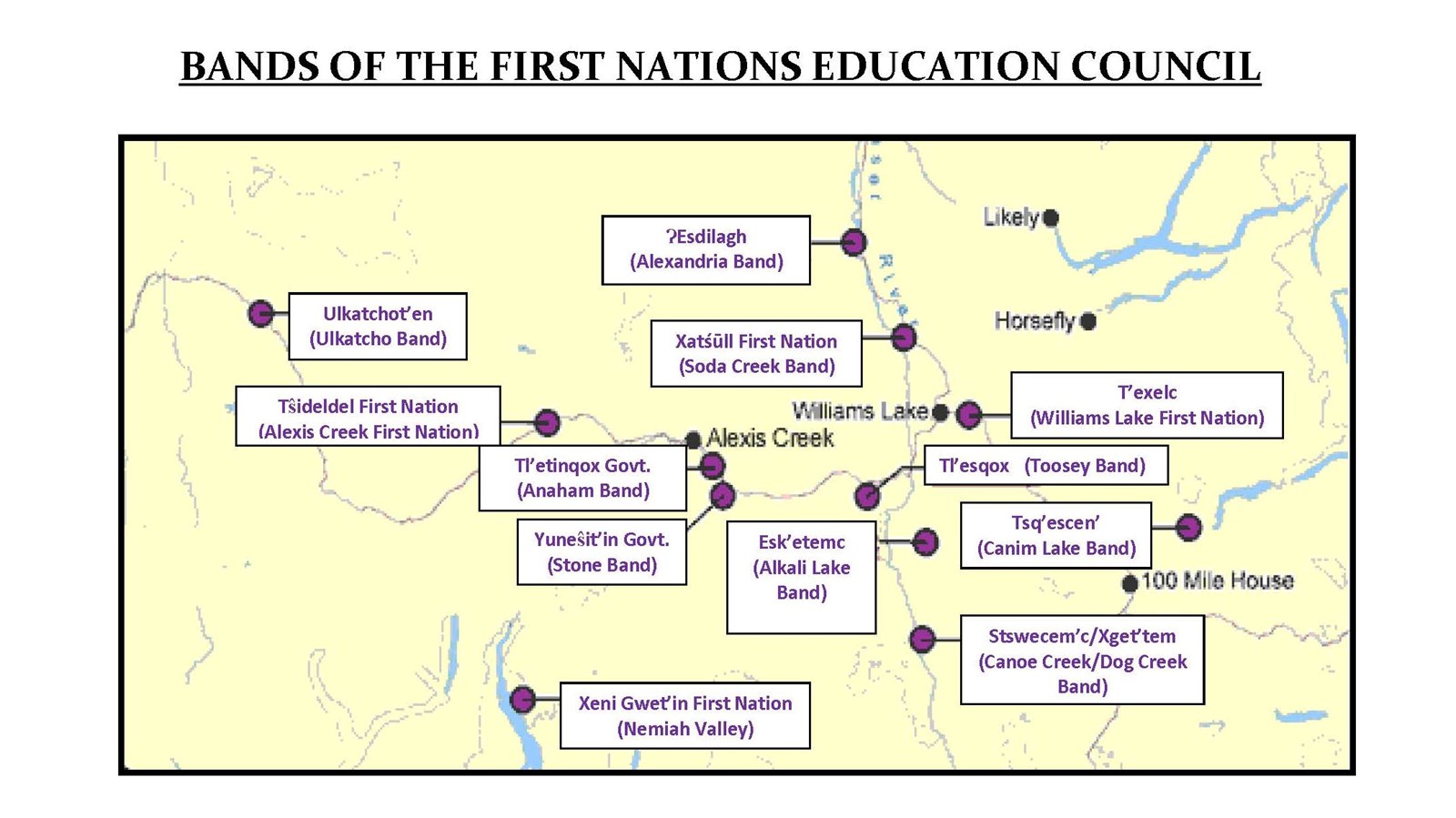 The purpose of the First Nations Education Council is to advise the Board on all First Nations issues and to work with the Board to allocate First Nations targeted funding. It is understood that the Council and the Board must each approve programs and expenditures of funds from the First Nations targeted funding.
Membership consists of one representative or one alternate from each of the twelve Bands (confirmed by Band Council Resolutions):
ʔEsdilagh (Alexandria Band)
Tŝideldel First Nation (Alexis Creek Band)
Tl'etinqox Govt. (Anaham Band)
Yuneŝit'in Government (Stone Band)
Tl'esqox (Toosey Band)
Xeni Gwet'in First Nation (Nemiah Valley)
Tsq'escen' (Canim Lake Band)
Stswecem'c/Xget'tem (Canoe Cree/Dog Creek Band)
Esk'etemc First Nation (Alkali Lake)
Xats'ull (Soda Creek First Nations)
T'exelc (Williams Lake First Nation)
Ulkatchot'en (Ulkatcho First Nation)
One representative or one alternate from the Cariboo Chilcotin Métis Association
One representative or one alternate from the Cariboo Friendship Society
Two Trustees appointed by the Board Chair
One representative from the CCTA (Cariboo-Chilcotin Teachers' Association)
One representative from the CCPVPA (Cariboo-Chilcotin Principals' and Vice-Principals' Association
One representative from IUOE (International Union of Operating Engineers)
One representative from DPAC (District Parent Advisory Council)
Superintendent of Schools
Assistant Superintendent of Schools
District Principal, First Nations Education
Secretary, Indigenous Education Department (non-voting)
Meeting Dates:
Meetings will resume in the Fall TBA.