Place-Based Learning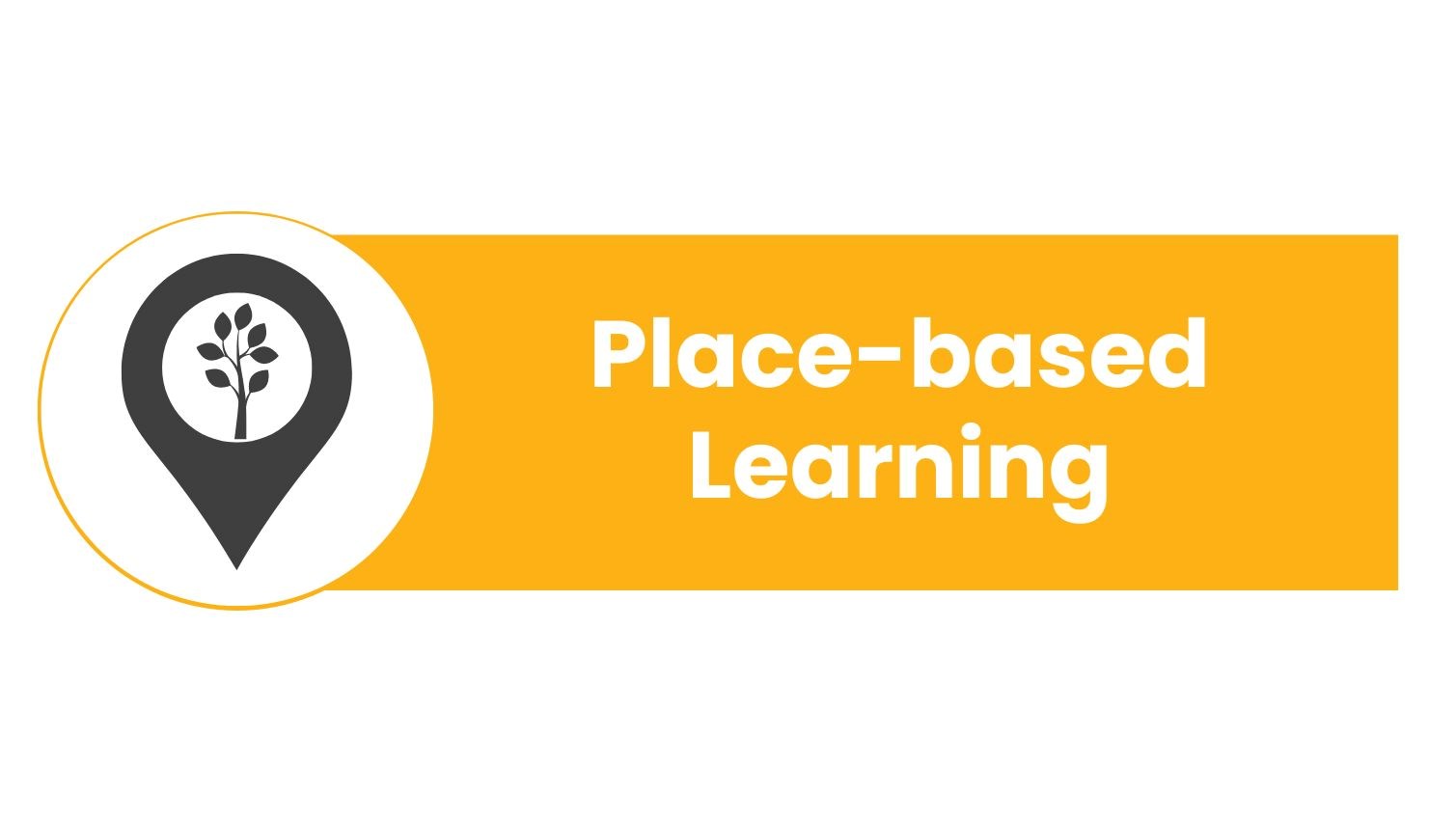 Place-based learning uses the local environment and community as the starting point for teaching the objectives of the curriculum. We will provide resources and create opportunities for cross-curricular learning on the land and in and around local communities while fostering relationships between school and community partners and members. Teachers will be expected and supported to take more learning outdoors for all the health and learning benefits that come with spending time outside and in nature. Some examples:
Outdoor learning structures at all schools
Investment in equipment for outdoor activities and learning
Ensuring all students have access to clothing, footwear for outdoor activities
Participation in the year-long Take Me Outside For Learning Challenge
Support for educator participation in learning opportunities to build capacity for outdoor learning (Cariboo-Chilcotin Teachers Association workshops and network, Environmental Education Provincial Specialist Association (EEPSA) partnerships, Open Learning Store webinars, Outdoor Council of Canada certification, other)
Relationships with community educators, organizations, and facilities to bring community educators into the classroom and students out into community settings
Independent Directed Study (IDS) framework to honour community and cultural learning with graduation program credits
Keep scrolling to see how our district has been demonstrating place-based learning over this past year!
---
Grade 6/7 trip to Vancouver
Forest Grove
Our students engaged in learning outside of the school environment by heading to an urban centre: Vancouver. Our trip included visits to UBC, the Vancouver Aquarium, and Science World.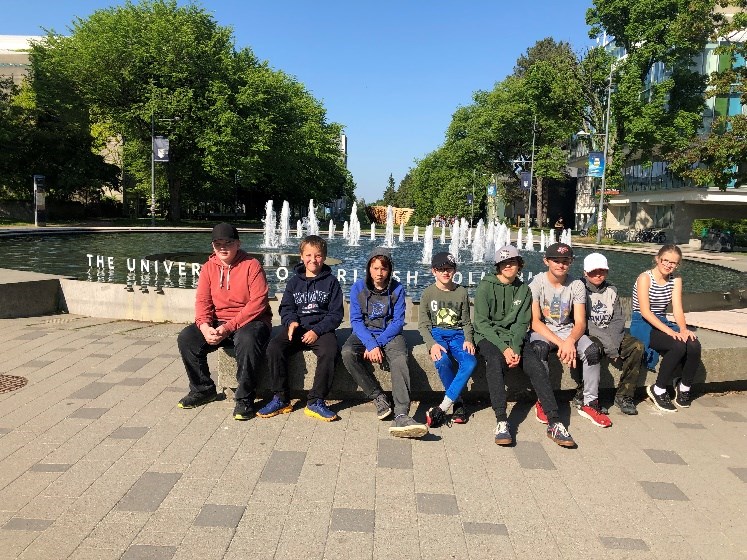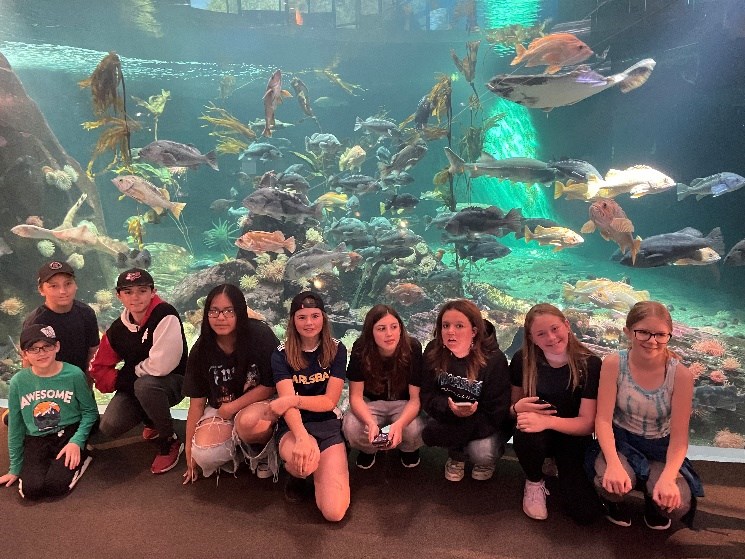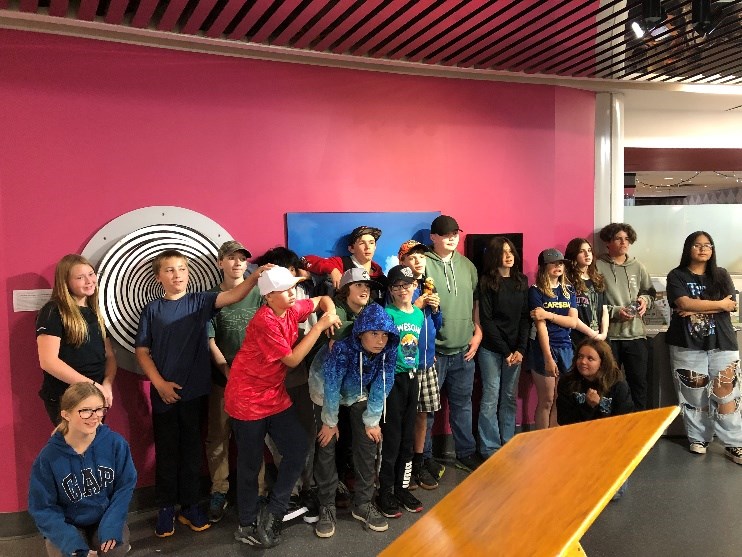 ---
---
Bike Rodeo Fun with Local Club
Chilcotin Road Elementary
Members of the Williams Lake bike club host a bike rodeo to celebrate Go By Bike week. Sarah Sigurdson just happened to whip up this sign to celebrate the week.
Thank you Gregg Gaylord for sharing.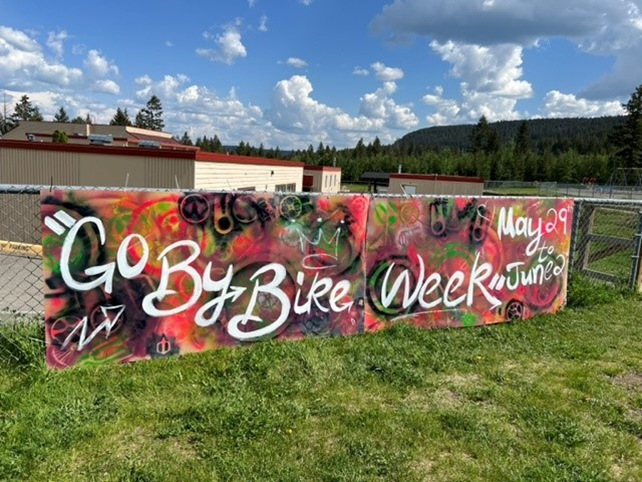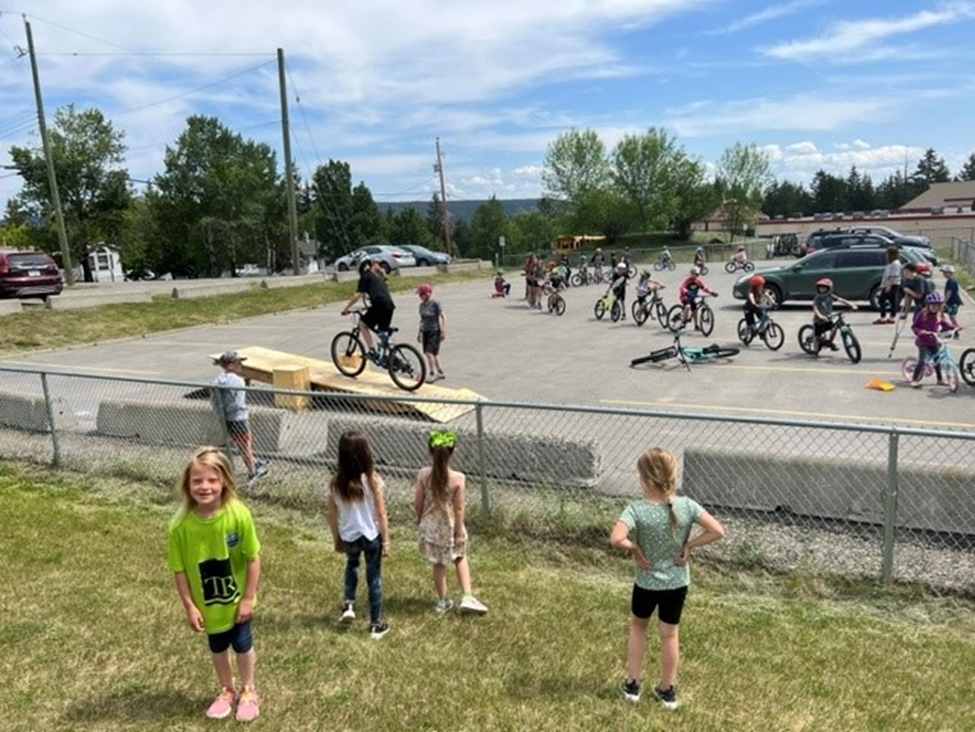 ---
Helping Local Fish
Chilcotin Road Elementary
Mrs. Goodliffe's grade 3/4 class celebrate helping local fish by painting storm drains in the Westridge area with yellow fish stencils.
Thank you Gregg Gaylord for sharing.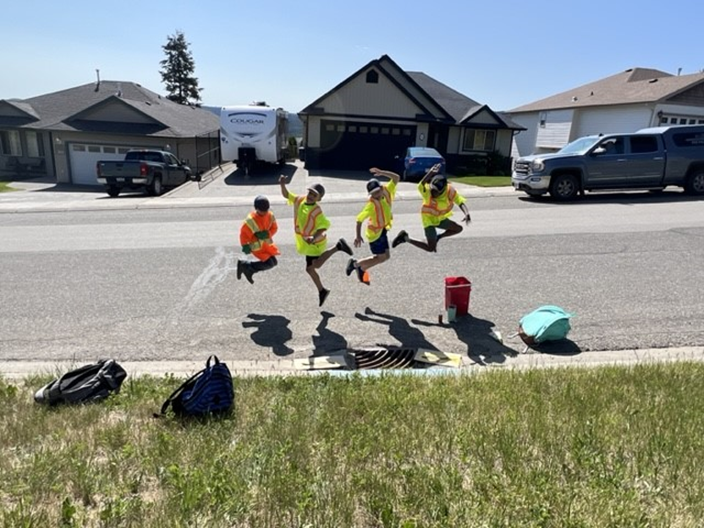 ---
Scout Island Grade 5/6 excursion with Miss Lauren
Chilcotin Road Elementary
While at Scout Island Nature Center there are lots of things to be seen.
Thank you Gregg Gaylord for sharing.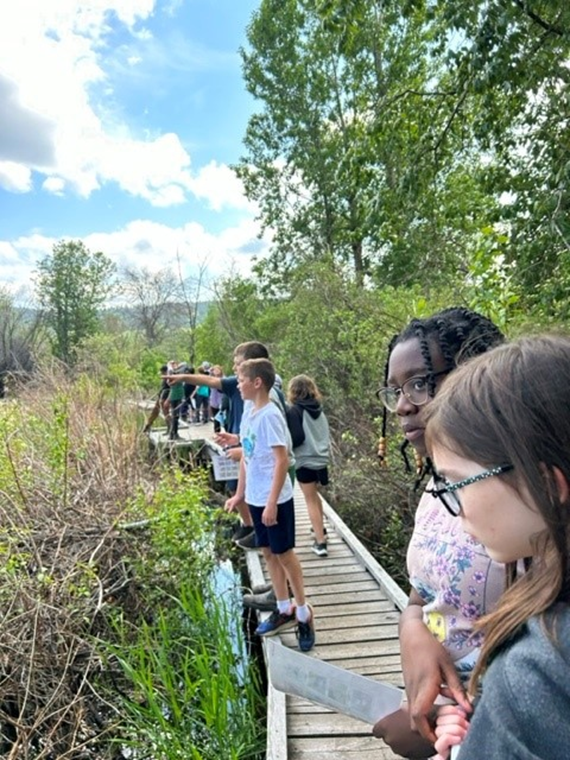 ---
Learning to Fish on Biffs Pond
Chilcotin Road Elementary
Mrs. MacDonald's grade 6 class enjoyed some fishful thinking and had some fun when they reeled one in.
Thank you Gregg Gaylord for sharing.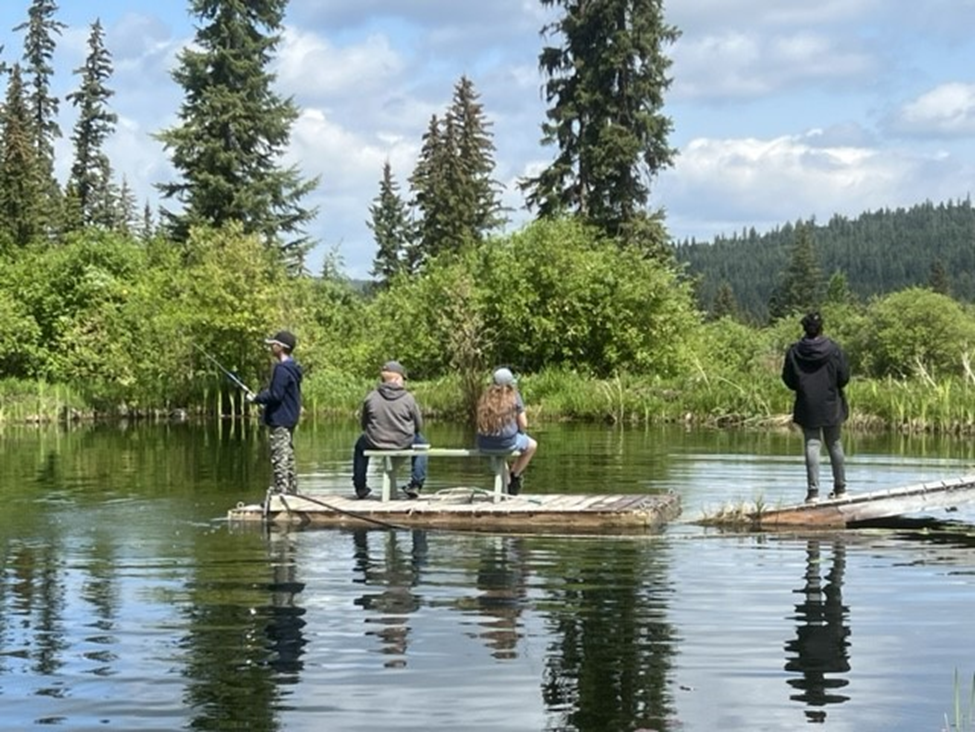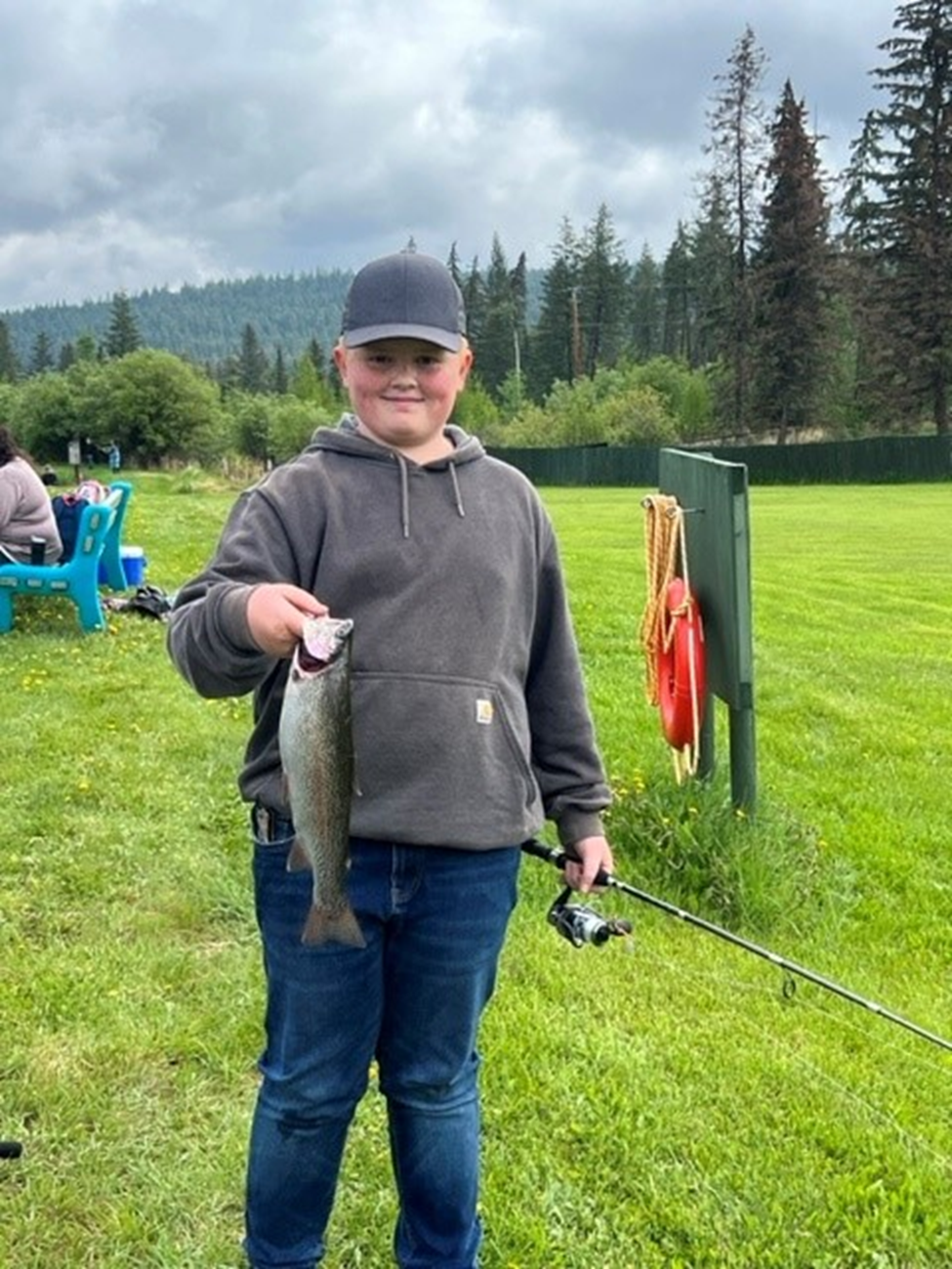 ---
Fitness for a View
Chilcotin Road Elementary
Mrs. Goodliffe's Grade 3/4 class hiked form Chilcotin Road to the repeater tower to learn along the way and get a fabulous view of Williams Lake before eating their lunch.
Thank you Gregg Gaylord for sharing.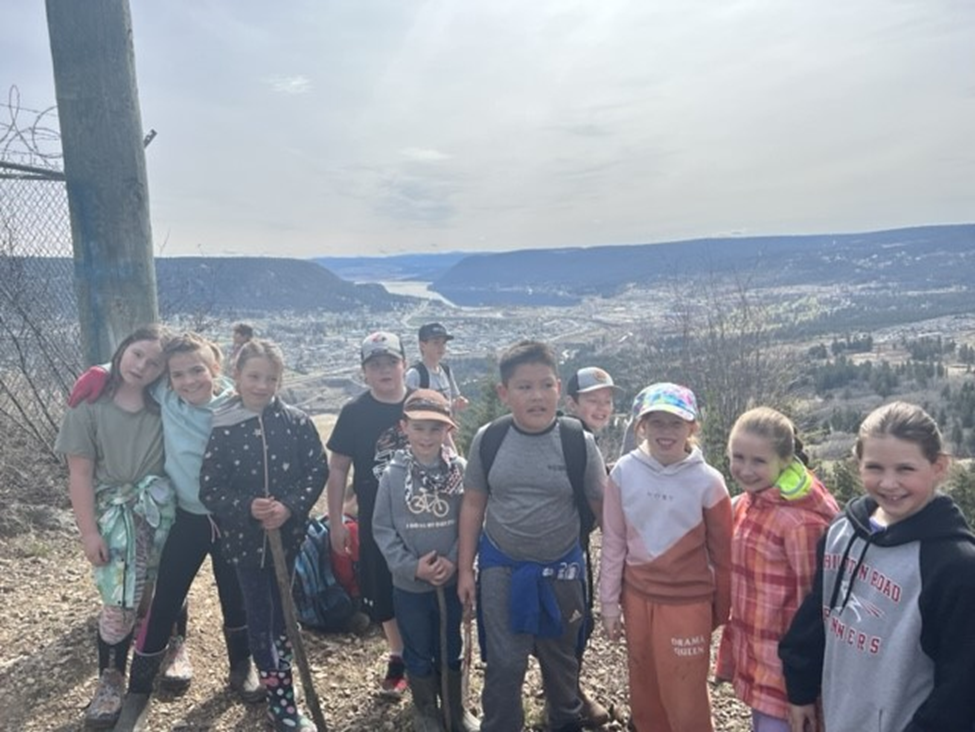 ---
Wild Schools: Project Learning Tree
Nesika Elementary
Staff and students at Nesika Elementary School had an opportunity to continue their commitment towards outdoor education, working with Martin Kruus (WildBC Facilitator), in partnership with the Wild Schools Program, to deliver and learn from the Project Learning Tree curriculum. This is year 3 for Nesika staff and students, participating in a three-year initiative for K-8 schools supporting outdoor and place-based learning through The Wild Schools program.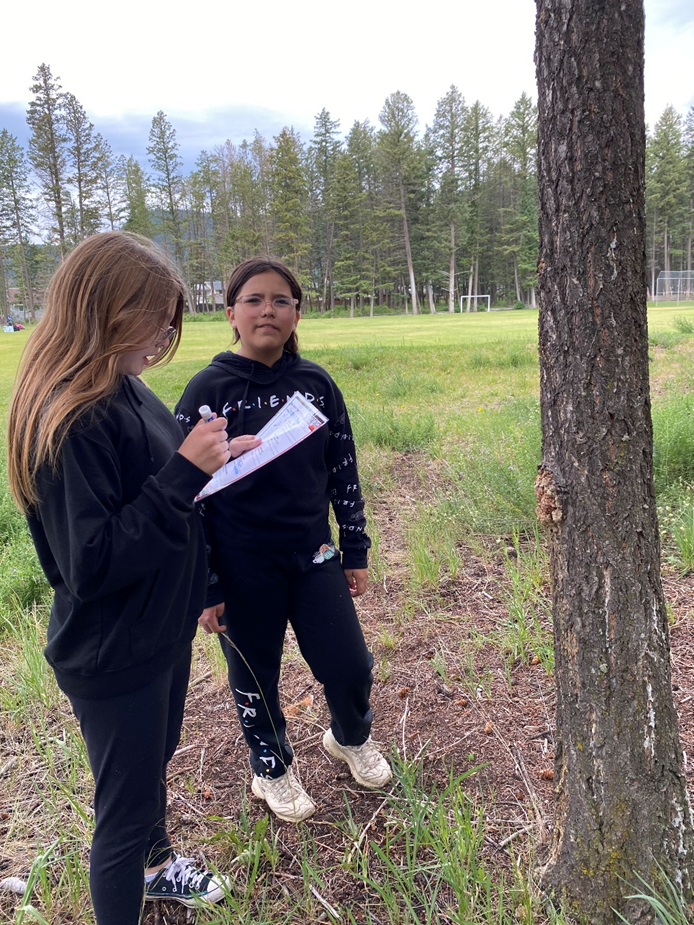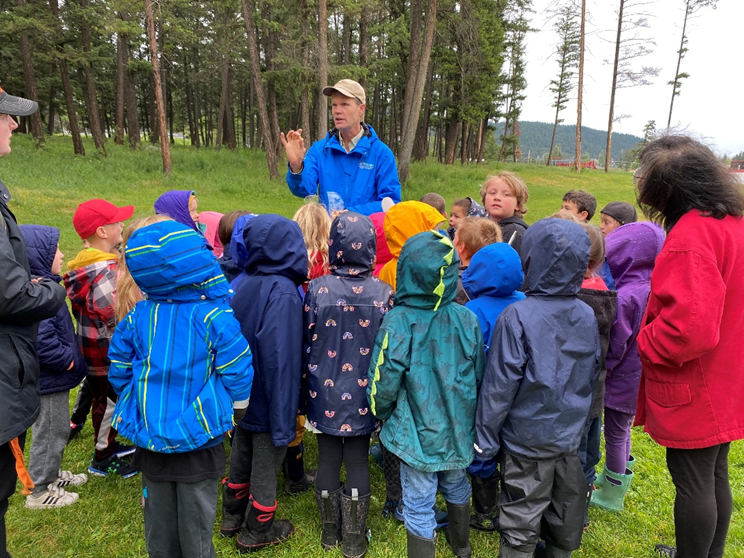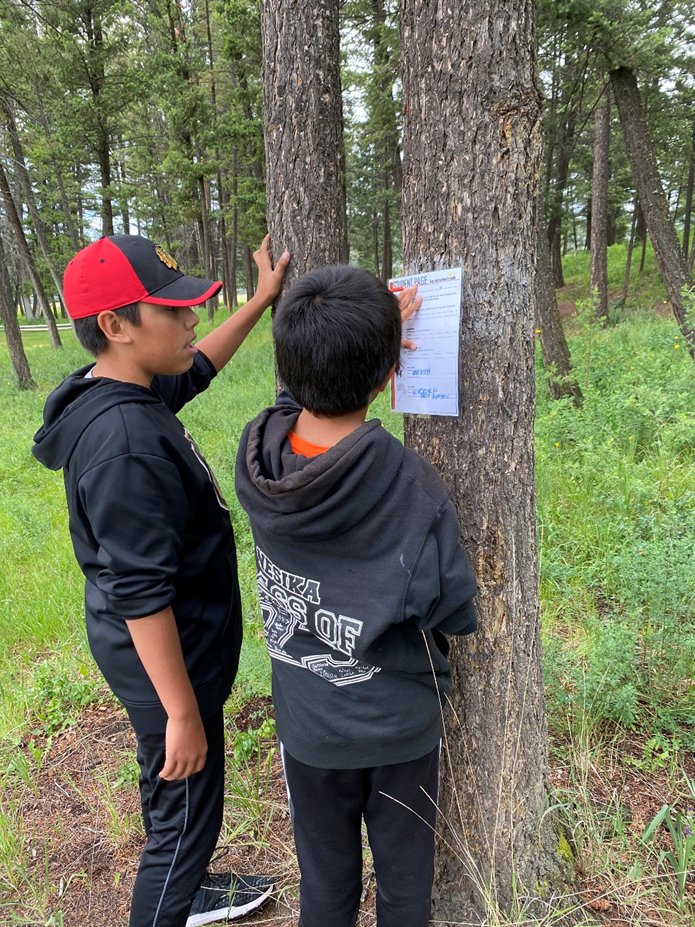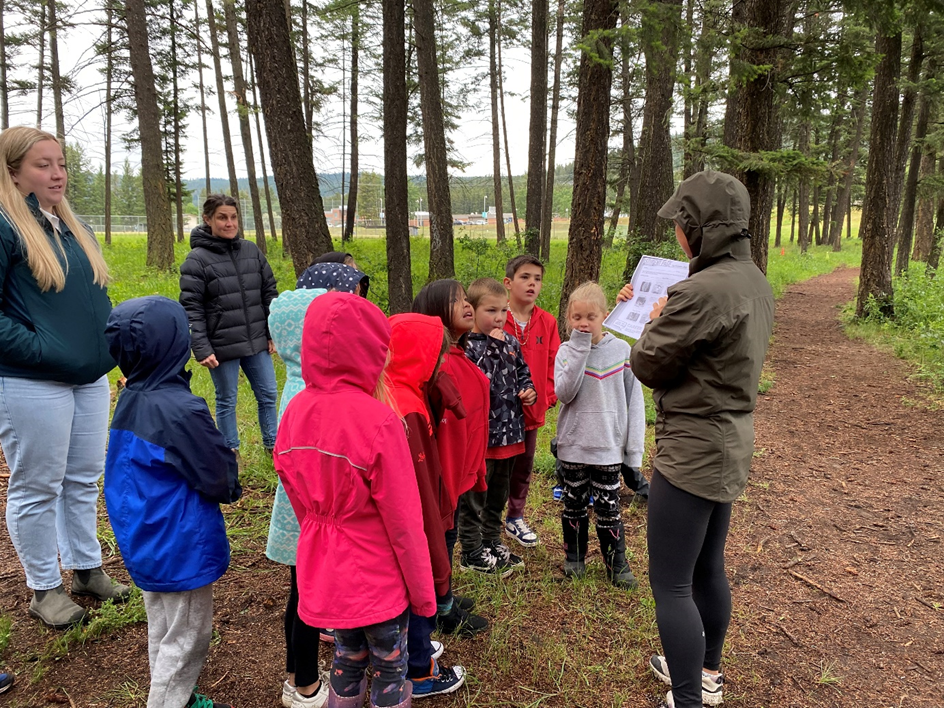 ---
Outdoor Learning
Nesika Elementary
Continuing with Nesika Elementary School's commitment to outdoor education and learning through the school garden, grade 5/6 students took to the grounds to participate in an autumn clean up in preparation for winter. This involved airing soil, turning compost, harvesting seeds, and protecting seasonal plants.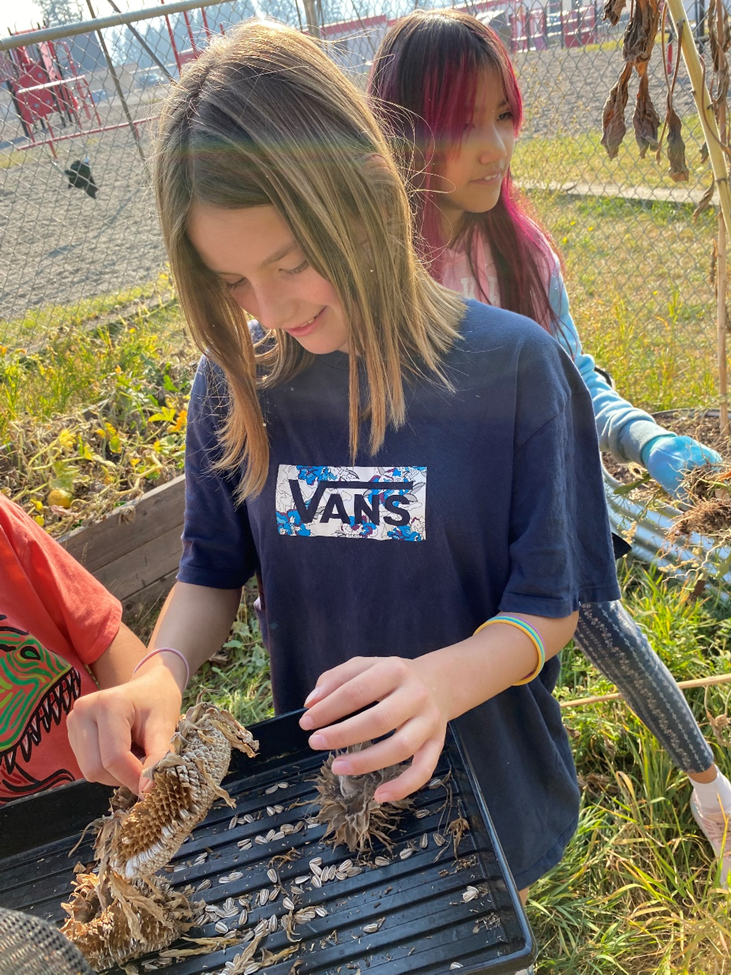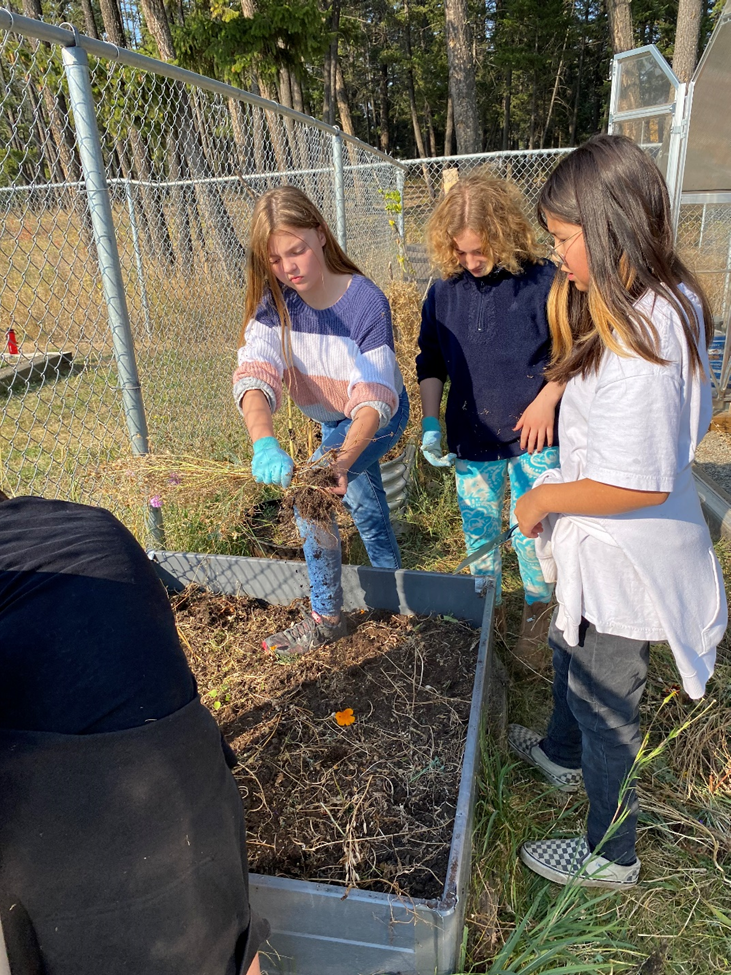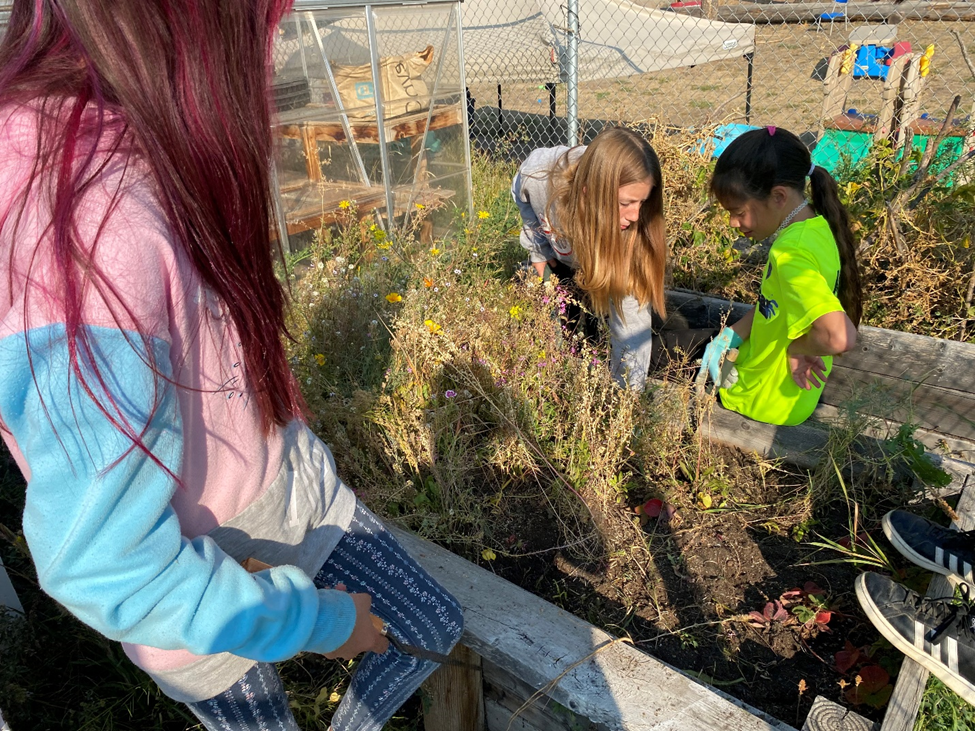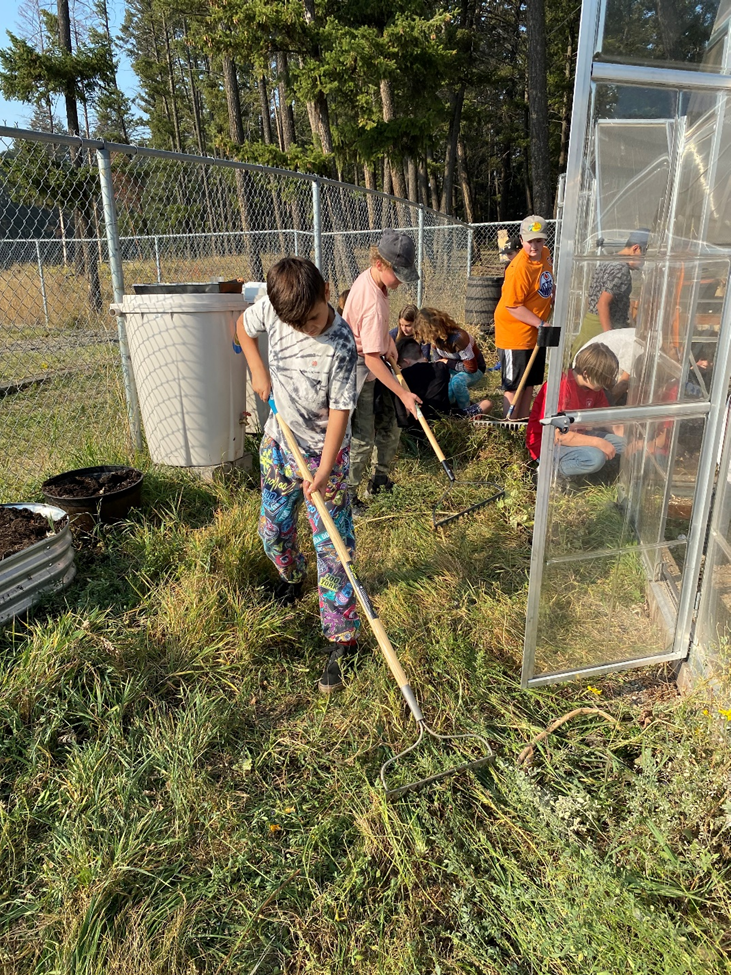 ---
Learning Math Outside

Lake City Secondary
Math 11 Foundations students took their learning outside right before the snow fell. They used real world objects to help learn about measurement and using various formulas to calculate different math problems.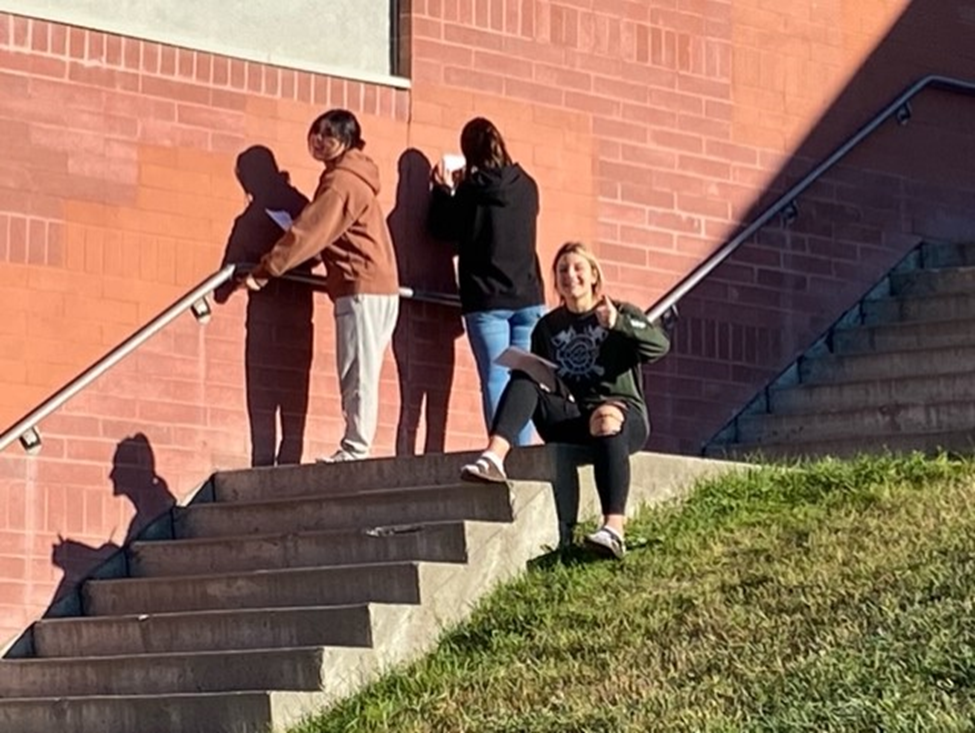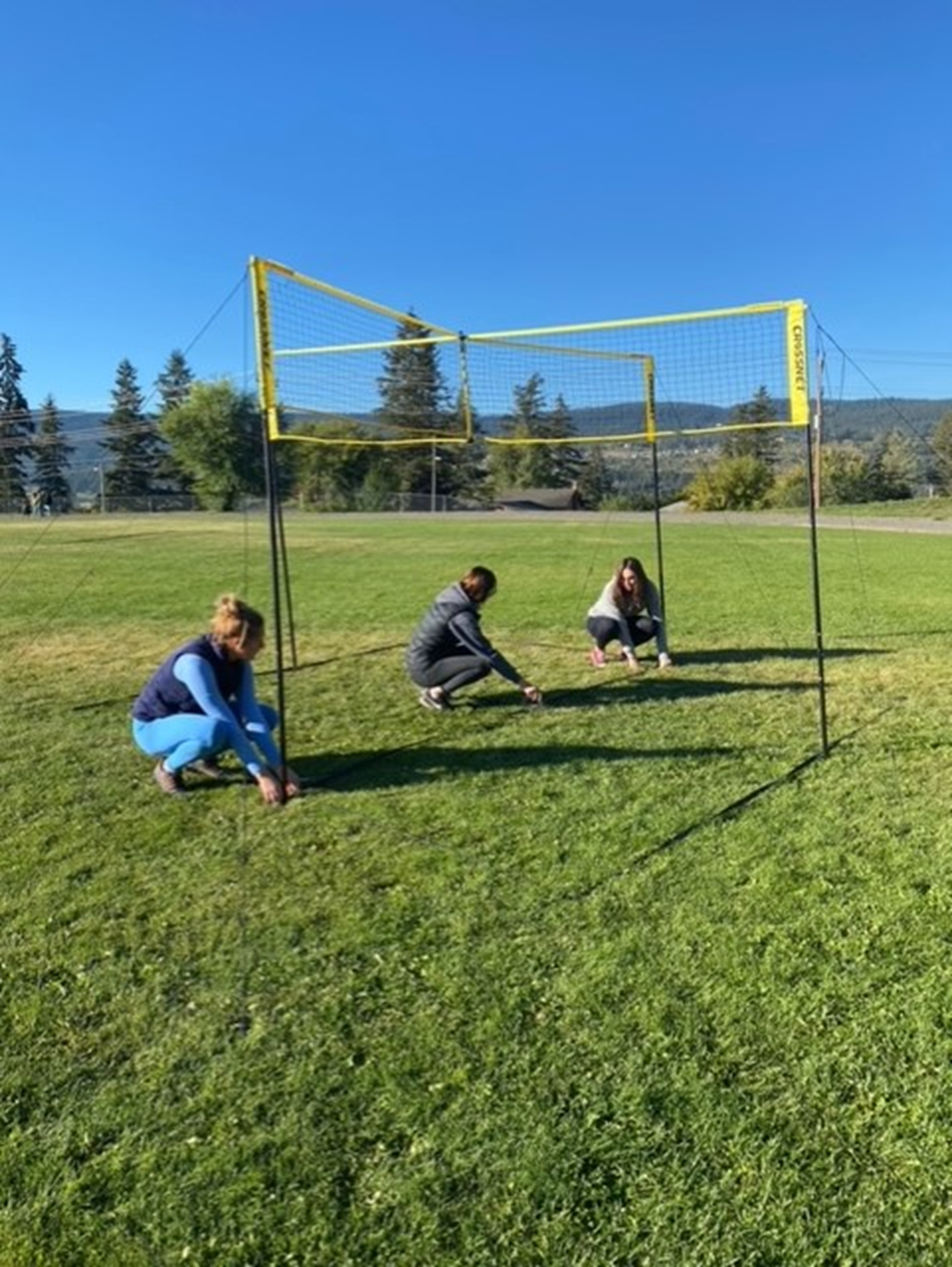 ---
Connecting Outside
Horse Lake Elementary
We know that having a sense of place is an important principle of learning as it helps us to better understand ourselves, and when we can connect it with relationship to others we cultivate deeper connections with both the natural world and with each other. Our grade 5/6 class buddied up with our Kindergarten friends to explore our school property. Students found beautiful items to create a project with as a memento of our time together. This activity gave an opportunity to take time to enjoy our surroundings at the same time as relationships between younger and older students within the school.
---
Observe, Connect, Appreciate
Horse Lake Elementary
As we were given this incredible gift on an extended summer, my grades 5/6 class has been making the most of appreciating the natural world. In a time of ever-increasing stress and busyness, it is becoming more and more important to spend time in nature. We know that being outside lowers our cortisol, and that being connected to the land is an important part of our holistic learning experience. Over a series of lessons our class engaged in mindful walks around the property of the school, practicing noticing and silence (no easy task when you are ten years old) and then sharing our observations with each other. We collected specimens from our journey through the paths in the woods that surround us and stood in circle, taking turns to share what we noticed about our items ("It's both soft and spiky... It feels crinkly... The grass is damp... The flower is dead... It smells like fall...") and passed them around so we could each notice what the other people in our group chose. We had tiny pebbles, crinkly grass, dandelions gone to seed, leaves hanging onto the memories of a green summer, pinecones freshly dropped and seemingly petrified, logs lumbered out of the woods caked in mud and carried by grinning boys, and snippets of pine branches for everyone to smell. Their reception to picking up sticks and dead leaves and passing them around the circle was skeptical at first, but each time we repeated it their items became more personal and their faces more animated. There's something about pausing to look at the beauty of a pile of turning leaves that brings you peace and joy, and when we can find those moments in the school day it's nothing short of magic.
We moved from observing into sketching our items from different angles and zoomed in, traced or impressed into the page, and finally to abstract paintings of leaves on the ground. They took the beauty of the world that surrounds us into their minds and hearts, and finally translated it into their own visual interpretation. Taking the time to appreciate our sense of place in the world, in our community, and in the school gives us a greater ability to ponder the interconnectedness of it all. When we are able to see that we are all connected, we are better able to care for one another and the world we live in.
Thank you Crystal Dawn Langton for sharing.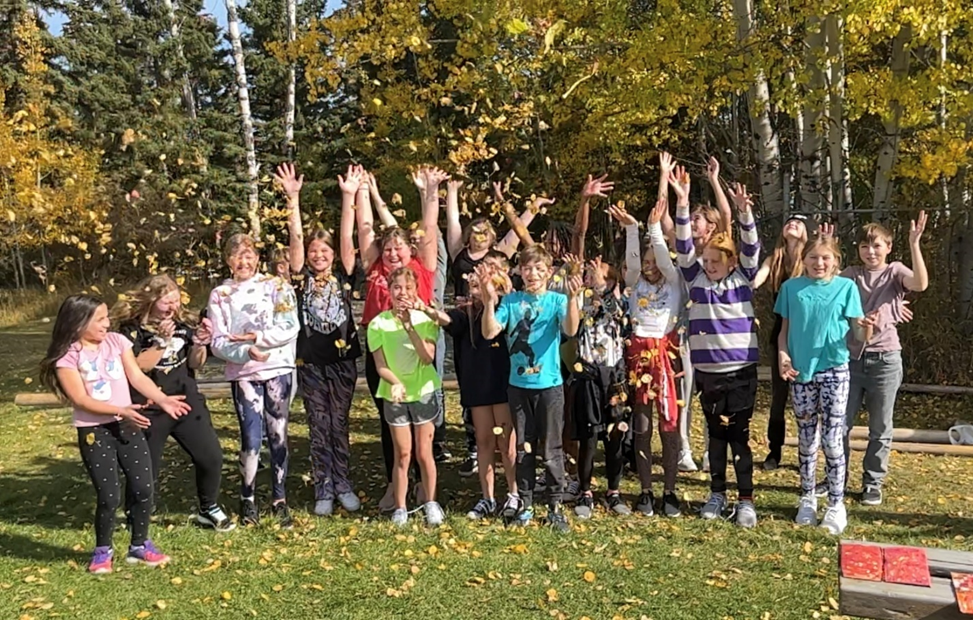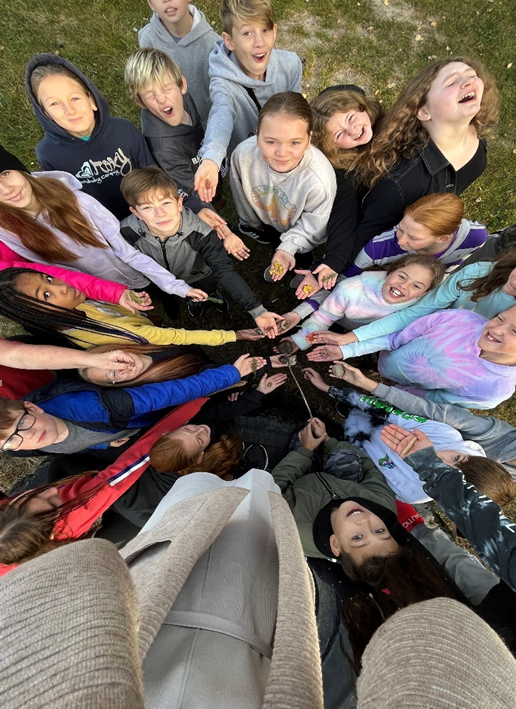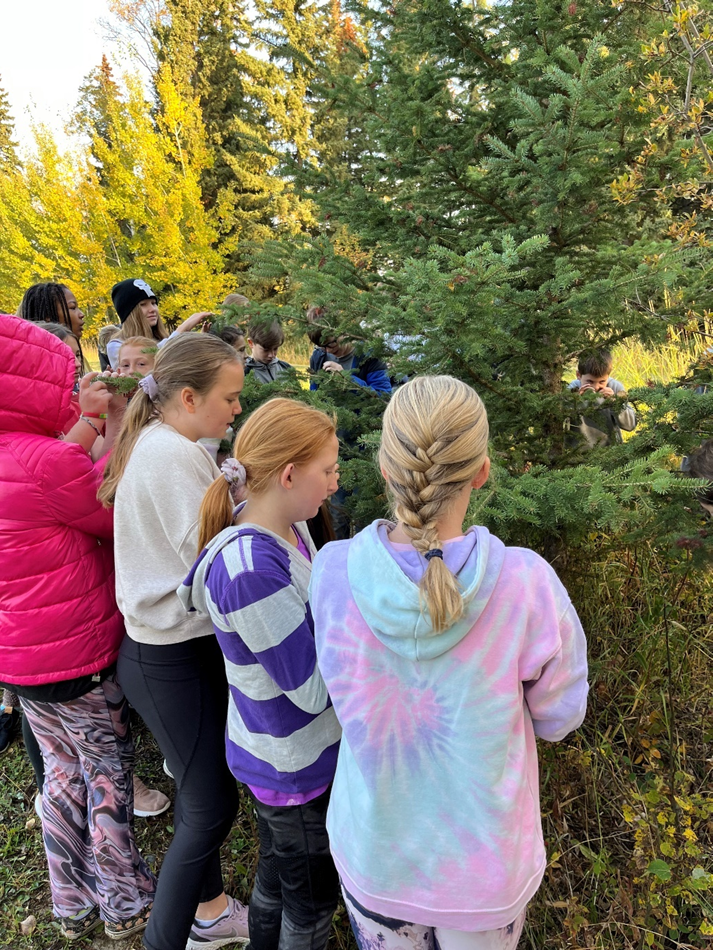 ---
Storefront School Leather Working
Peter Skene Ogden Secondary
PSO Outback Storefront students worked with Indigenous Support Worker Sharmaine Grimes to learn about leather working. Students are next going to learn how traditionally prepare deer hides for their own upcoming projects!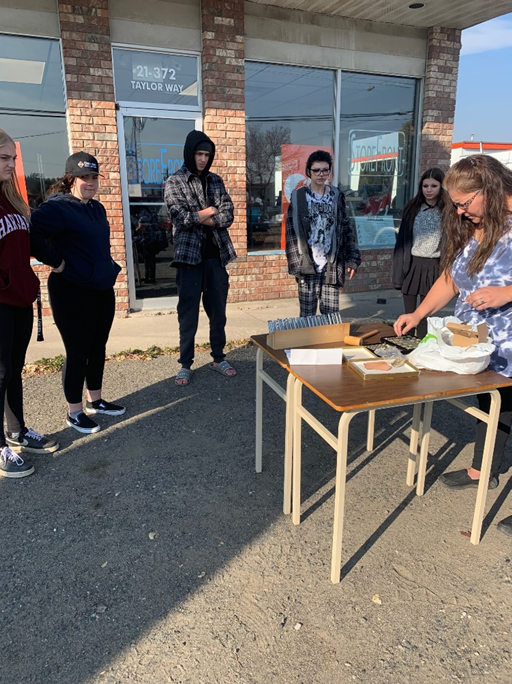 ---
Mary Palmantier's 33rd Luncheon: a Celebration of Secwepemc culture and traditions
Dog Creek Elementary & Junior Secondary
It was with great anticipation that we prepared for this annual Mary's Luncheon, after a 2-year pause, in celebration of the Secwepemc language, traditions and culture that Mary instilled in her previous students and colleagues. Mary has been gone for 27 years now, but her teachings are still a huge part of our school and community.
Members of our community went out hunting for deer and moose and families brought offerings of salmon from their freezers. Our students, cleaned and cut up steaks, roasts and cutlets of wild game. They also cut and dried some of the meat. Individuals brought gifts from the elders' garden.
Community members arrived early to dig the hole, start the fire and heat the rocks for pit cooking. The rocks were removed from the fire and put into the bottom of the pit. Preparing the pit and heating the rocks took about two hours. Meanwhile, the students wrapped meat, salmon and vegetables in foil and put it into large foil pans. Everything was put into the pit, covered with a burlap sack and covered with dirt. The cooking process would take about 3 hours. We had our Aboriginal Day Bannock champ (Kevin Neufeld) come out to make Bannock for our meal. The feedback on the meal was gratitude, compliments and thankfulness for leftovers to take away. The students were all so happy and proud of their accomplishments. Learning while celebrating our Secwepemc culture and traditions.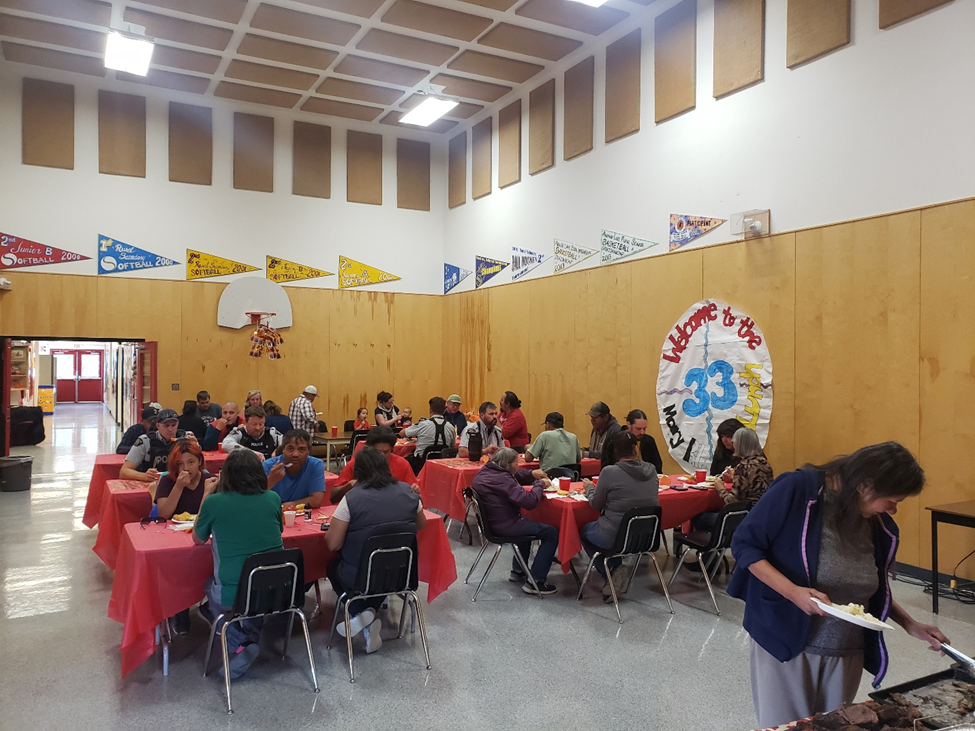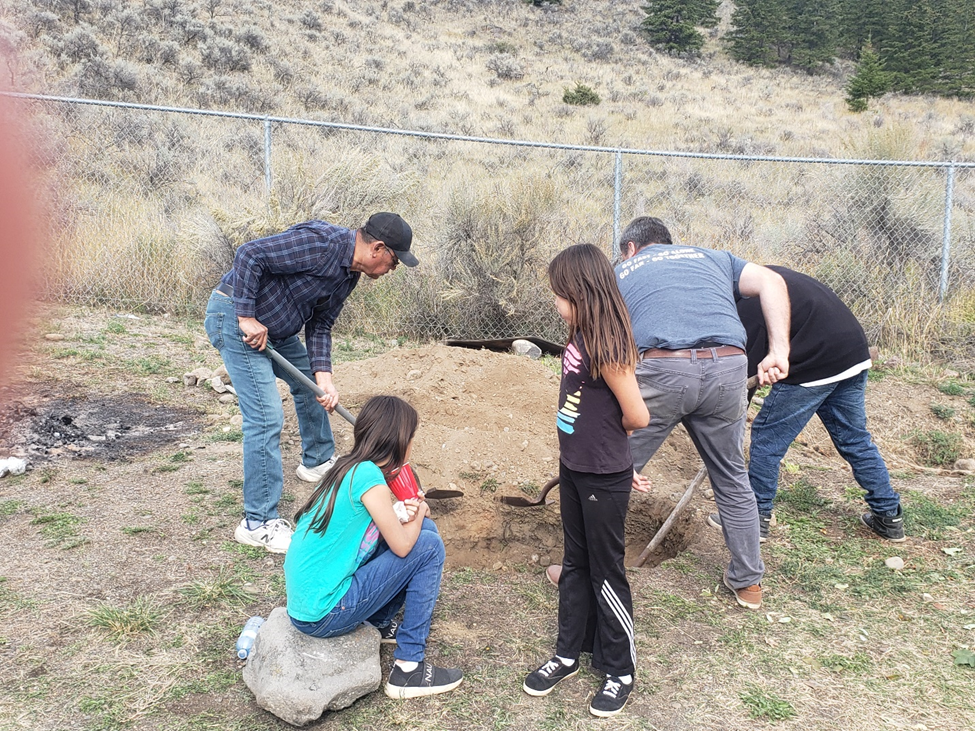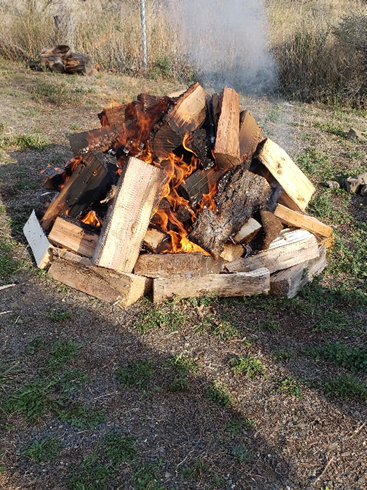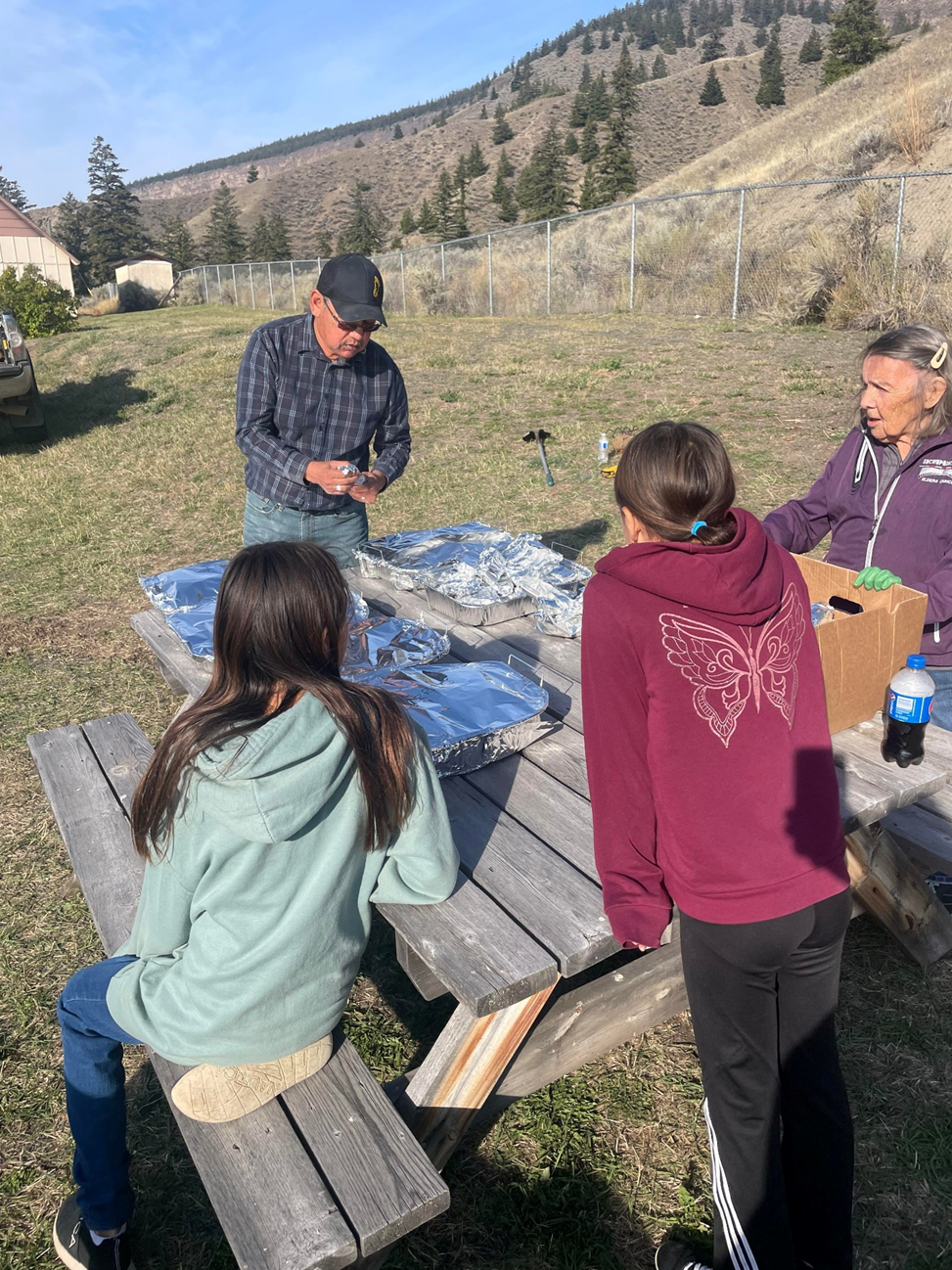 ---
Taking Science Outside
Tatla Lake Elementary Junior Secondary
Grade K-4 students are learning about food chains, ecosystems and biodiversity so we are fortunate to be able to step out our school doors and take our learning outside! We were successful in searching for producers, consumers, and decomposers in our environment.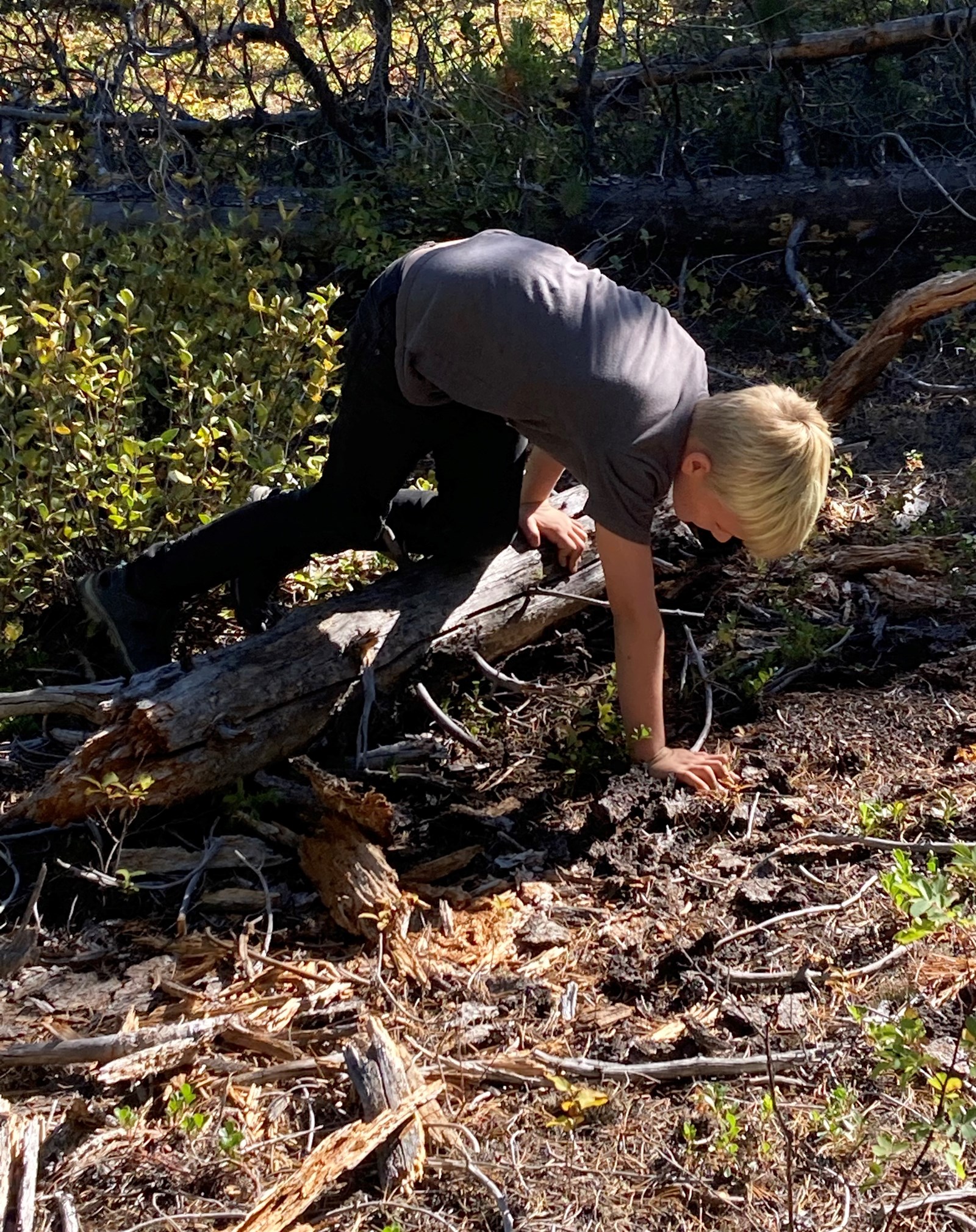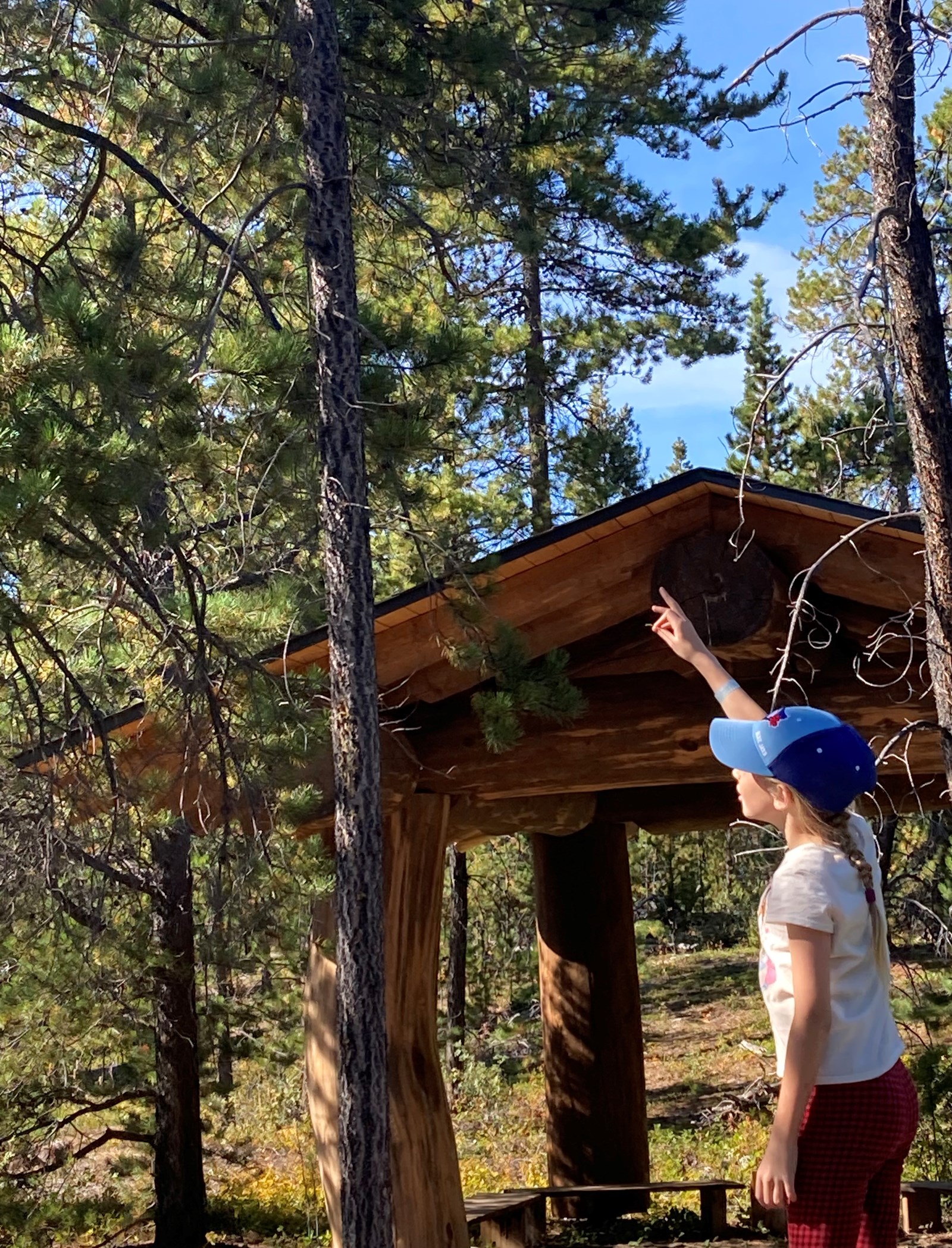 ---
Rock Wall 101 - Climbing & Route Setting
Peter Skene Ogden Secondary
Today was about education, knowledge and application! Learning the ABCDE's of rock climbing with safety and communication being the main priority. Lots of belaying and climbing was carried out amongst the learning group. Educators came together from William's Lake and 100 Mile House to make this a fun filled day; we also learned about how to plan, construct and implement routes along the wall itself. Big thanks to Rob Cook and Ken MacKenzie for helping out with their knowledge and experience!
Thank you Kameron Taylor for sharing!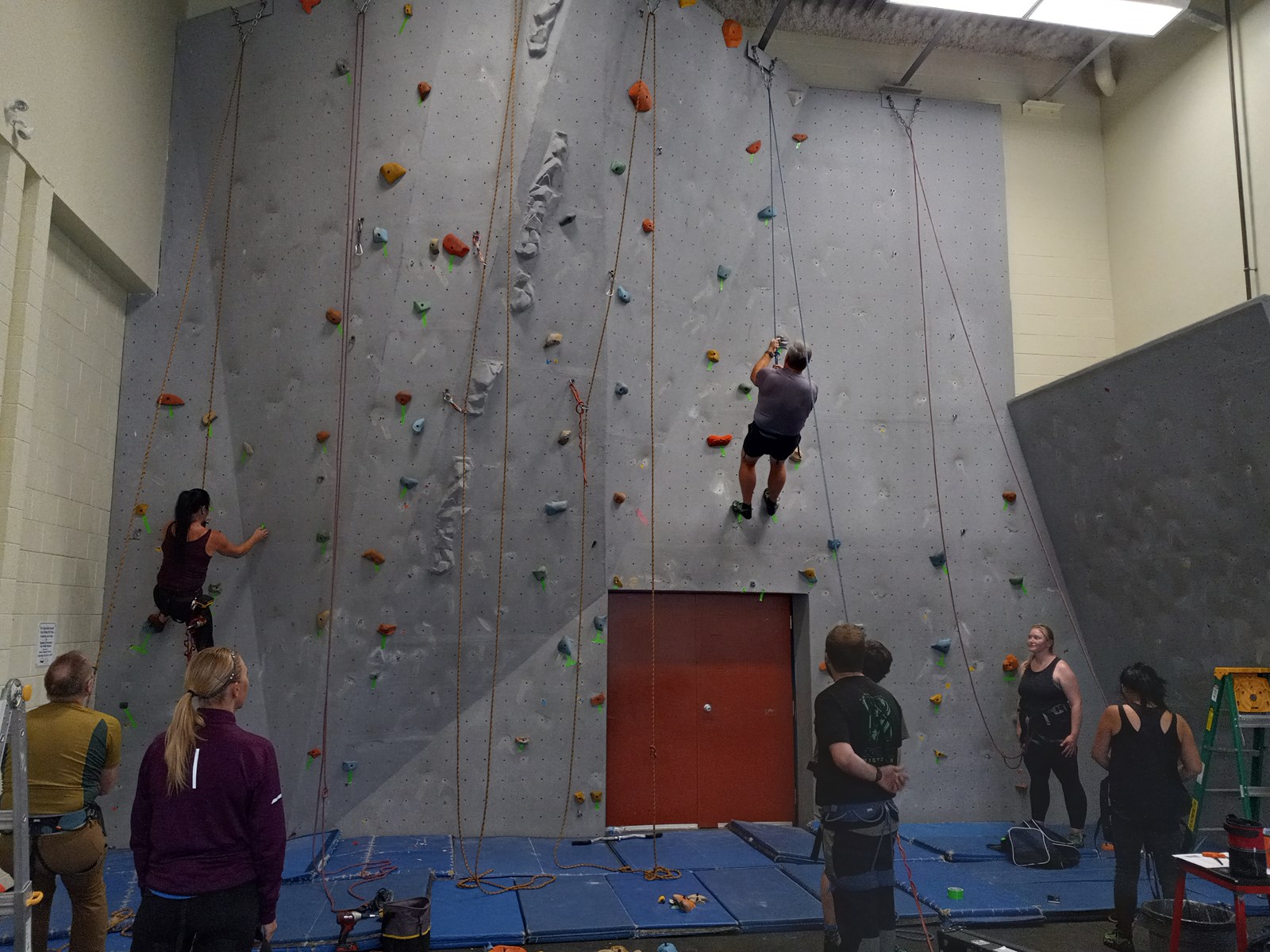 ---
Outdoor Learning Day
Horse Lake Elementary
At Horse Lake Elementary were able to use our portion of the comprehensive health grant to fund a full day of outdoor learning at the local park. The entire school was bussed to the park were they moved through stations that covered; animal track identification, Search and Rescue, orienteering, animal identification, pesticide impacts on the environment and poetry in the park. Local experts were able to assist and share their knowledge with our students. The weather held off for us and it was a great day of outdoor learning. Student and staff feedback was very positive and there is a strong desire to participate in a similar day next year!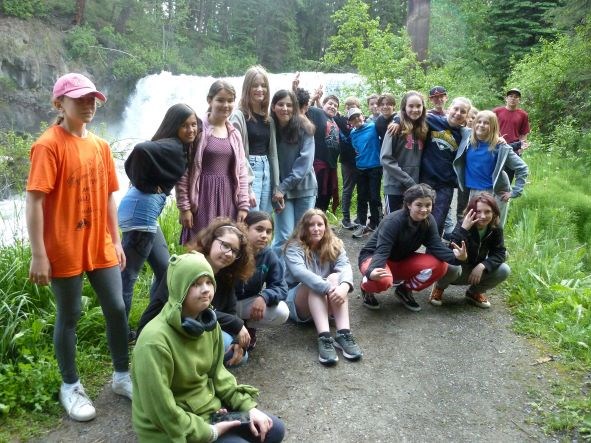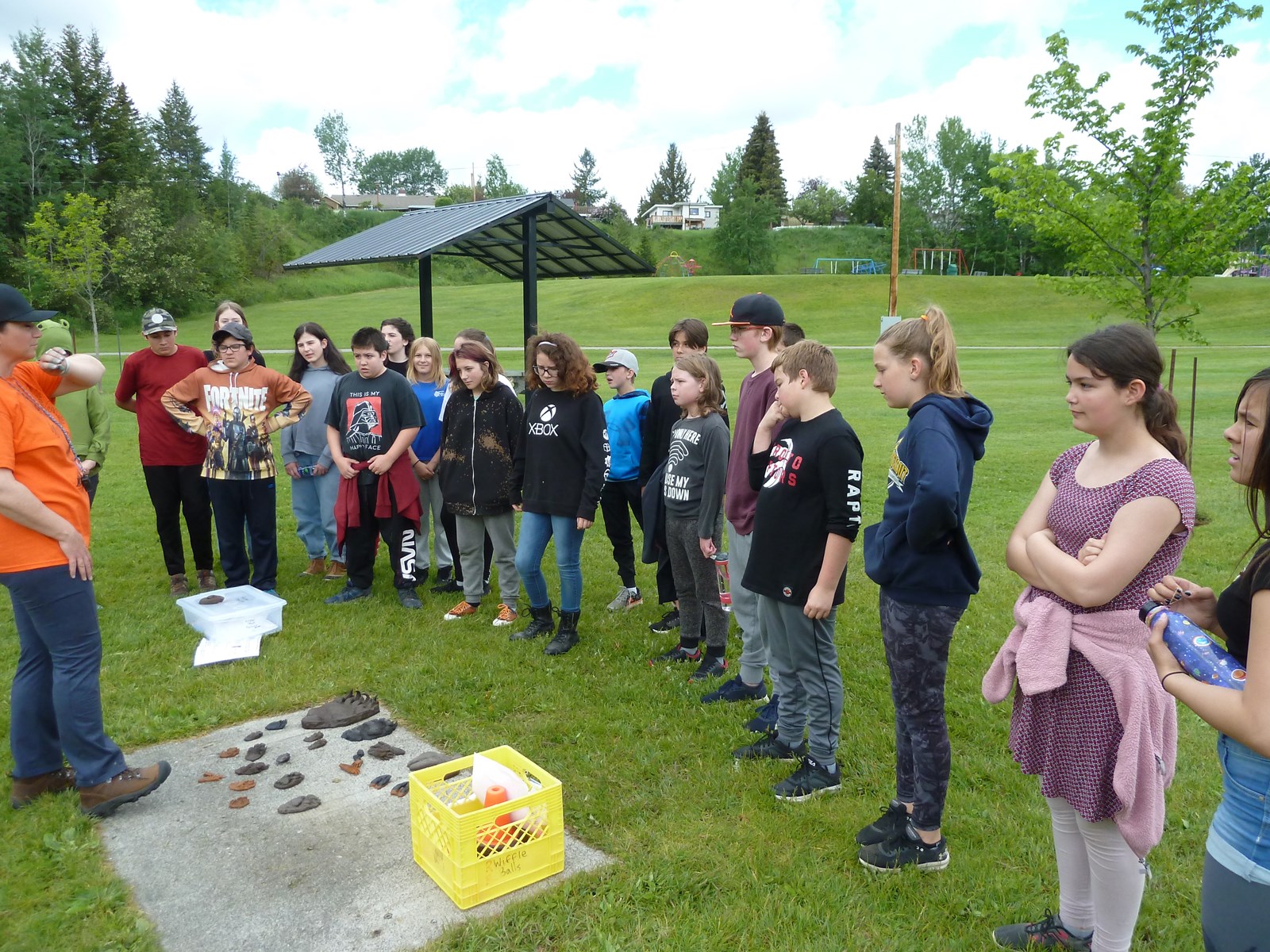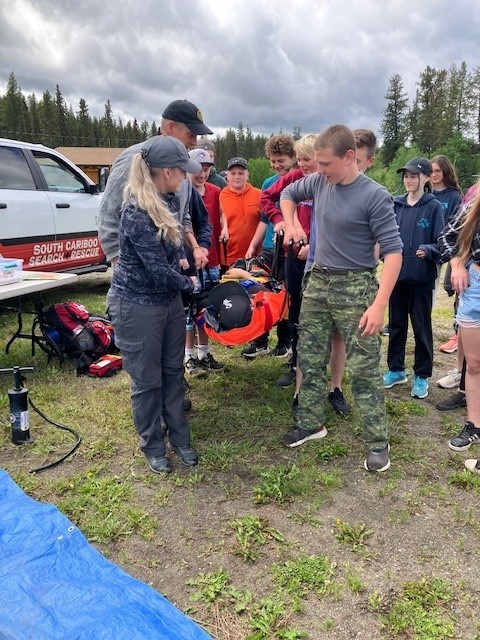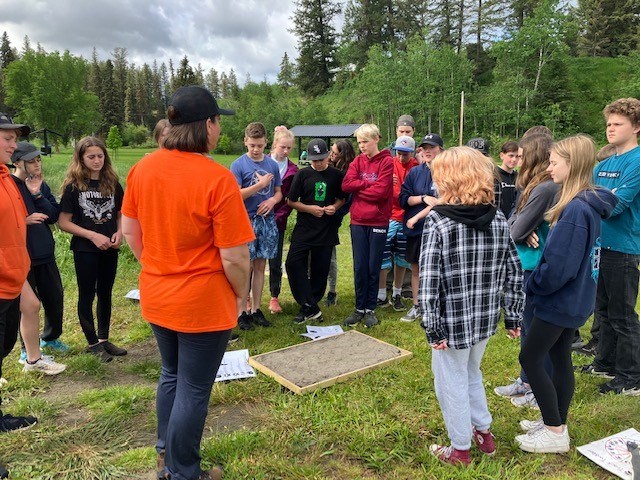 ---
Outdoor Shelter Building
Lake City Secondary
Students from Lake City Secondary's CORE class took to the trees to build shelters and learn about outdoor survival skills.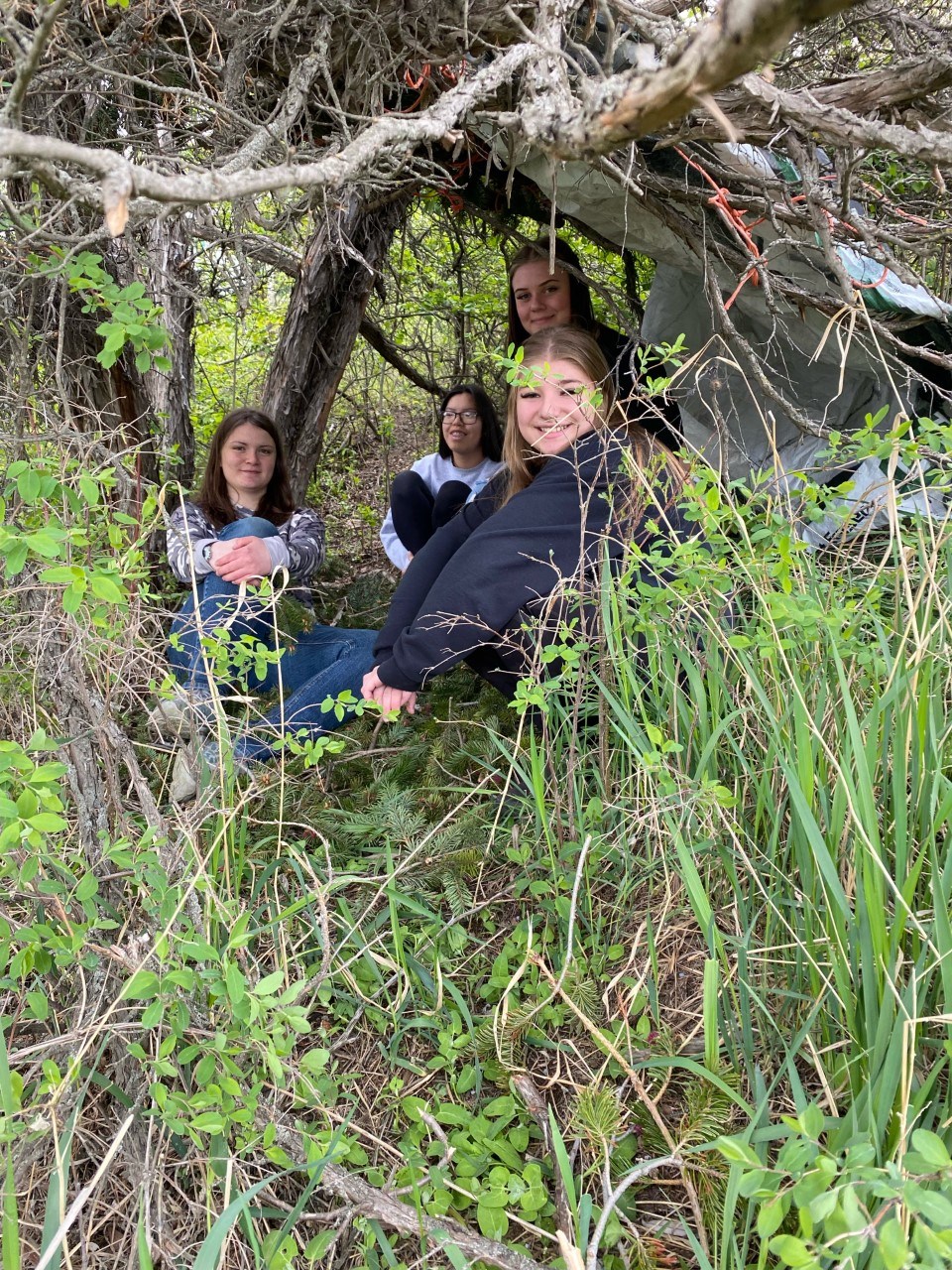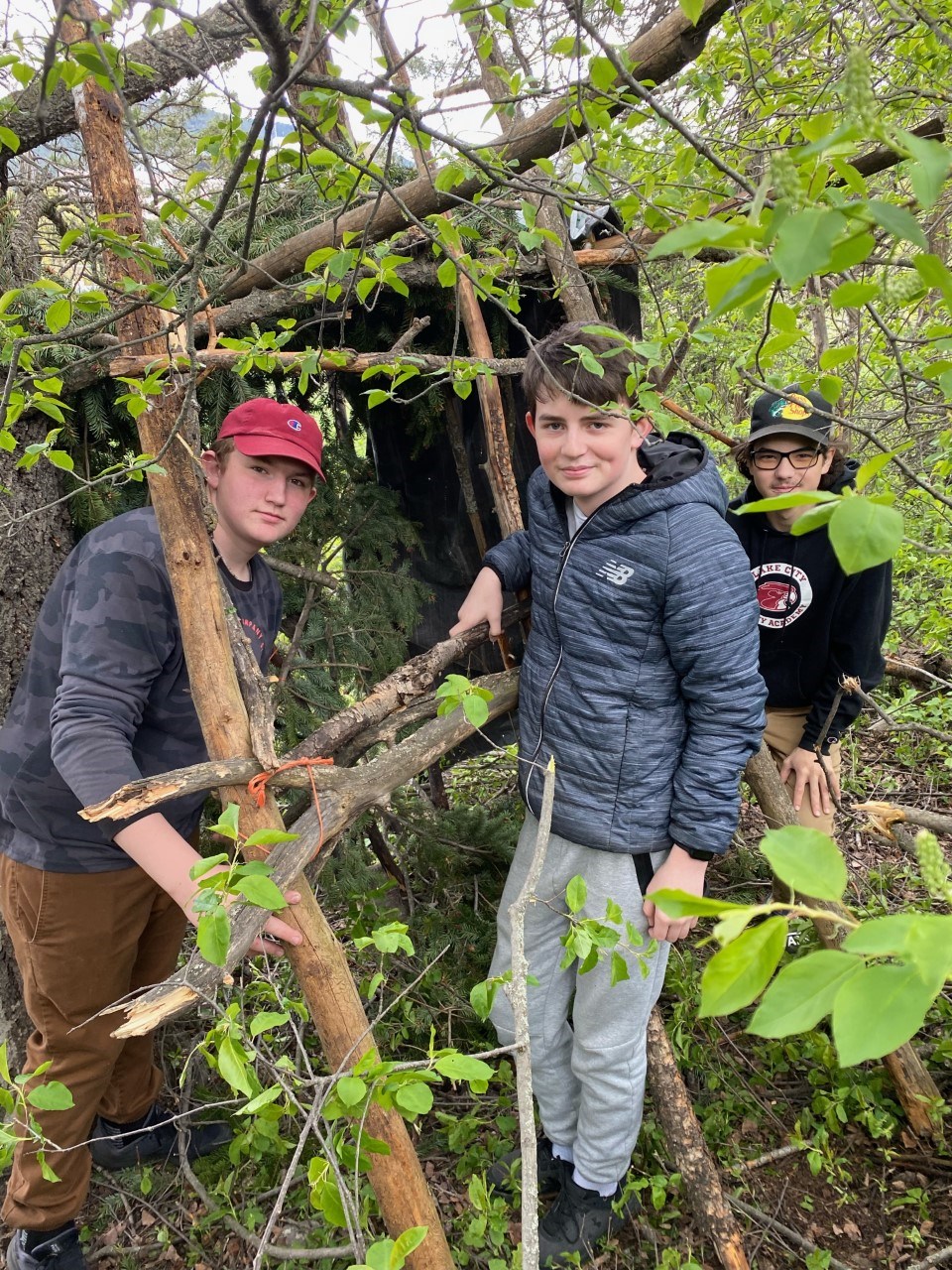 ---
Taking Math Outside
Lake City Secondary

Math Foundations 12 students at Lake City Secondary went outside to measure cylinders and flat circles both natural and man-made . Students then designed equations of circles based on their researched measurements and calculations.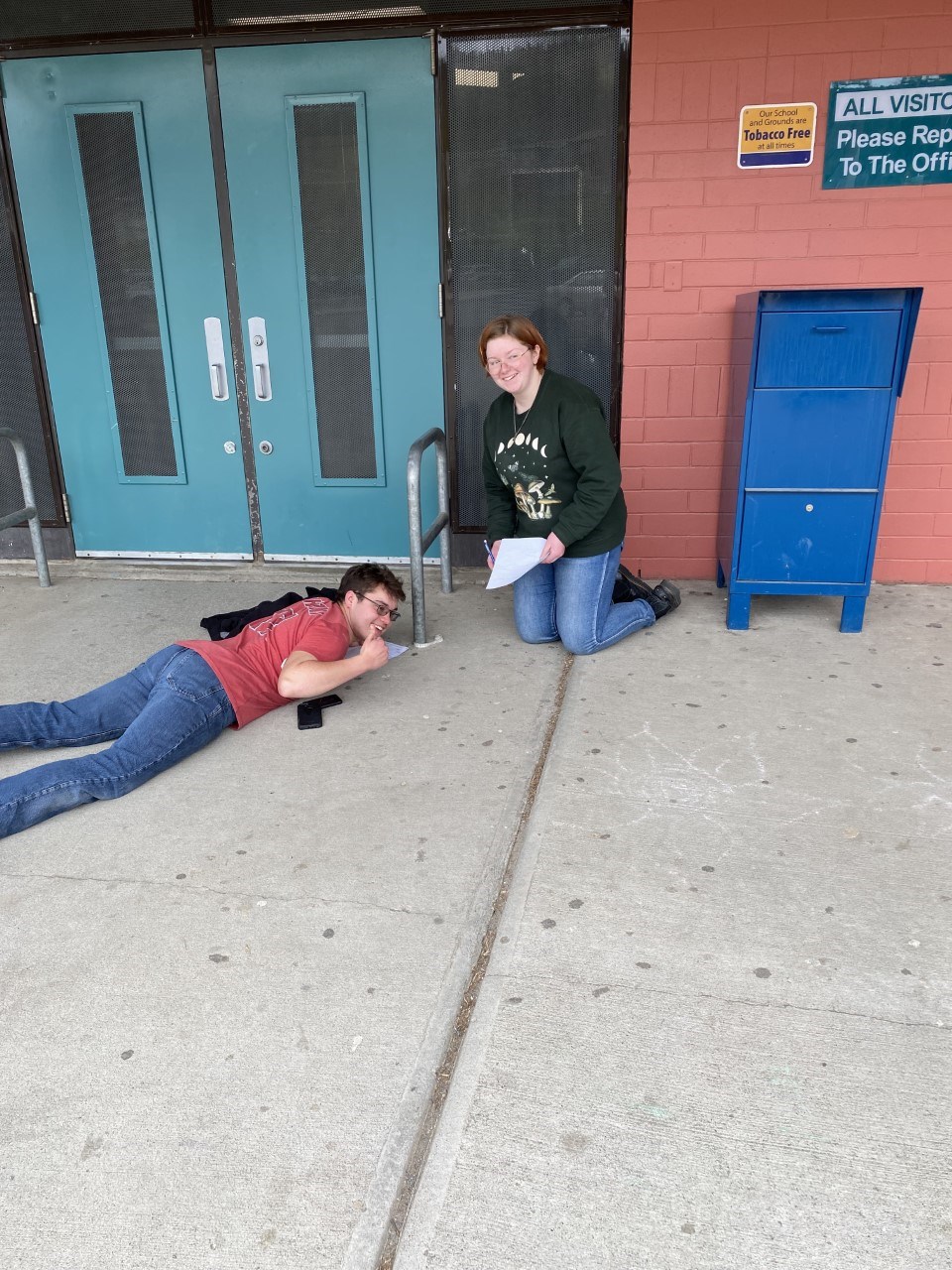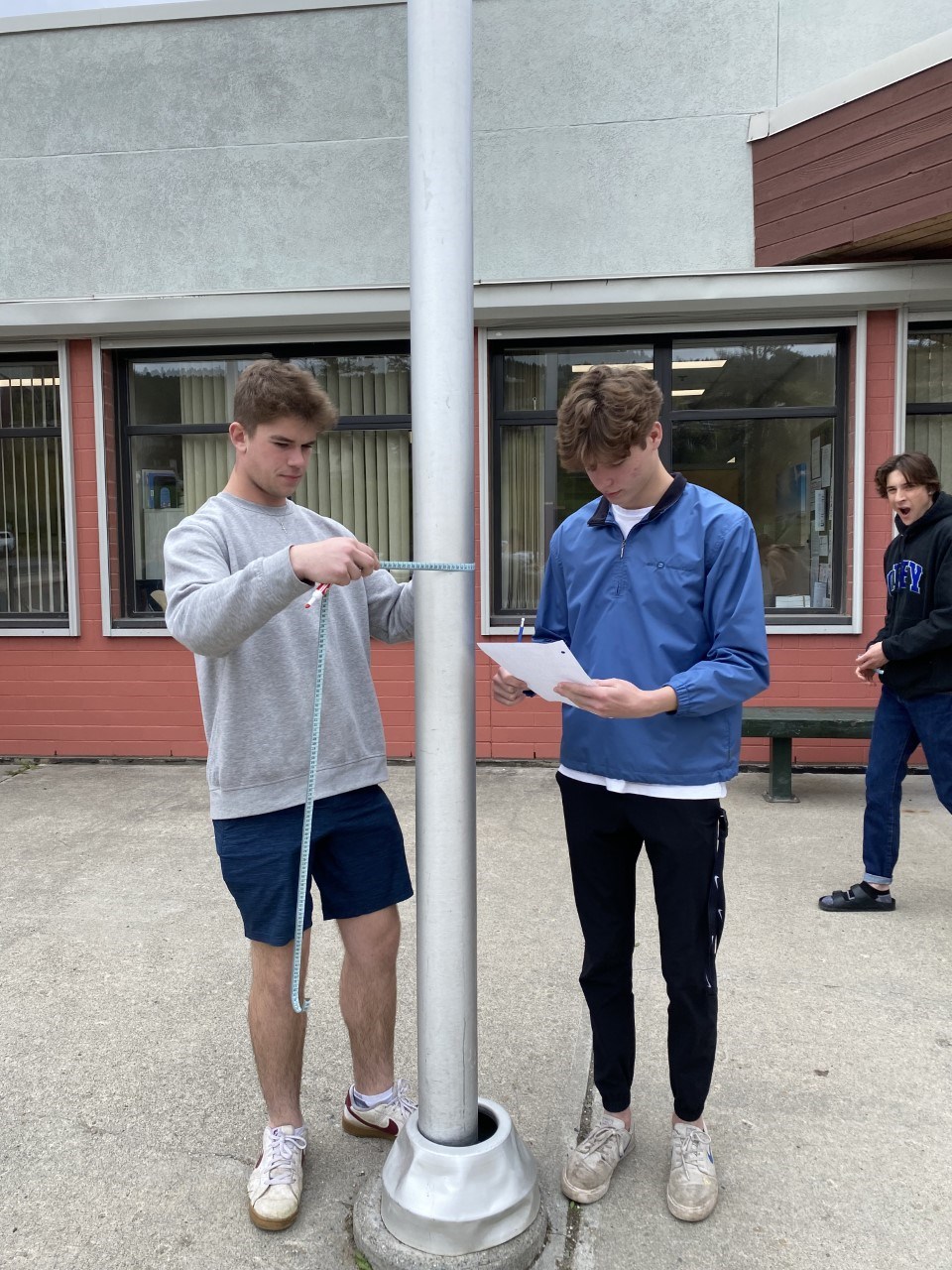 ---
Post-Secondary Options
Lake City Secondary
A large group of grade 11 and 12 Lake City Secondary students traveled to Vancouver to learn about post-secondary options at SFU and UBC. They toured each campus and got to meet with university students to ask questions about university life. They also got a chance to see a Cirque de Soleil!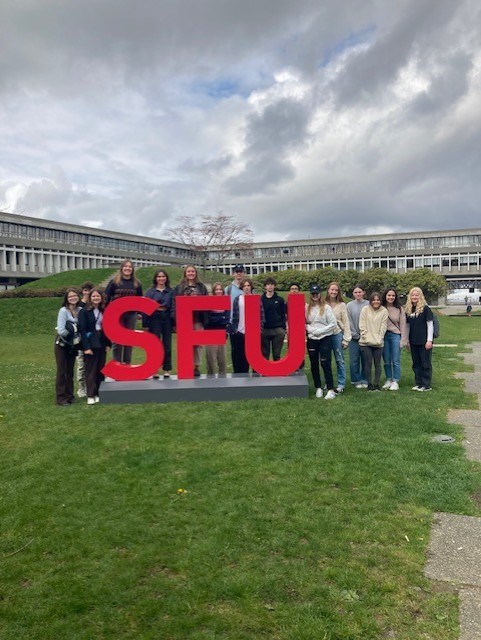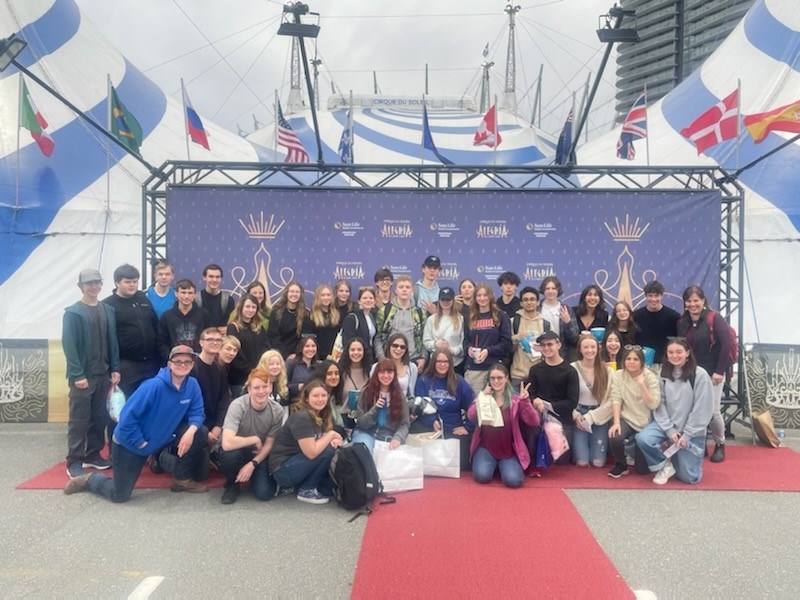 ---
Earth Day
Tatla Lake Elementary
Tatla Lake students participated in the Earth 🌍 Day #walkingcurriculum challenge at Tatlayoko Field Station. We spent the day installing Mountain Bluebird houses, learning about traditional fire building, playing games, being reflective listeners, and making tree prints! We also completed the #TMOEarthDayBingo!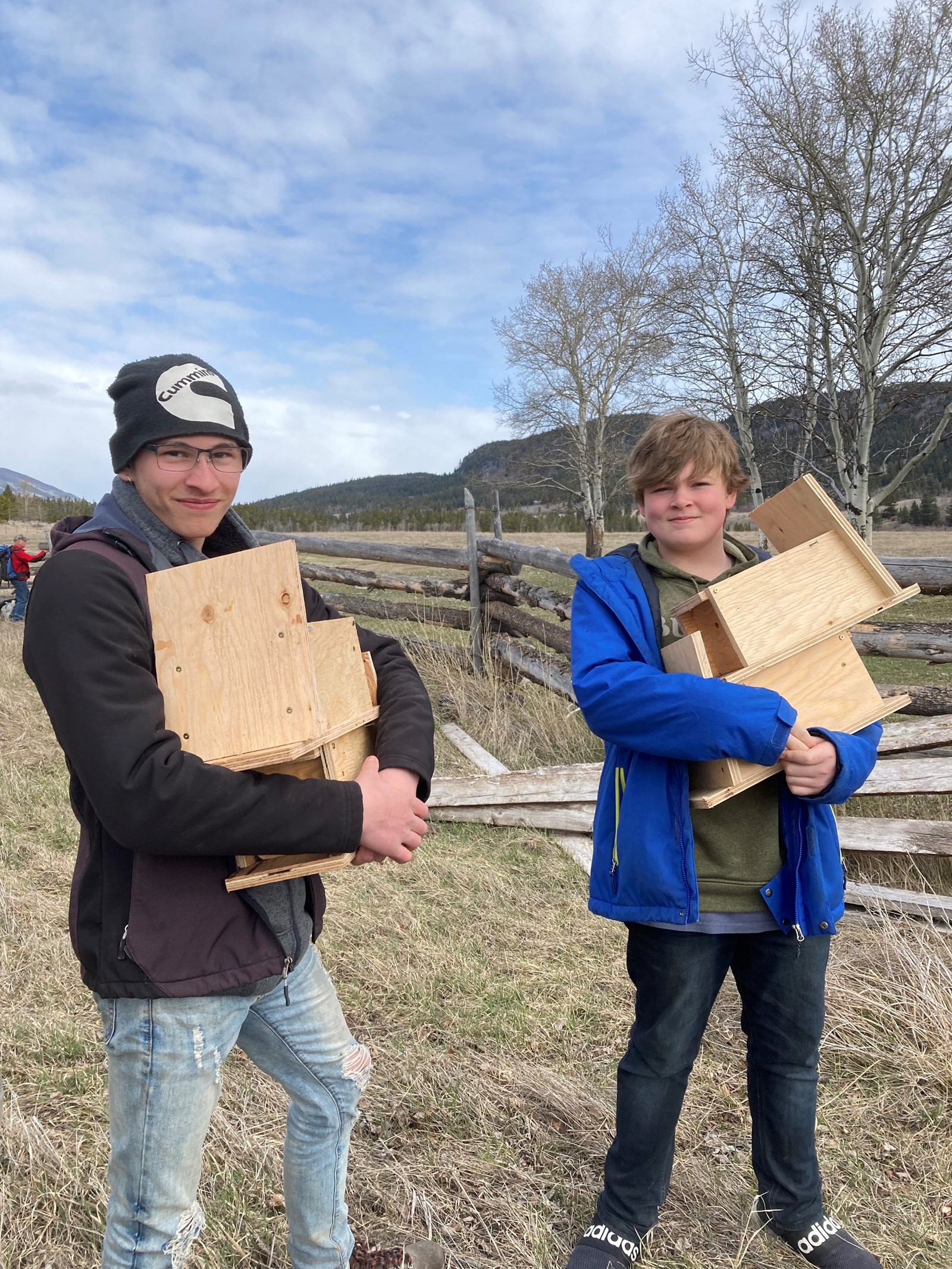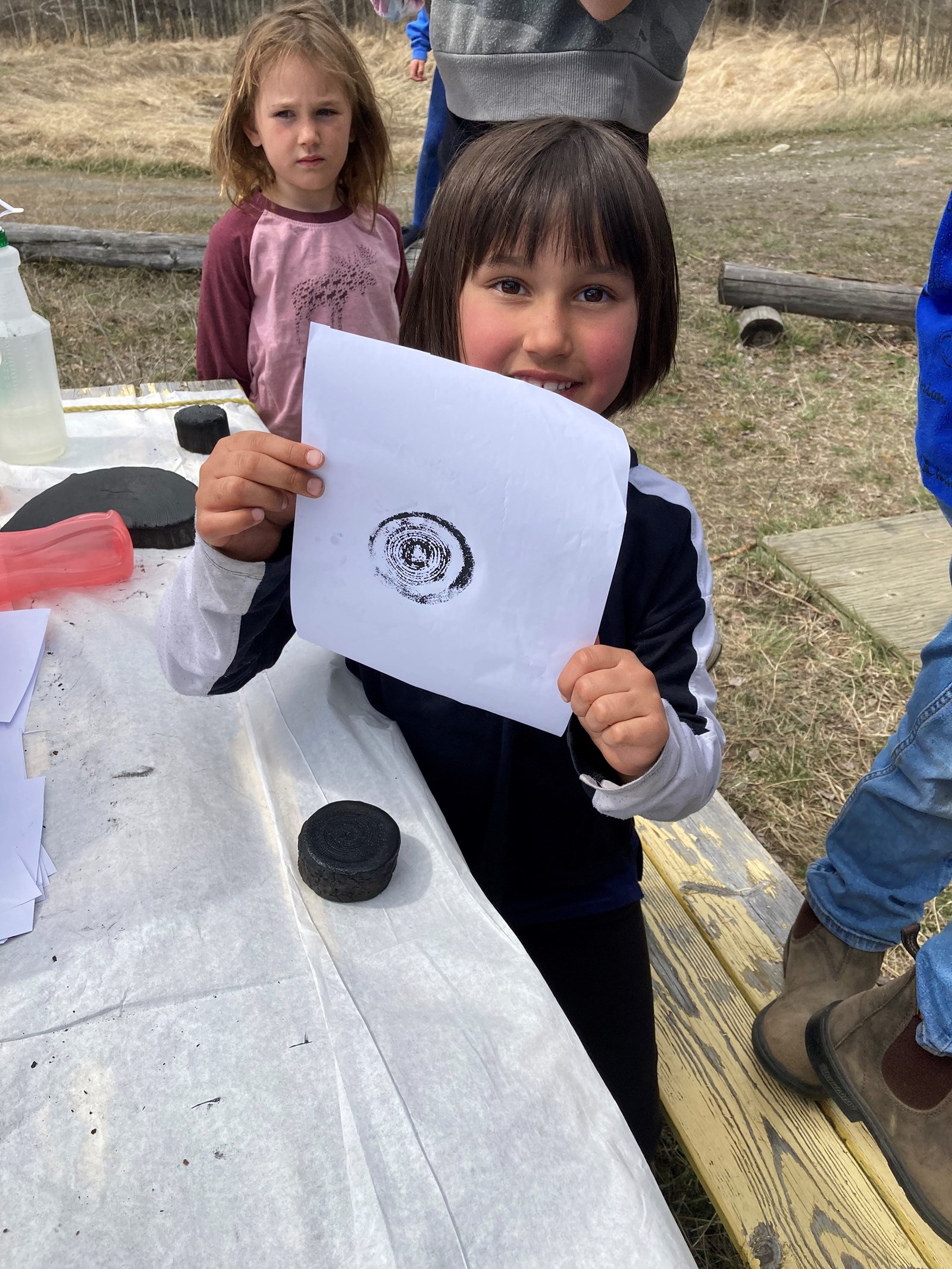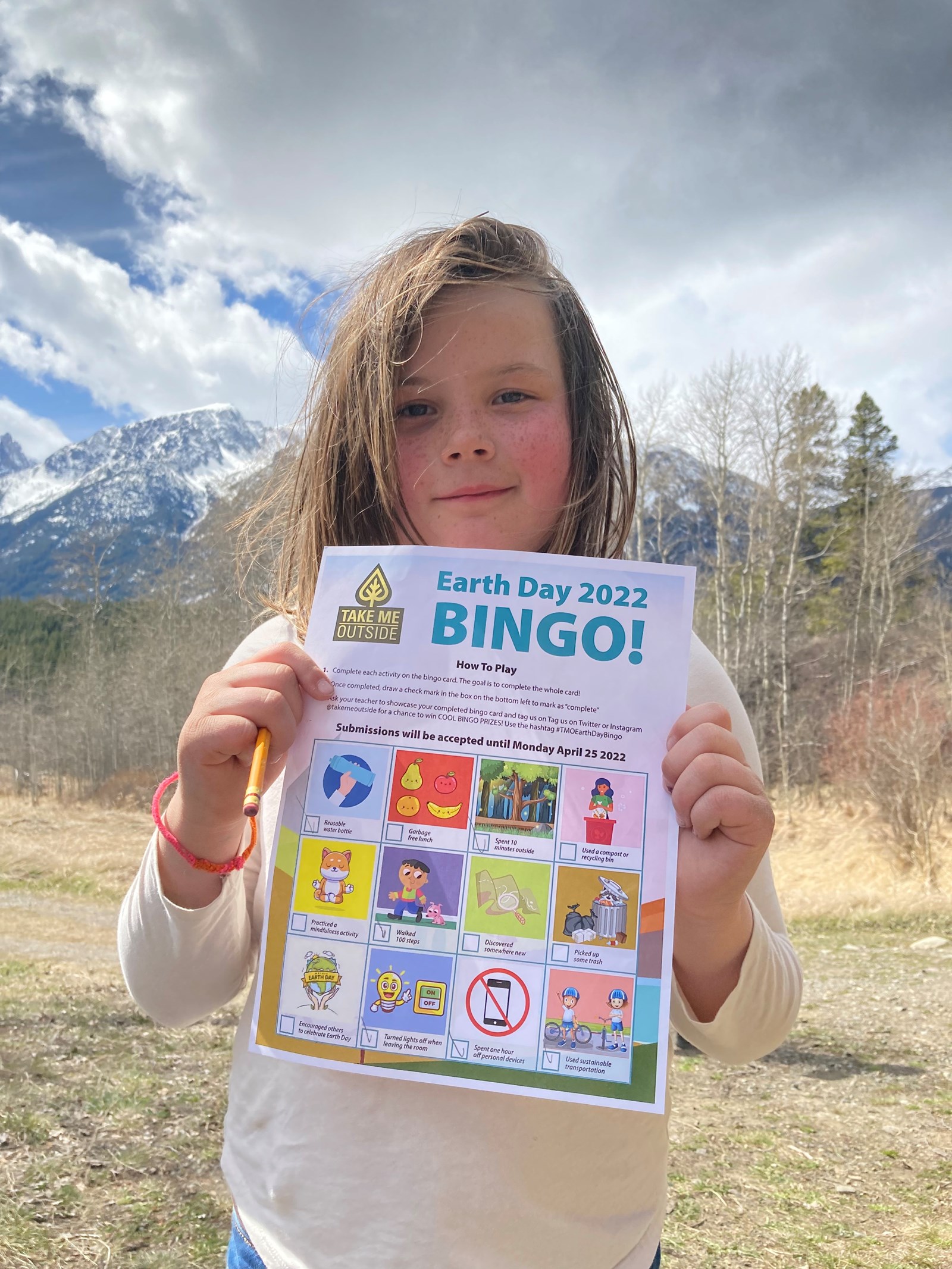 ---
Outdoor Education
Marie Sharpe Elementary
The grade 2/3 class enjoyed an amazing day of outdoor education at Scout Island. We are so lucky to have this amazing space linked to Marie Sharpe. Many of our classes have regular trips down to extend their learning outdoors.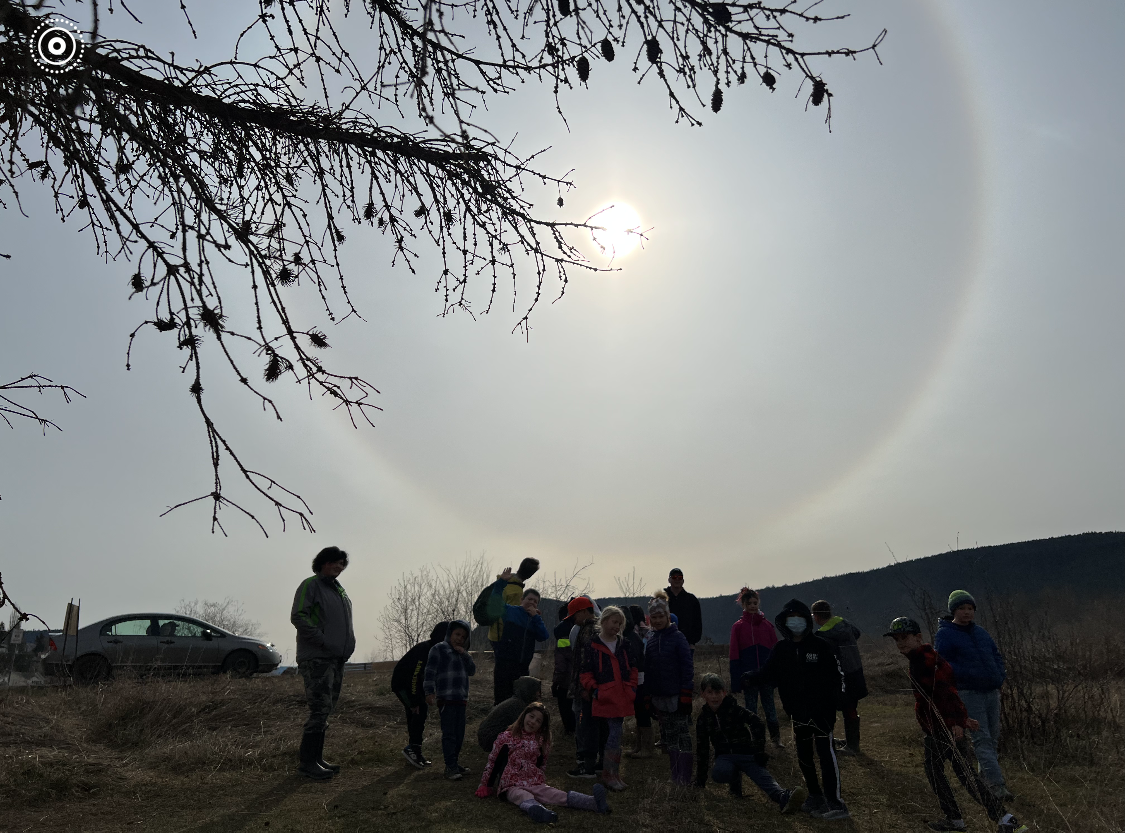 ---
Fire Building in the Snow
Forest Grove Elementary
Grade 6-7 students from Mr. Kass' class spent a day in early March learning to build fires using only a match (or several) and materials gathered by hand. Students had a wonderful day outdoors and even cooked hot dogs and marshmallows over their fires. The trip was inspired by Dave Quinn's Pro-D offering to staff in February where he share this, and other activities, with staff near Ruth Lake.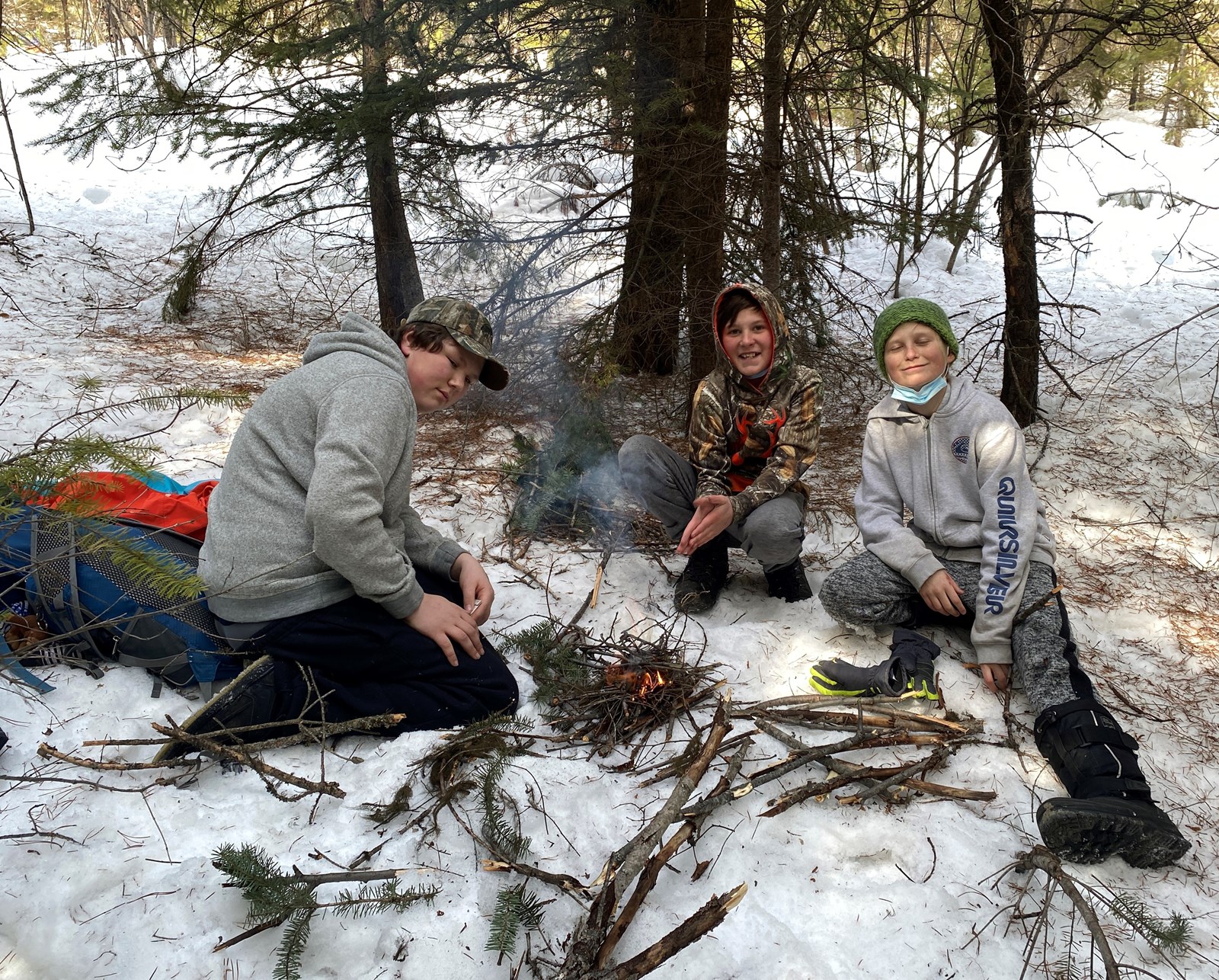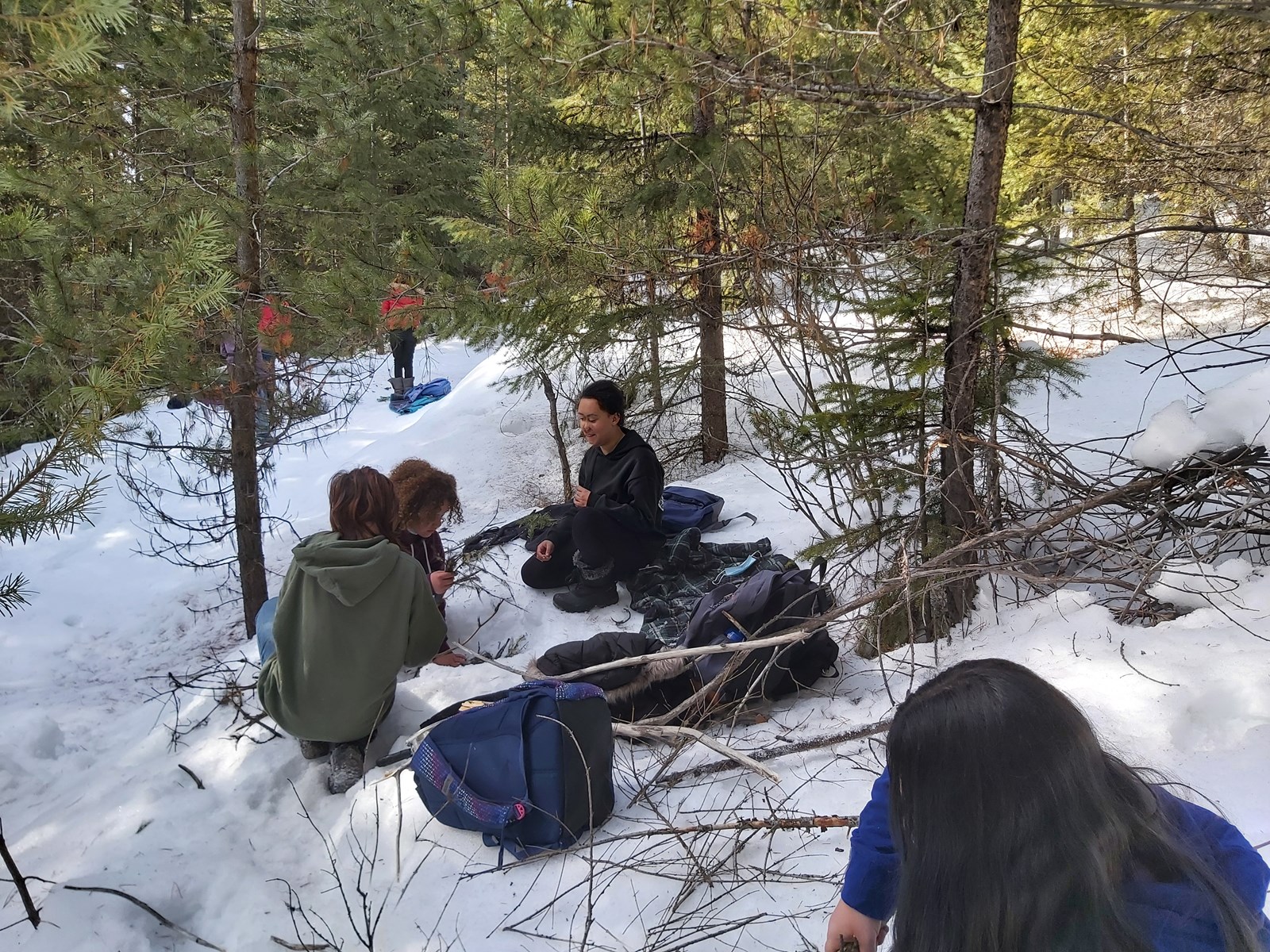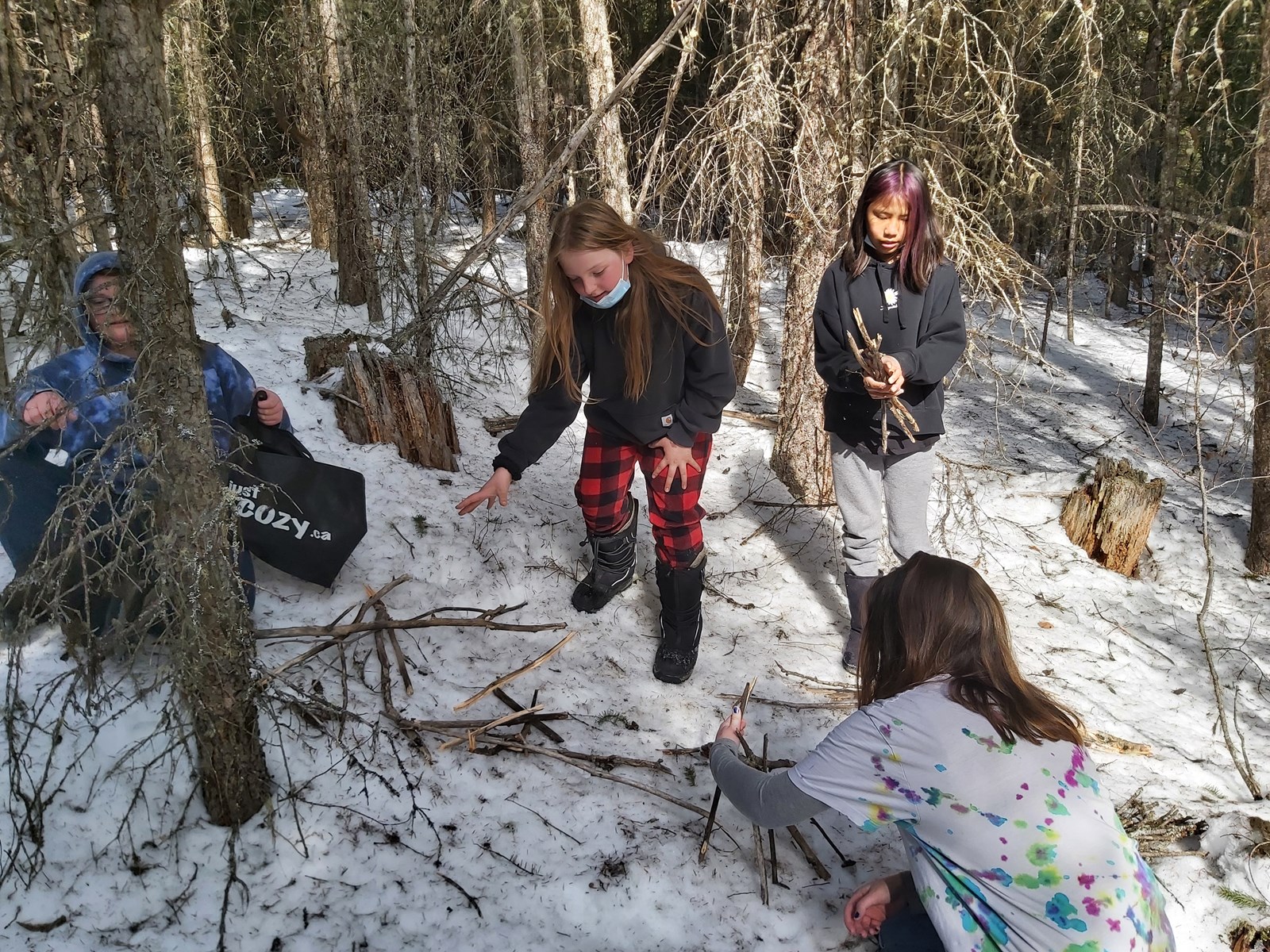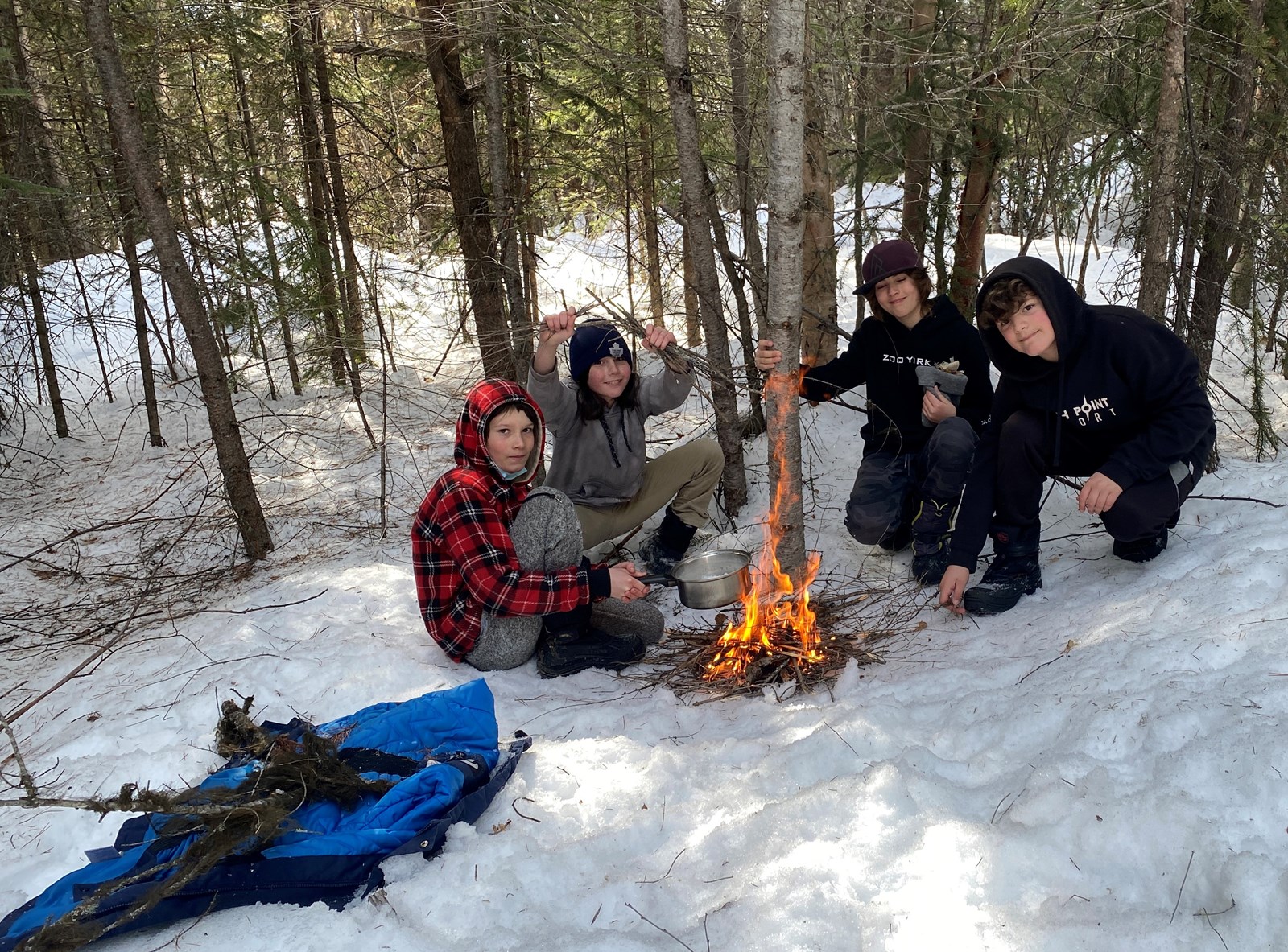 ---
Local Likely Learning Series: Gavin Lake
Likely Elementary
To kick off our Local Likely Learning series, students celebrated being back at school with a forest hike, the obstacle course, the archery station, and learning about fish and the importance of 'The Perfect Stream'.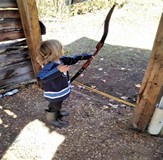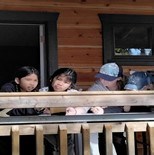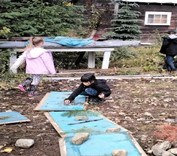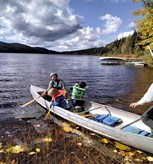 ---
Local Likely Learning Series:
Quesnel Forks
Likely Elementary
Students spent all morning hunting for old buildings, reading about the history of gold mining in Likely and the hardships of life due to geography and climate. Cold, wet weather cut our trip short so we all are looking forward to returning in the spring.


---
Local Likely Learning Series:
The Bullion Pit
Likely Elementary
Students read information signs to learn about more recent gold mining endeavors and the mining companies' role in developing the Likely area. Students created their own 'monitor giant' to see the effects of water erosion on land. Maps were read to learn about how local water systems were used to support the mining industry and the technology involved.




---
Local Likely Learning Series:
The Hatchery
Likely Elementary
Students toured the UNBC's Hatchery in Likely and learned about river physics, the life cycle of a salmon and what happens at our local fish hatchery to help BC salmon stocks. We plan to return in the spring to see the more of the Salmon Life Cycle in real-life-action.




---
Local Likely Learning Series: Gavin Lake #2
Likely Elementary
Students practiced their snowshoeing skills and learned about winter habitat for forest animals. The rest of the day was filled with ice-skating, a hot dog roast and sledding to prove that winter can be an outdoor season!




---
Baby Chicks in the Classroom
Chilcotin Road Elementary
Students are excited to see how the chicks grow from being hatched in the classroom. They are also magical in helping some students stay regulated.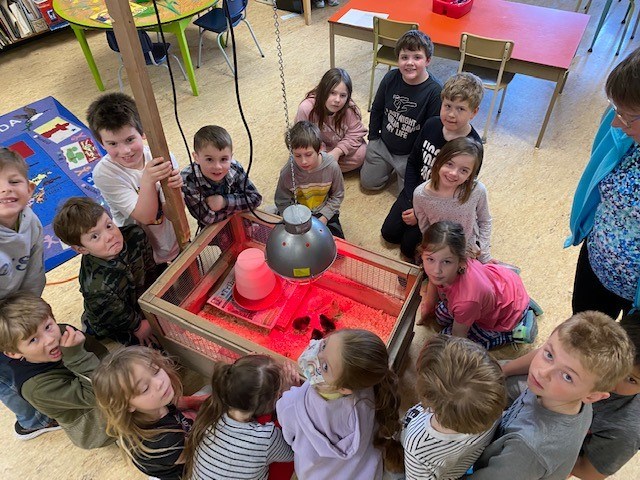 ---
Outdoor Education
Mile 108 Elementary
Grade 3/4 students take the opportunity to learn to cross country ski in the beautiful sunshine. Great way to exercise, connect with nature, absorb some sunshine and be in the moment. Loads of learning, and lots of fun!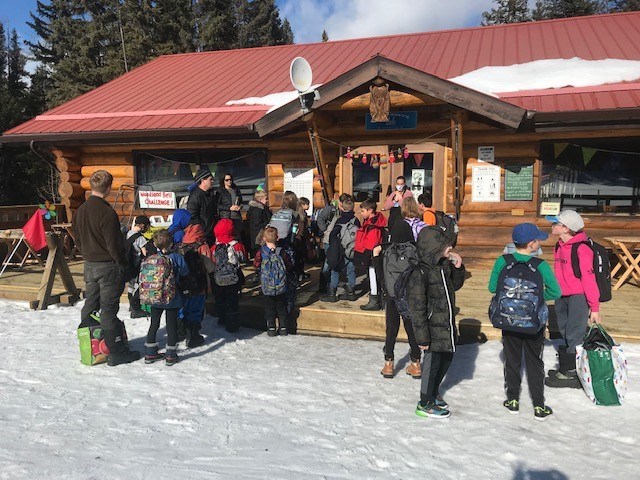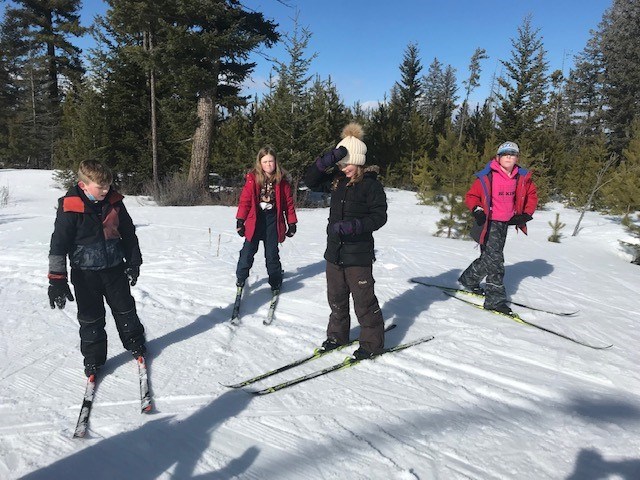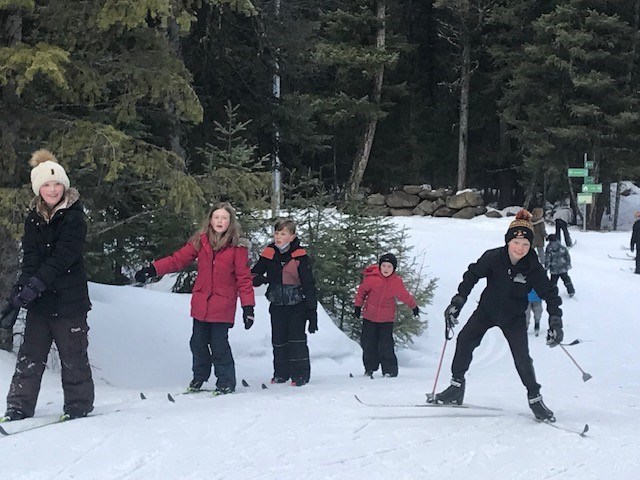 ---
Wild School Project
Mile 108 Elementary
Mile 108 is in it's second of three years working on the Wild School Project. This was the autumn outdoor workshop and students enjoyed their leaning about nature, in nature!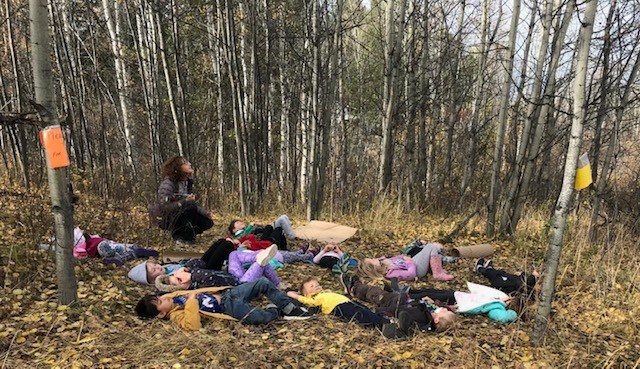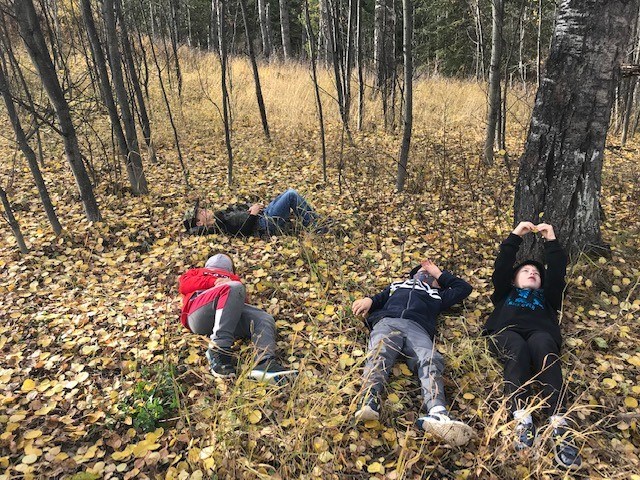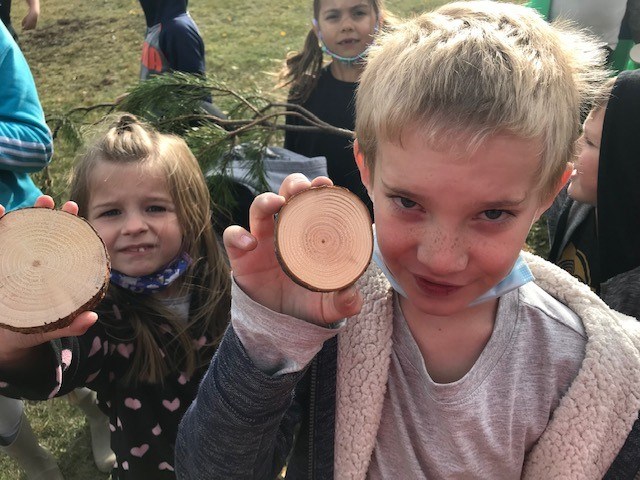 ---
Picture A Tree Story Walk
Mountview Elementary
We had so much fun snowshoeing through the forest to read it! It was enjoyed by the Mountview Elementary Strong Start group as well as the Kindergarten and Grade 1 classes.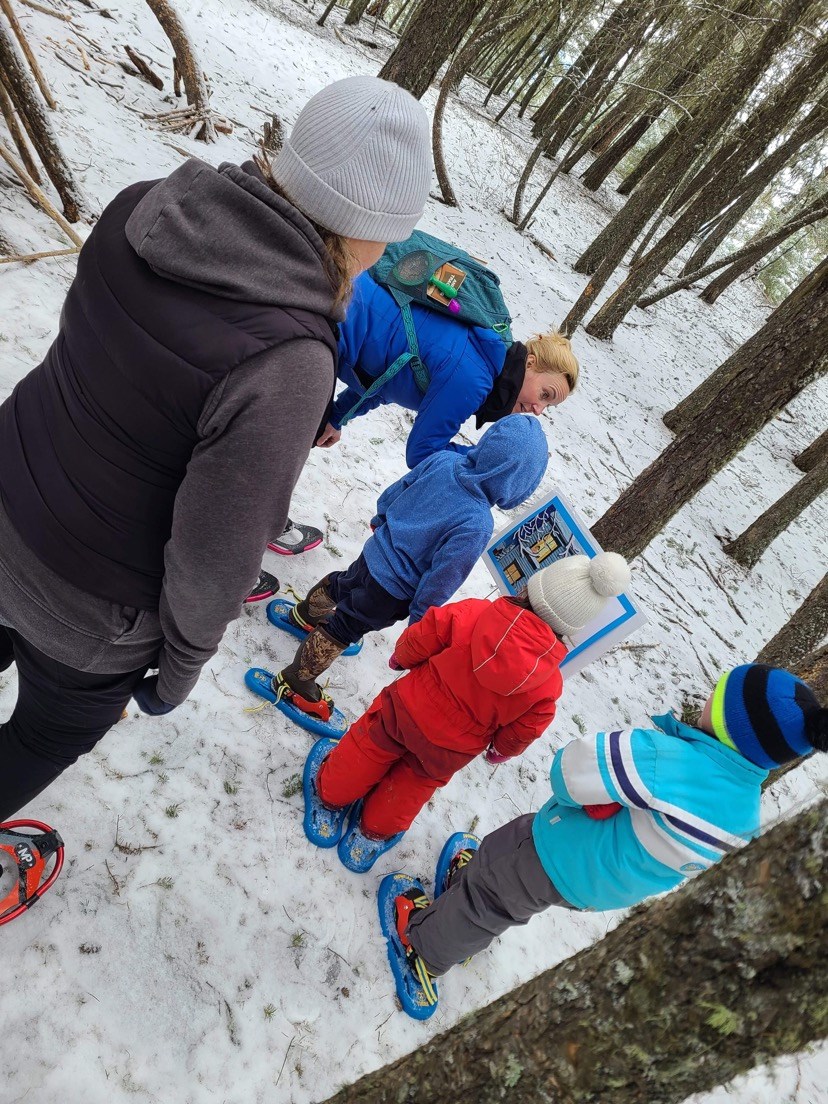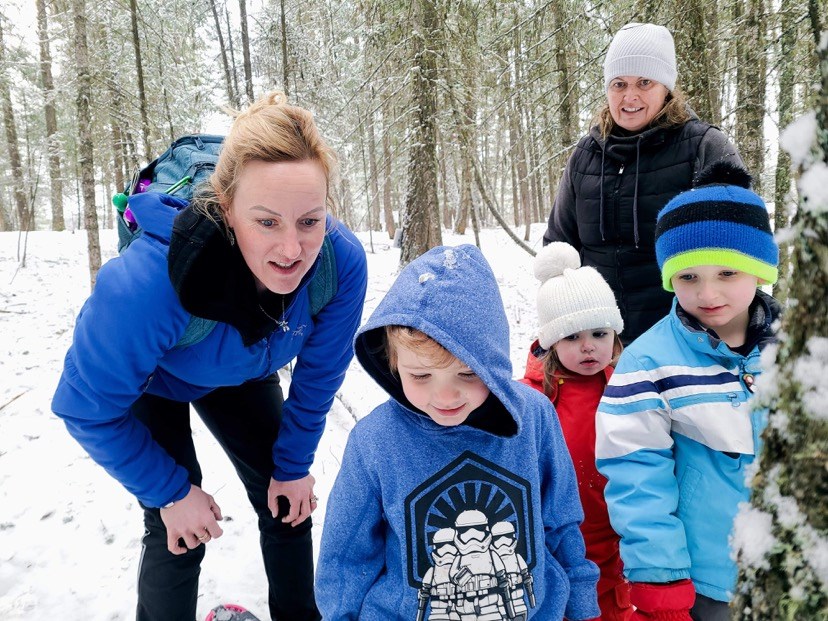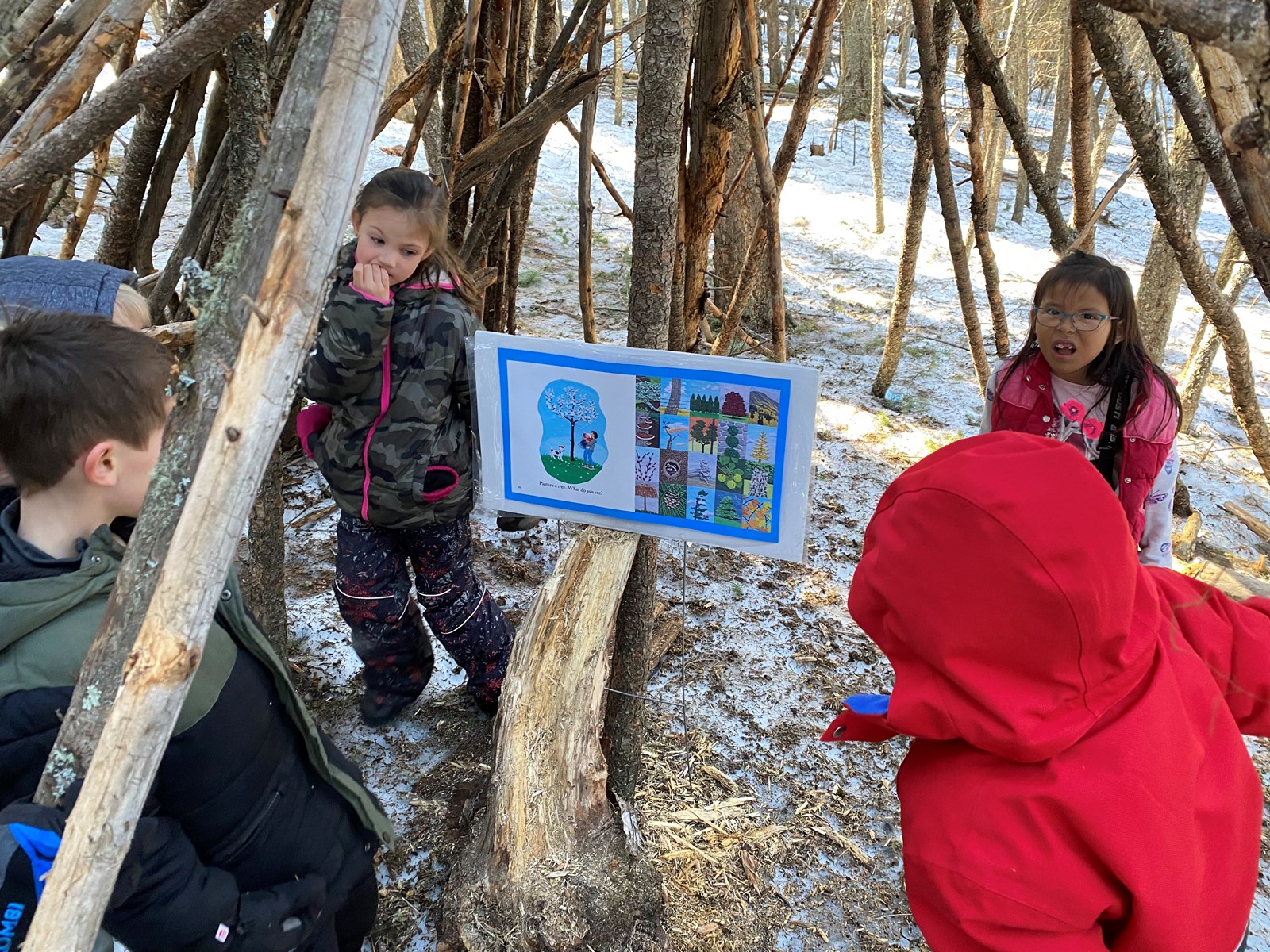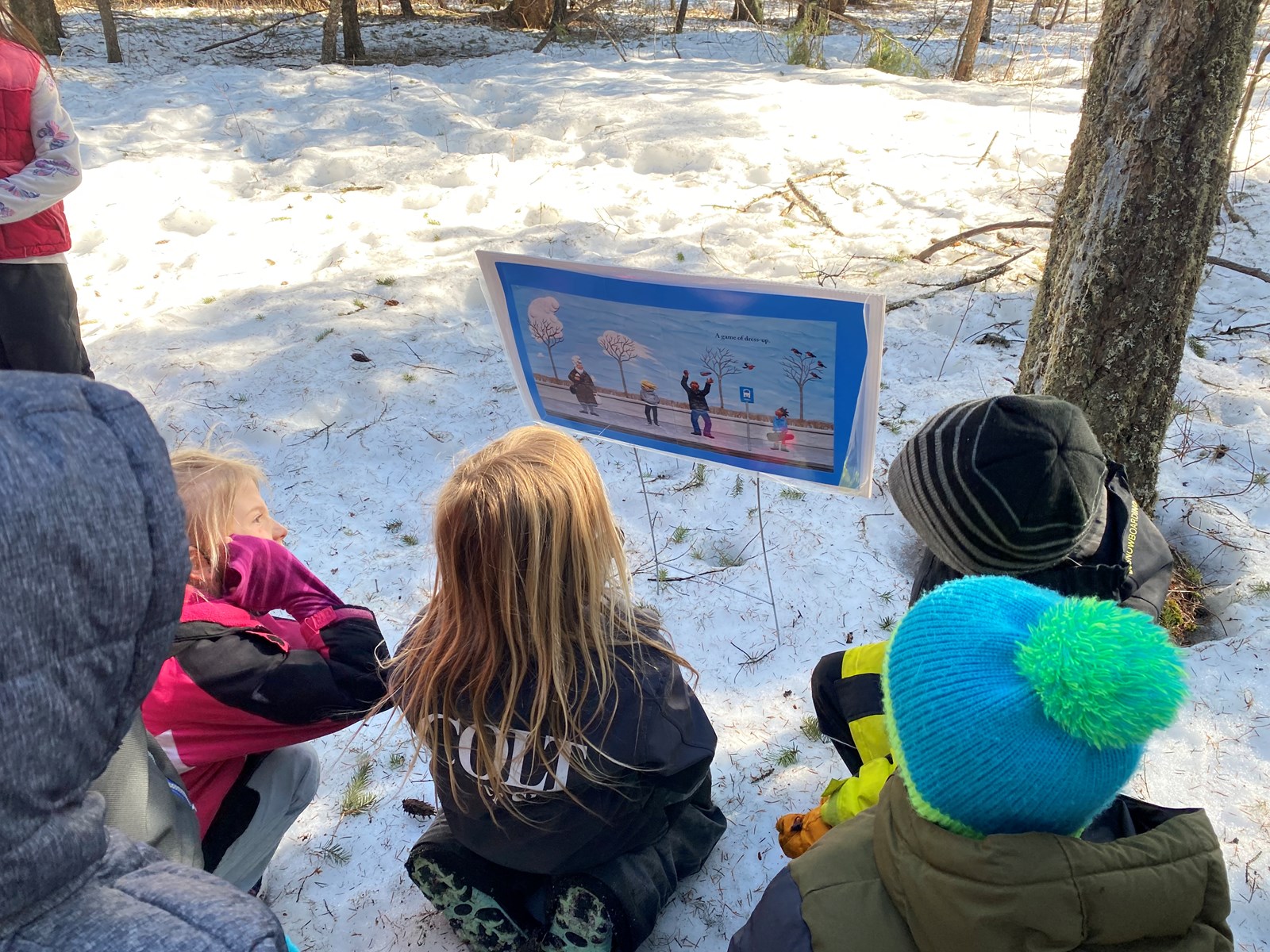 ---
Woodwork Projects
Columneetza Jr. Secondary
At Columneetza woodwork projects are beginning to include local varieties of wood, in this completed project a student has used wood in their end table project that they collected from a Juniper tree that had fallen down on their property. The Juniper wood was then worked and finished into the prominent pieces of this beautiful end table.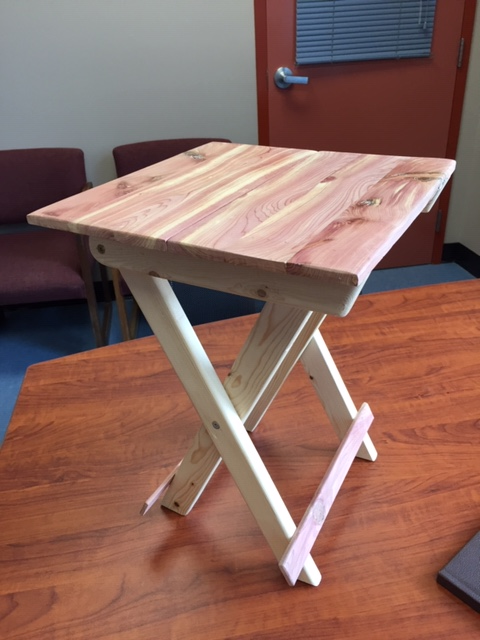 ---
Dog Creek Students - Outdoor Math
Dog Creek Elementary
Here are some grades 4/5 students from Dog Creek working on Math outside. We had just finished a walk down to look at the bulls (which was their requested recess activity) and when I told them we still had time to play upon our return, they opted to get their math books and Mathletics out to start working outside in the sun! Our move to outdoor learning has really started to take hold in both our school and our district.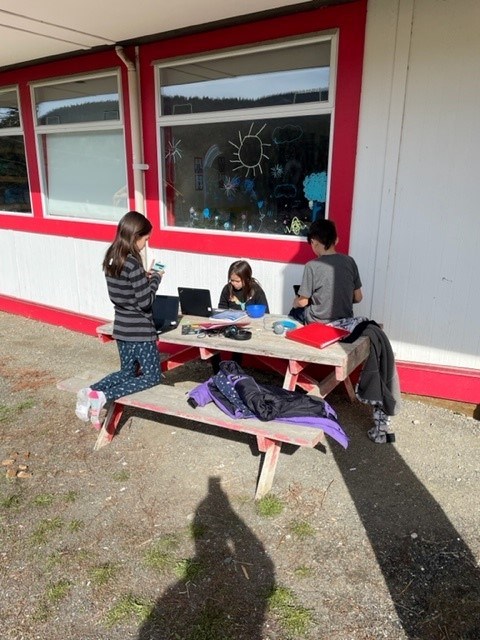 ---
Nerf Battle
Lake City Secondary
Lake City Secondary's annual Grad nerf battle was a huge success again this year. About 90 grade 12 students showed up to interact, play and have a night of fun.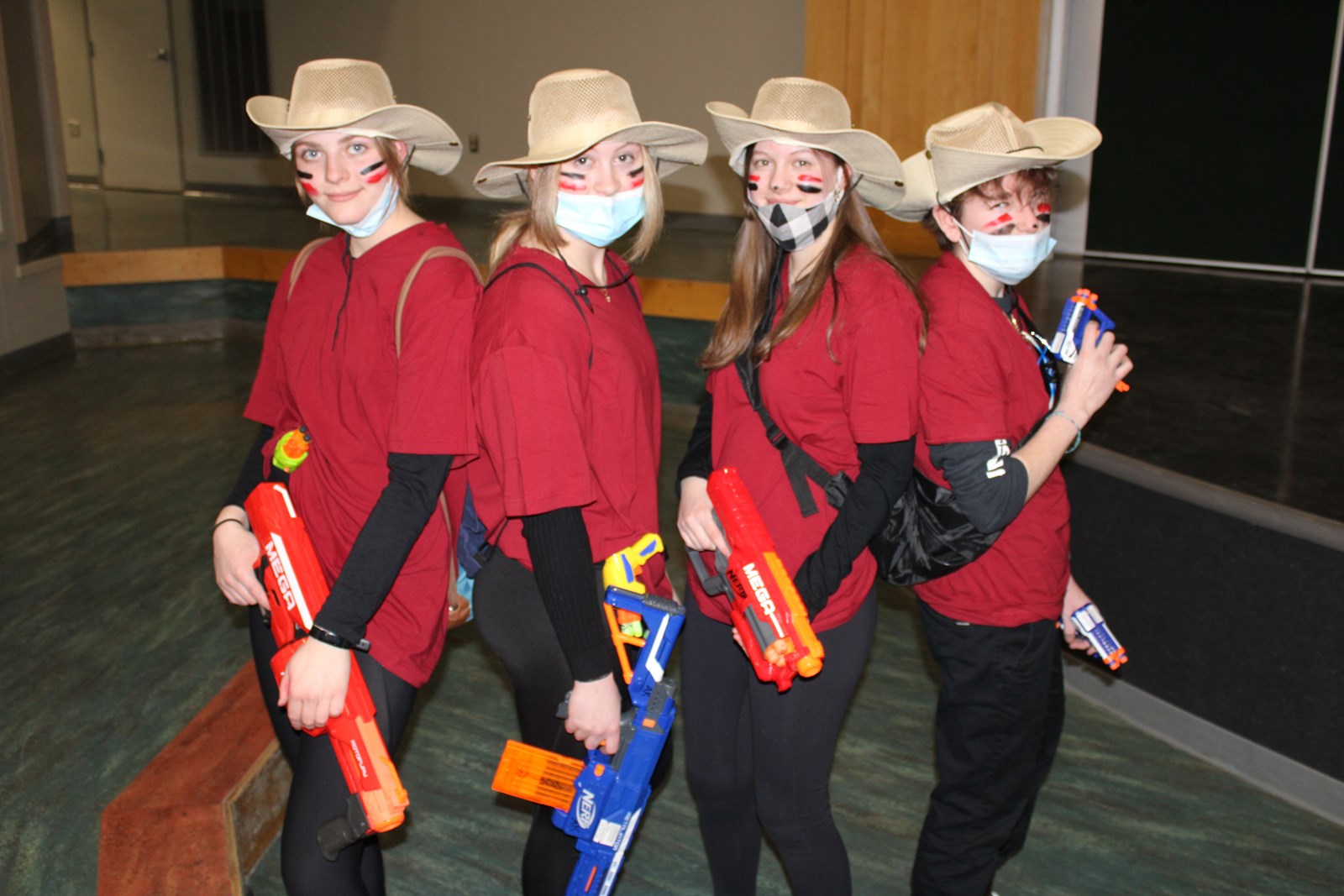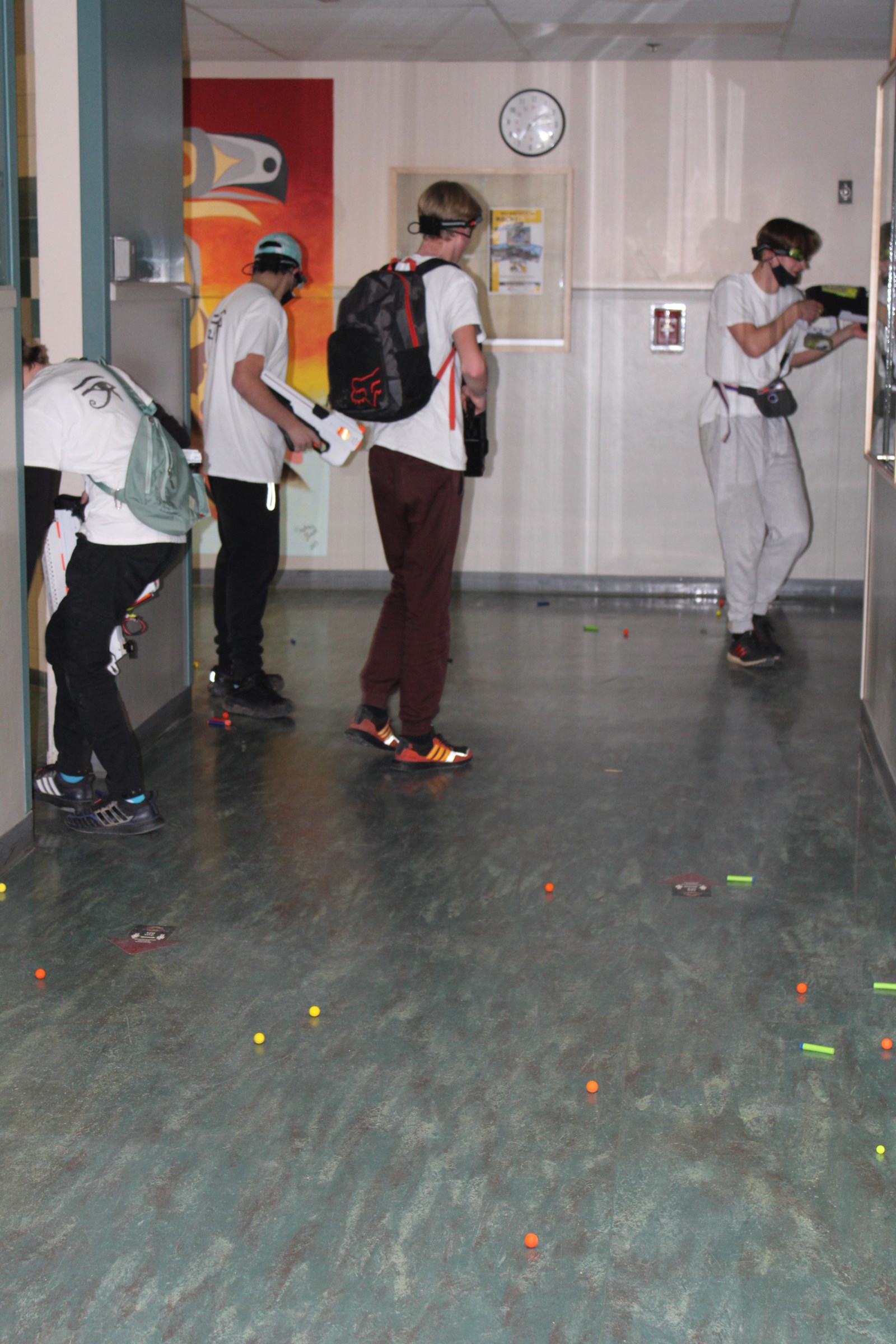 ---
Animal Adaptations
Cataline Elementary
February 17 saw Dave Quinn from Wildsight BC join Cataline Elementary for the day to teach our students about animal adaptations and living and thriving in the winter.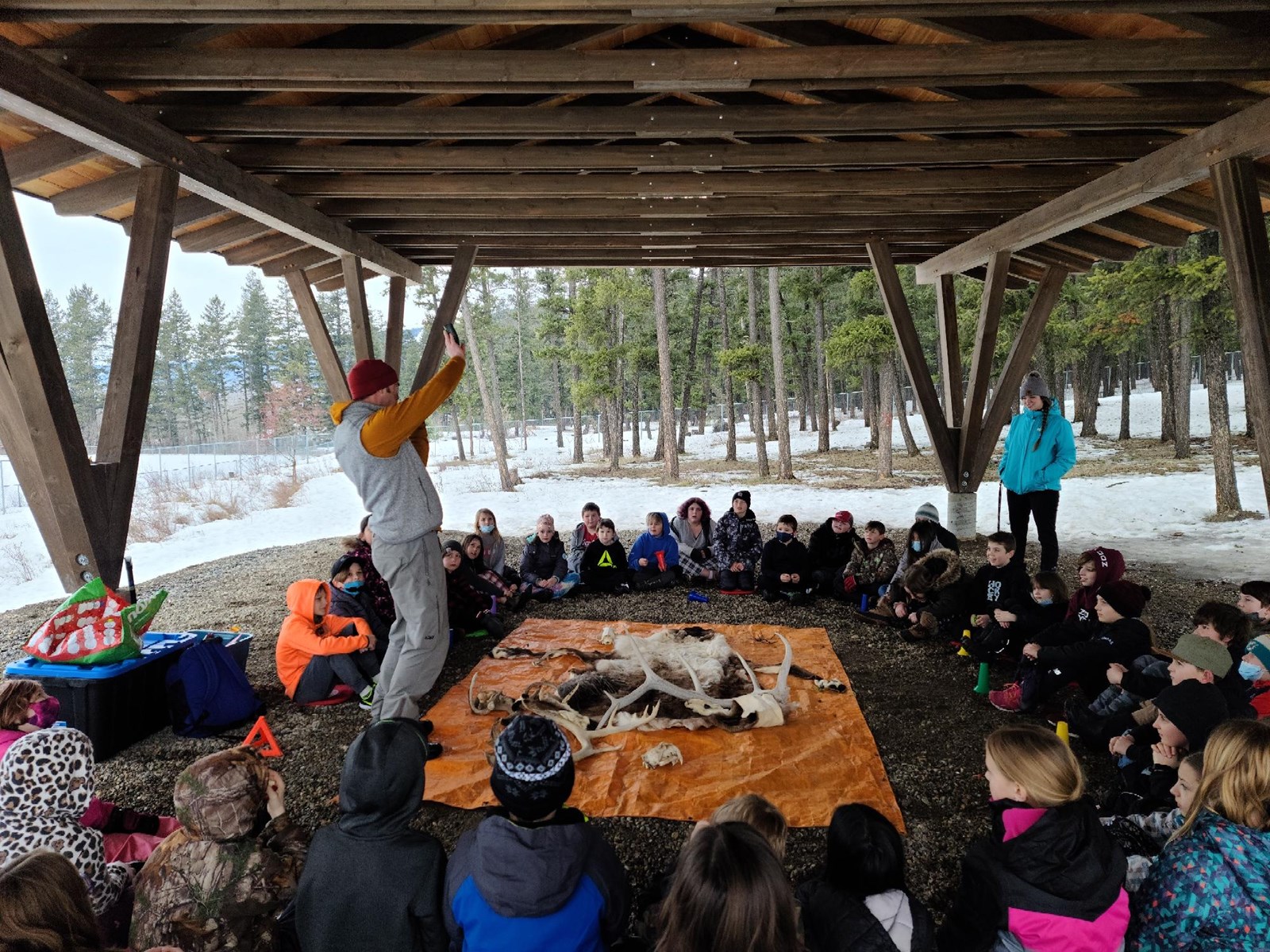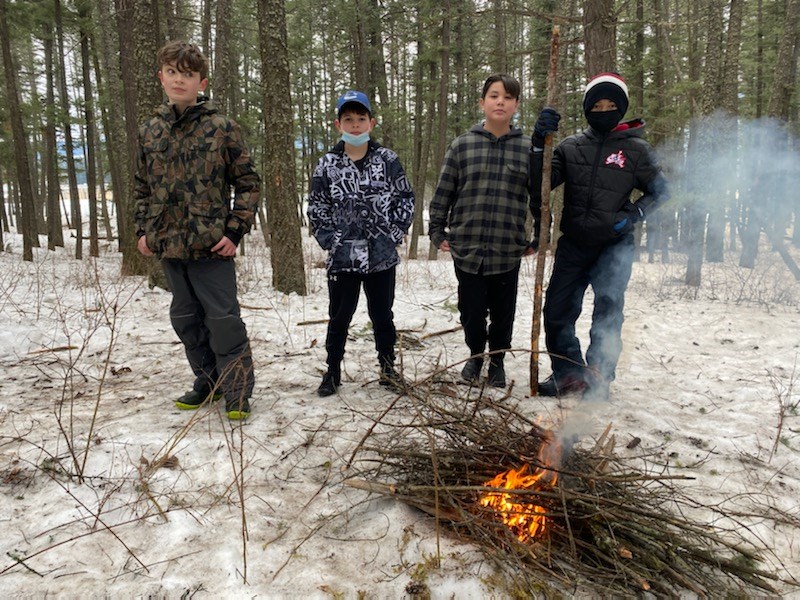 ---
Adopting Calves
Dog Creek School
Our students were given the chance to adopt calves, learn hands-on how they grow, and the work that goes into taking care of the calves. We are going to use the hands-on work to practice our writing, work on science, careers and practice our collaboration all while increasing our learning community and collective responsibility for our students learning. "It takes a village to raise a child."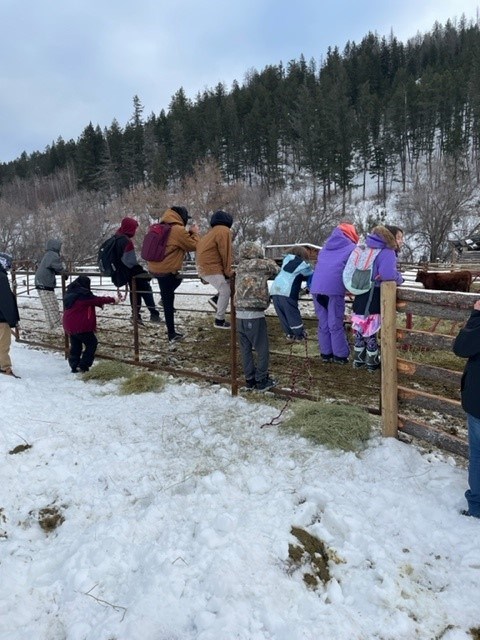 ---
Outdoor French Activity
100 Mile Elementary
The classes of 100 Mile Elementary went skating and sledding to celebrate French week. Students enjoyed time outside in the glorious sunshine at the 100 Mile House Outdoor Community Rink!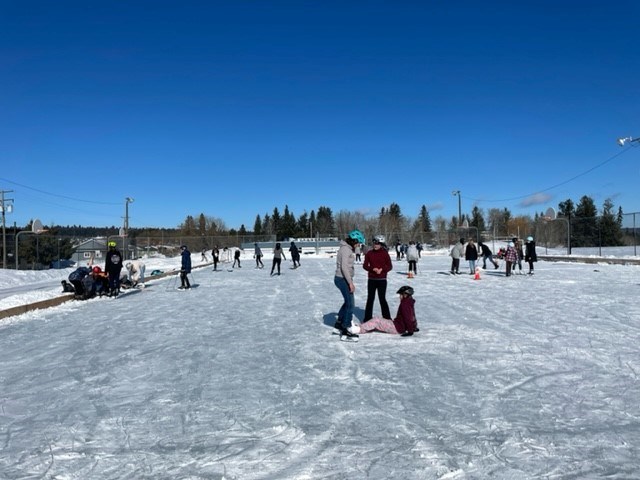 ---
Nesika Outside Learning
Nesika Elementary
Throughout the day today many Nesika classes got outside for learning to learn alongside special guest WildSight facilitator, Dave Quinn! Dave is a wildlife biologist, ACMG-certified wilderness guide, outdoor educator, and certified teacher based in Kimberley. He's in the Cariboo-Chilcotin this week visiting a few schools and facilitating a pro-d day workshop for SD27 teachers. Thanks, merci Dave!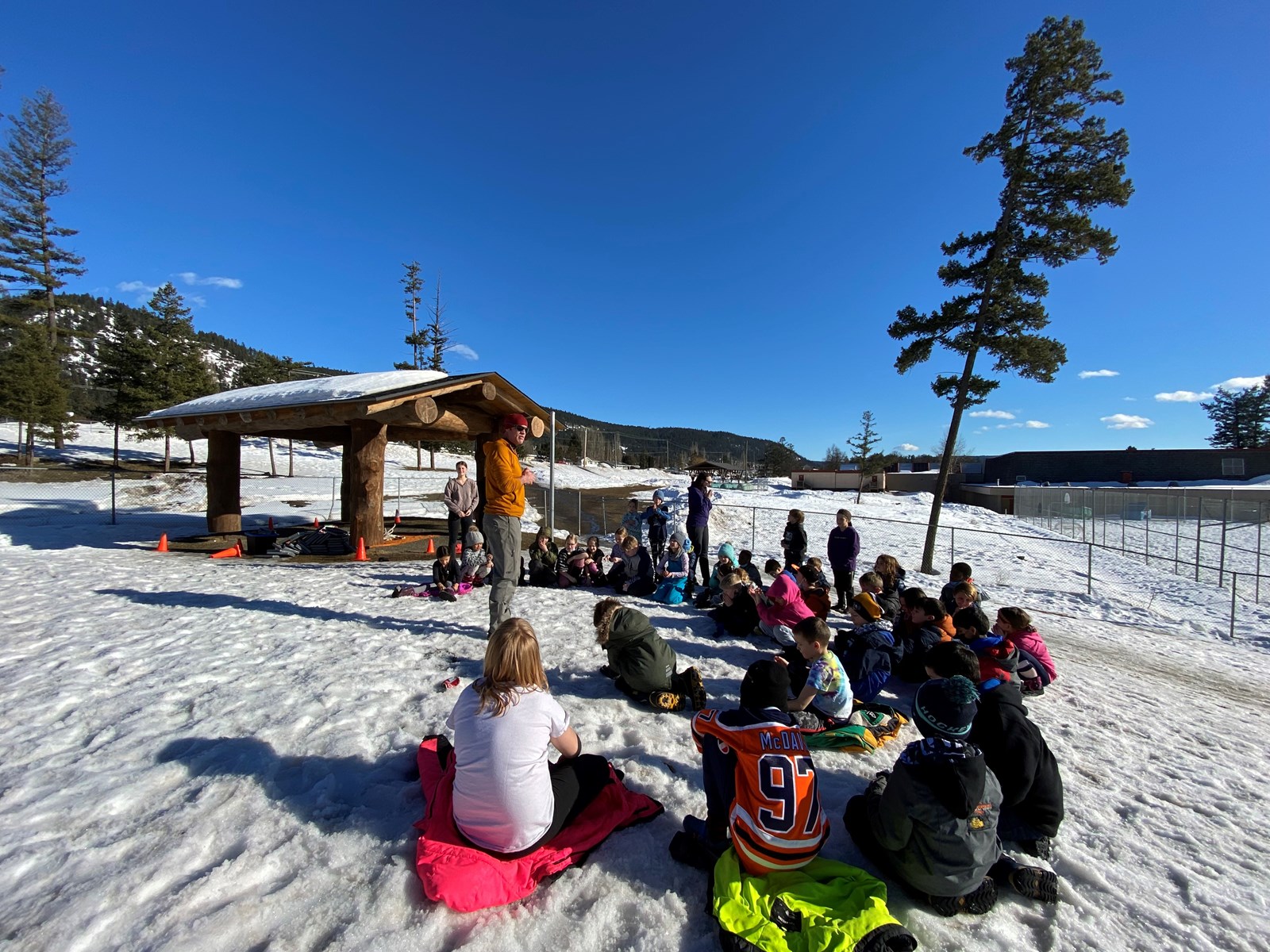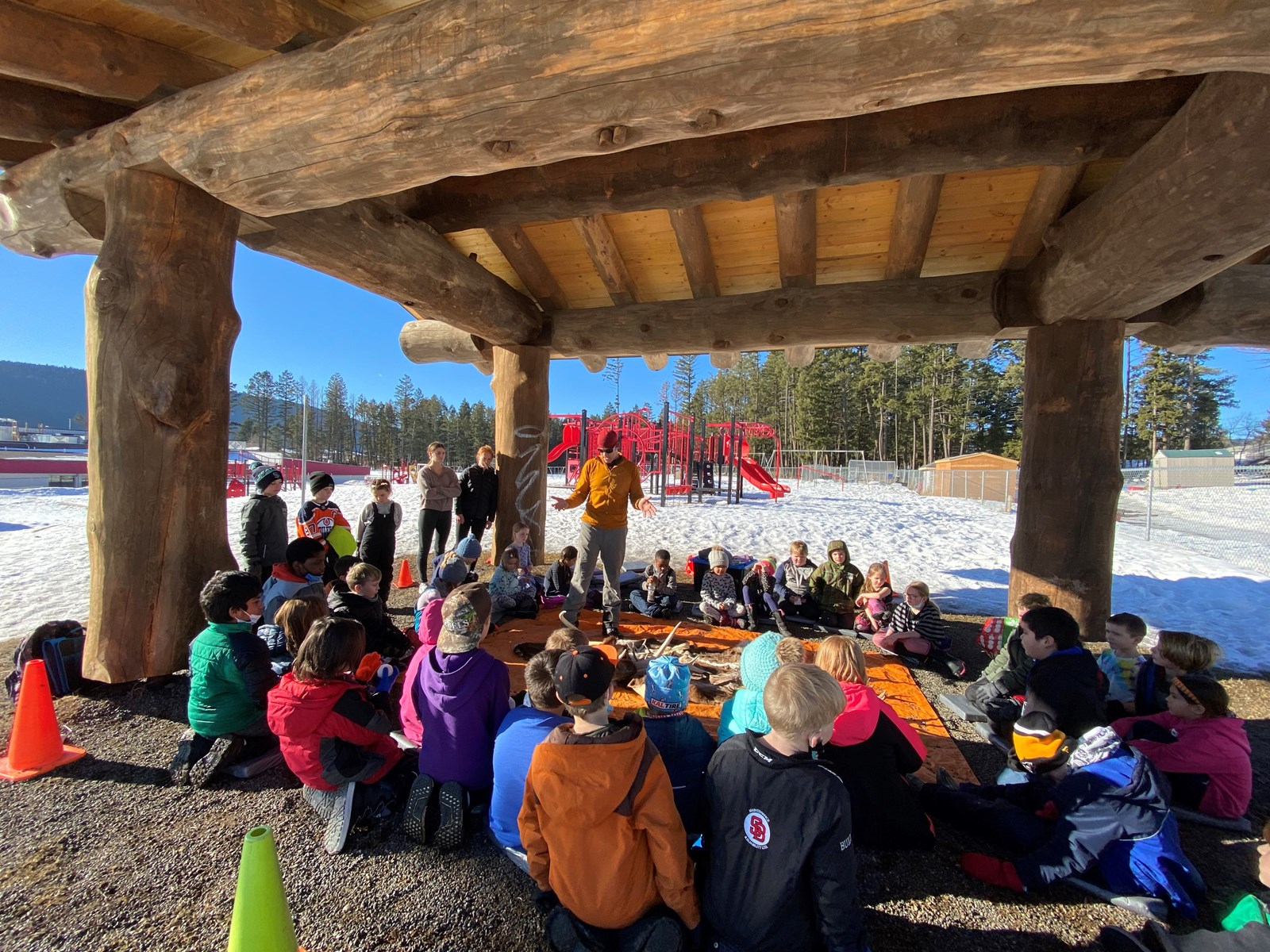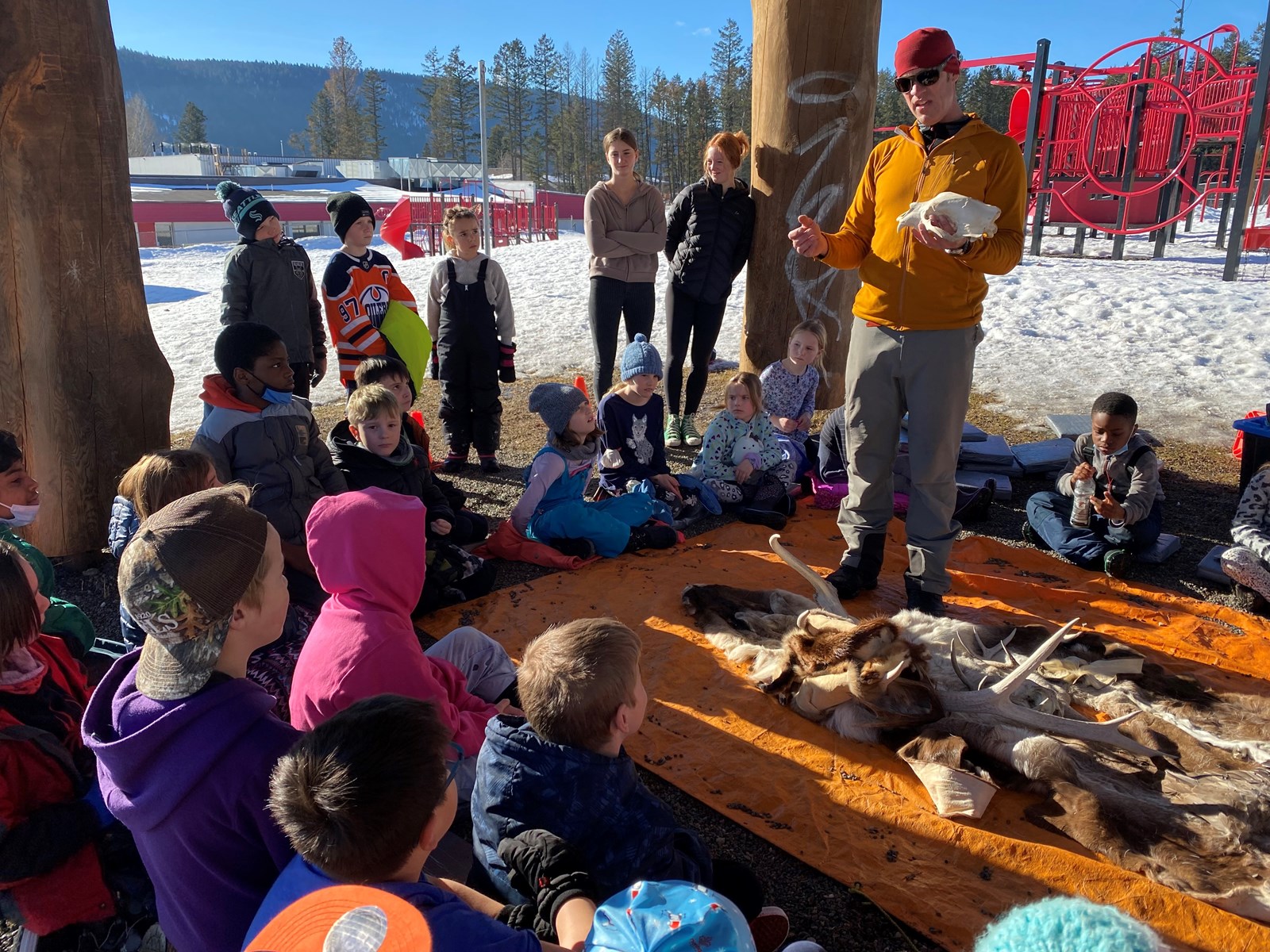 ---
Grade 6/7 Outdoor Classroom
100 Mile Elementary
Our class has been working on creating an outdoor classroom in the wild area in the Centennial Park. While we are there, students are using the John Muir Laws method of nature journaling to create detailed questions about the natural world. This is tying into our ecology unit. We have also worked on creating a scaled map of the area (socials). We have also worked on creating snow forts (ADST). Also, we have had a member of the 100 Mile Search and Rescue team (Jean Swann) come and talk about outdoor safety and building emergency snow shelters. Our goal is to spend as much afternoon time as possible outside. It has required some effort and planning. It has been worth it. I have noticed a huge difference in the students' ability to focus in the classroom if we get outside regularly. We also manage to have a lot of fun.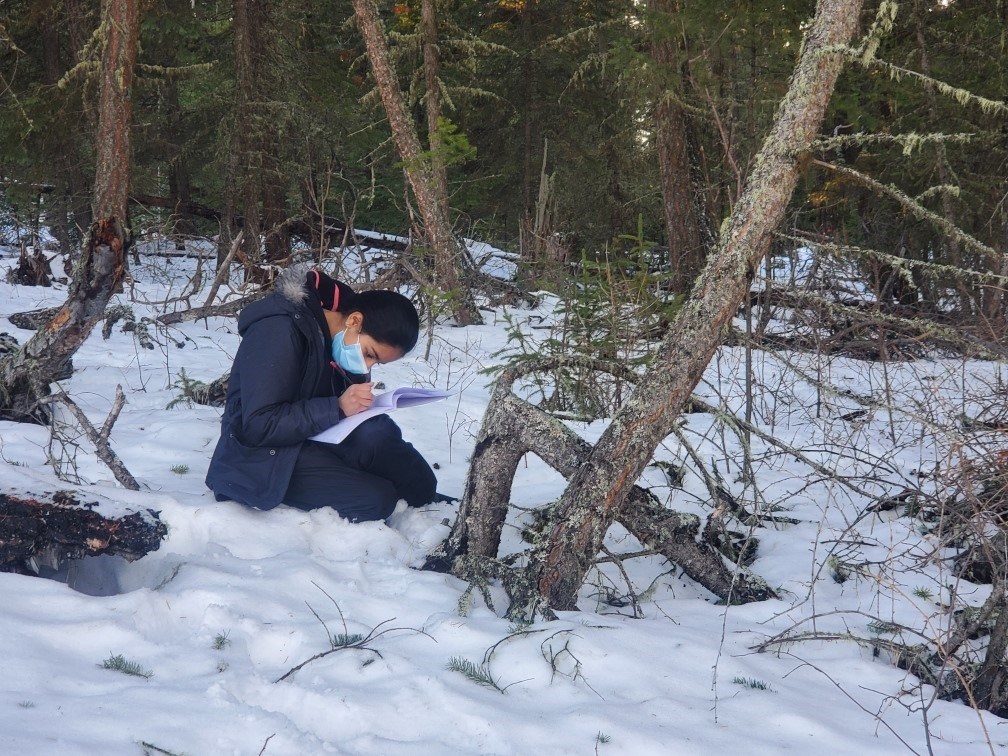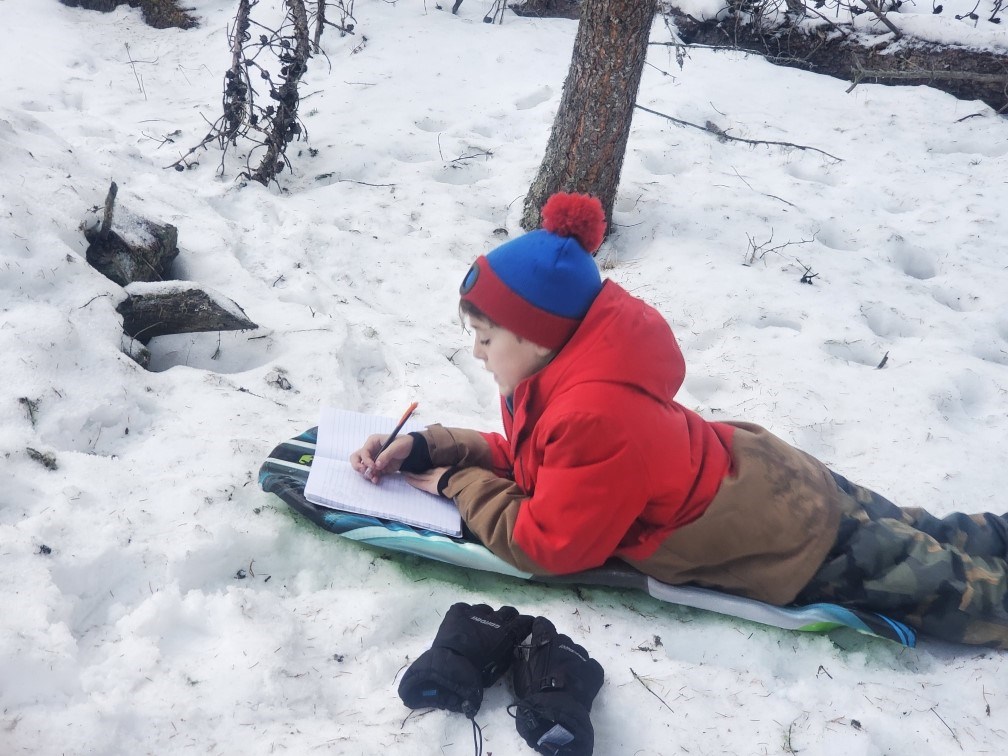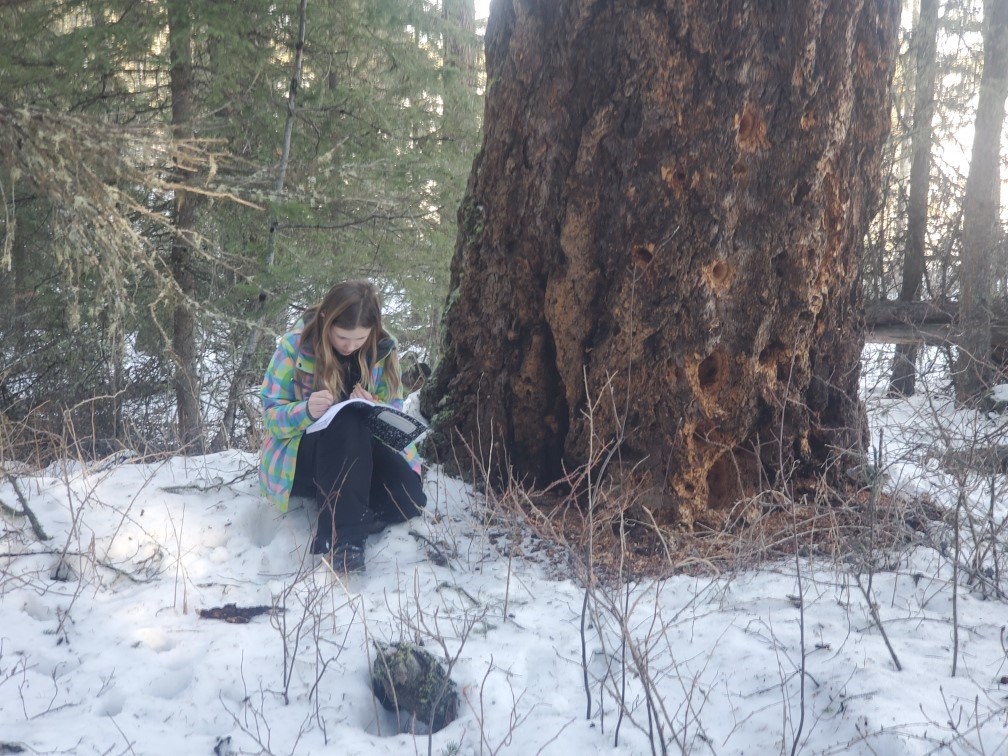 ---
Raising Our Own Calves
Dog Creek Elementary
Dog Creek students made their first visit to the ranch to meet their calves! Each student picked a calf and is going to name it and then help raise it over the next 5 months.
https://twitter.com/SteveSd27/status/1483599132547710977?s=20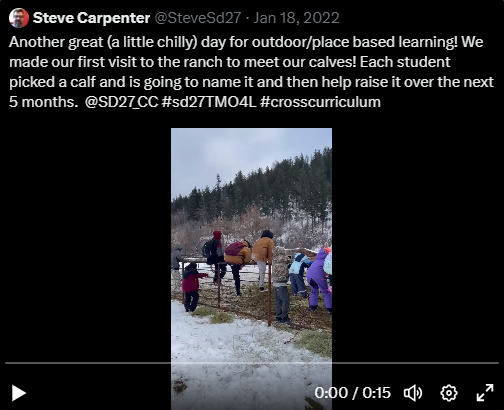 ---
Winter TMO4L book borrowing shelf at Nesika
Nesika Elementary
Nesika Elementary has a professional resource library of "TMO4L" books for teachers to borrow. Picture books are a great way to spark inquiry and curiosity about a topic, and a great way to kick off a visual arts, writing, and even numeracy learning experience. Staff is invited to come look, borrow, and poke around for ideas. There are lots of resources associated with winter lessons. Planning for outdoor lessons supports Nesika's Plan for Successful Learners.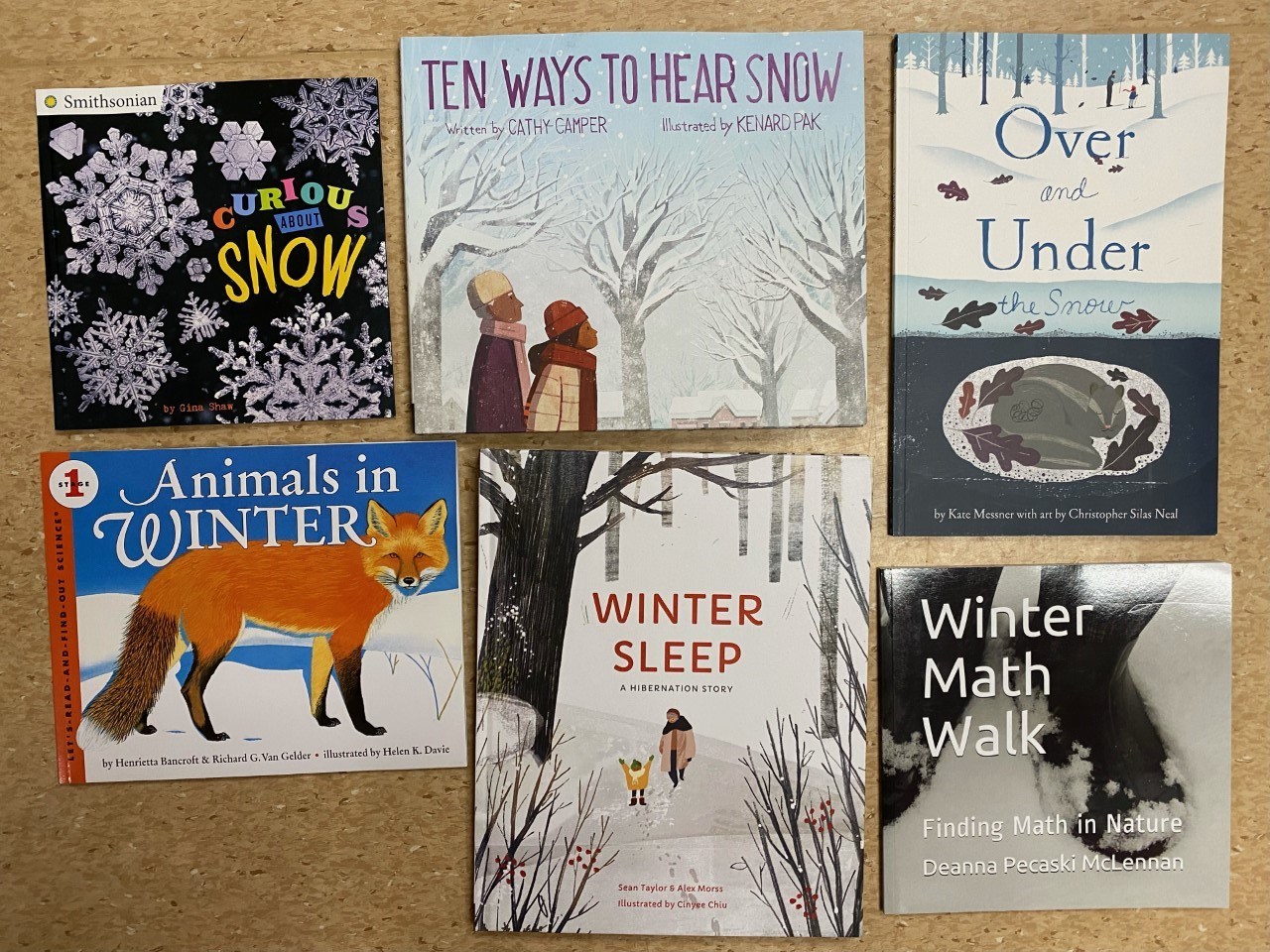 ---
Snow Much Fun
Horsefly School
Teacher Kathy Farkas reads the book Snow by Joan Clark to primary students in their own snowy wonderland at Horsefly School. The class made a snow angel clock in the snow. Students at all schools in SD 27 will spend more time outdoors as part of our health measures and the shift we are making toward outdoor learning for the many benefits it has for students and staff.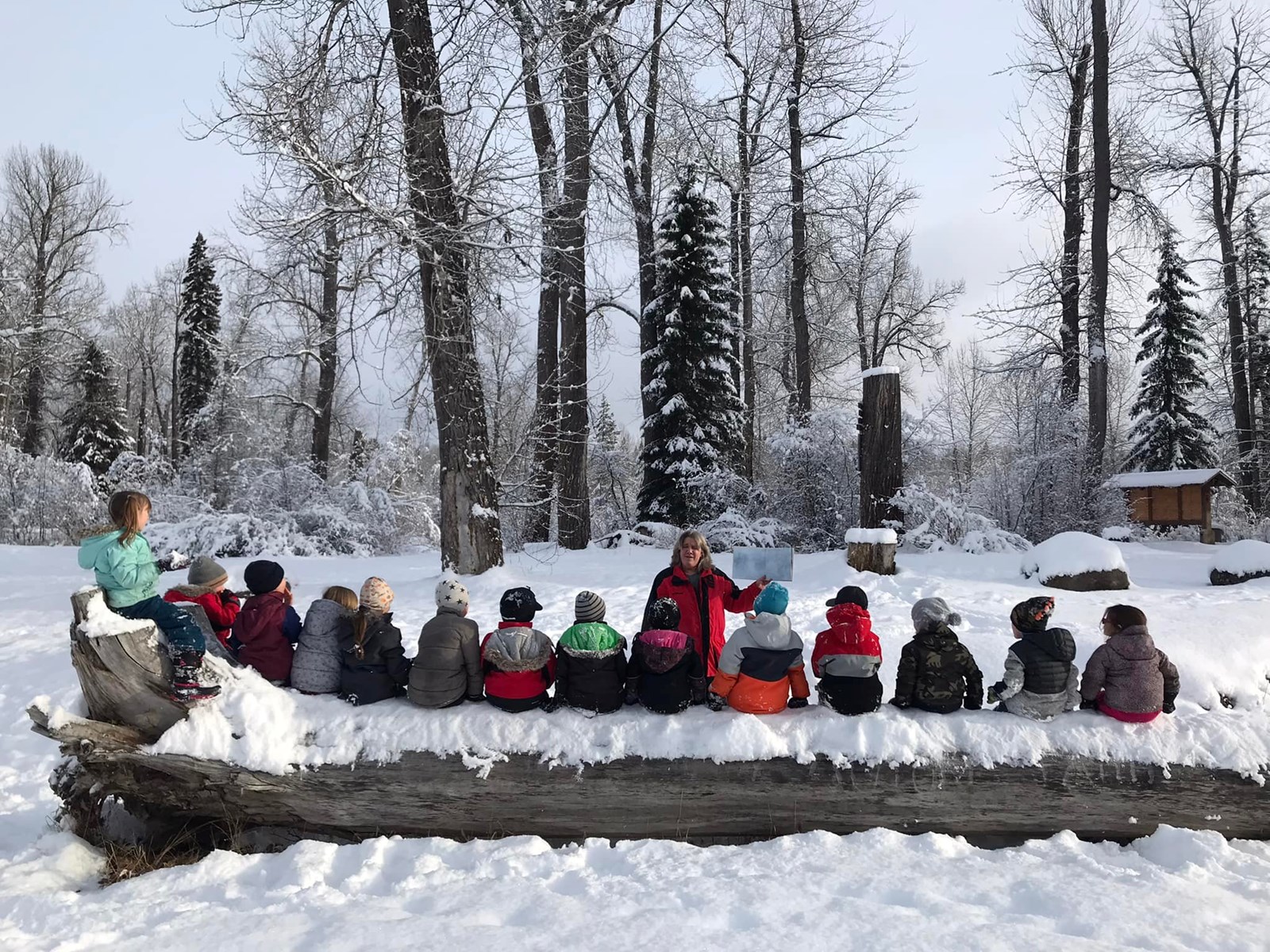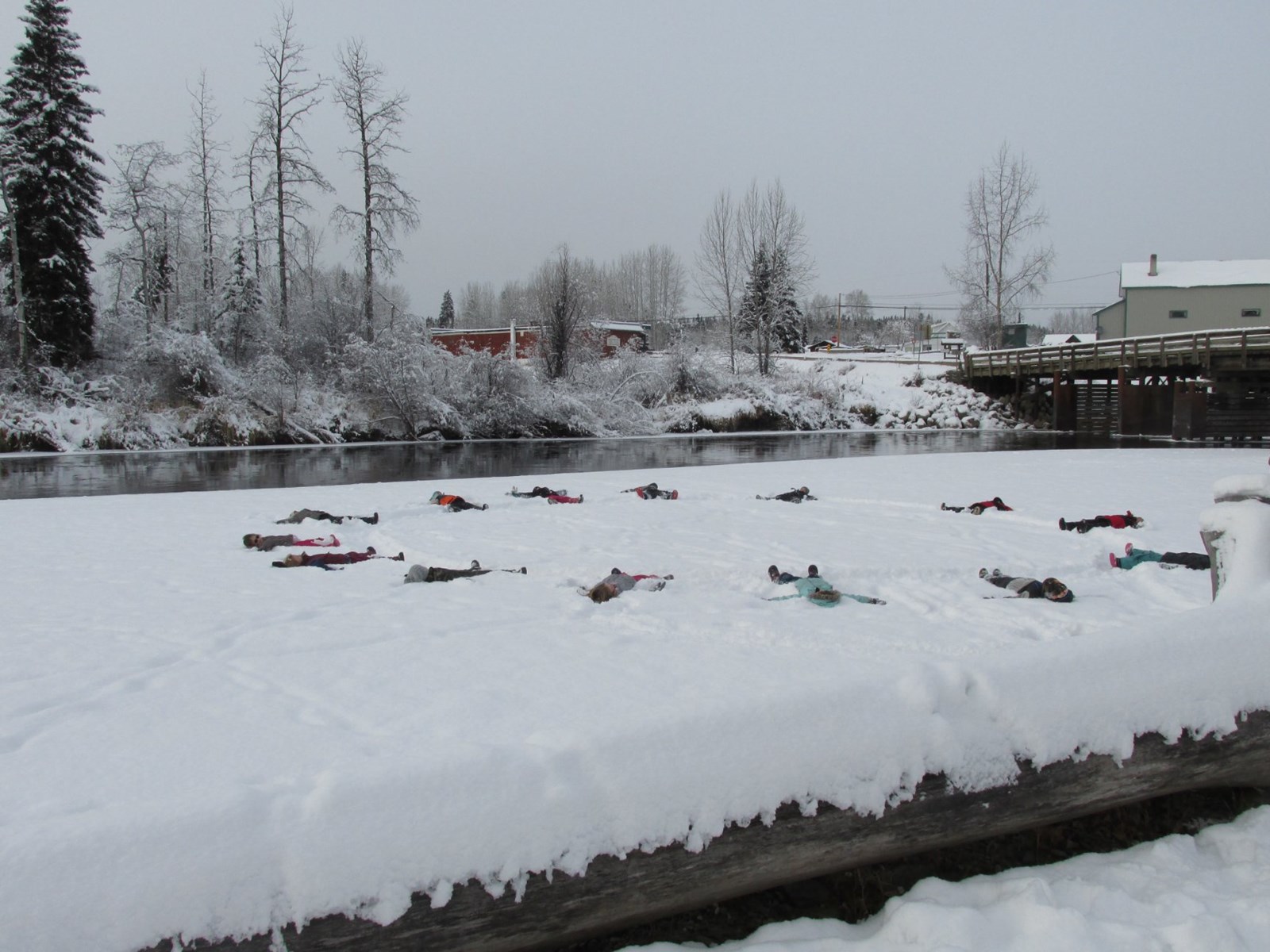 ---
Scavenger Hunt
Dog Creek Elementary
Dog Creek school enjoyed a scavenger hunt put on by the band around the roles of the different band supports such as Treaty, Health Unit, and Lands Stewardship.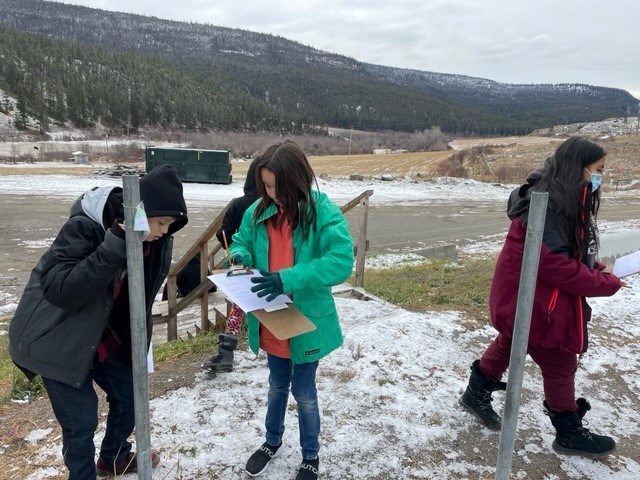 ---
Walking in a Winter Wonderland
Big Lake School
At Big Lake School, students and staff start their day with a morning circle and nature walk. This week, students learned how to say "Happy Holidays" in different languages and enjoyed the beautiful winter scenery. We are fortunate to live and learn here.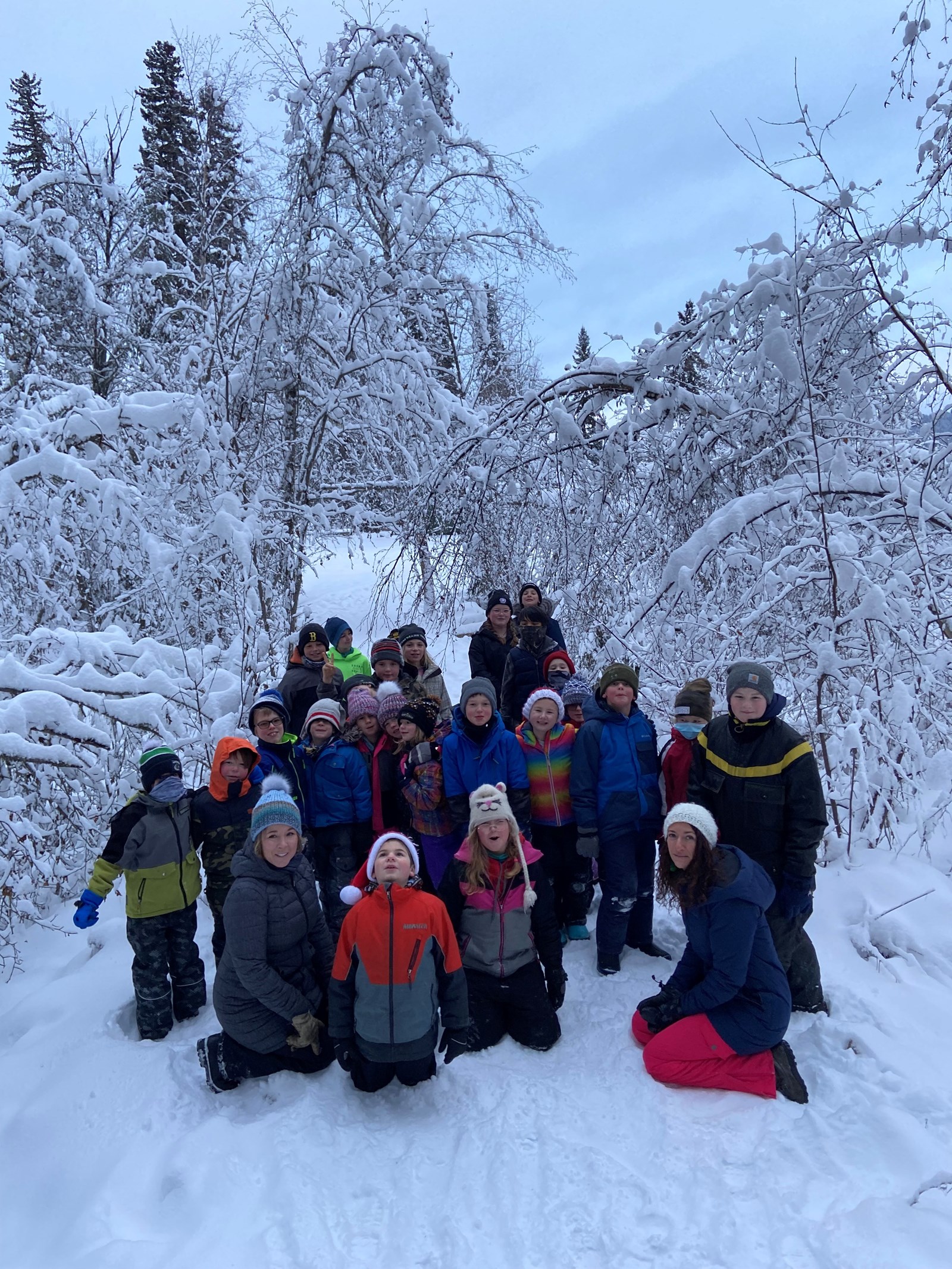 ---
Cataline Outdoor Education Class
Cataline Elementary
At Cataline we have been learning about dendrochronology (the study of tree rings) in our outdoor education classes. Students learned about what resources a forest needs to thrive and have been investigating stumps in our school forest to see how our trees are being impacted by droughts and insect infestation.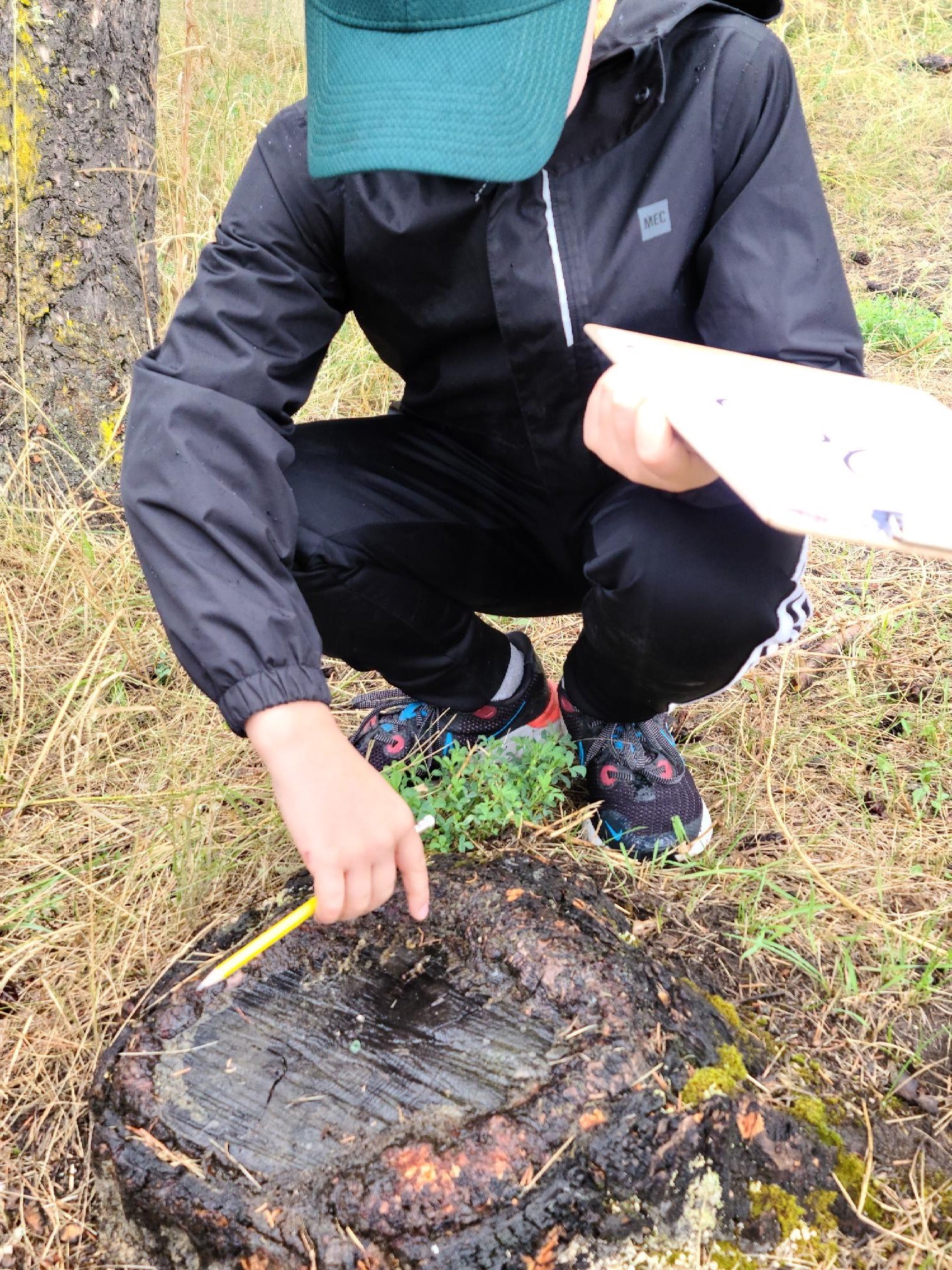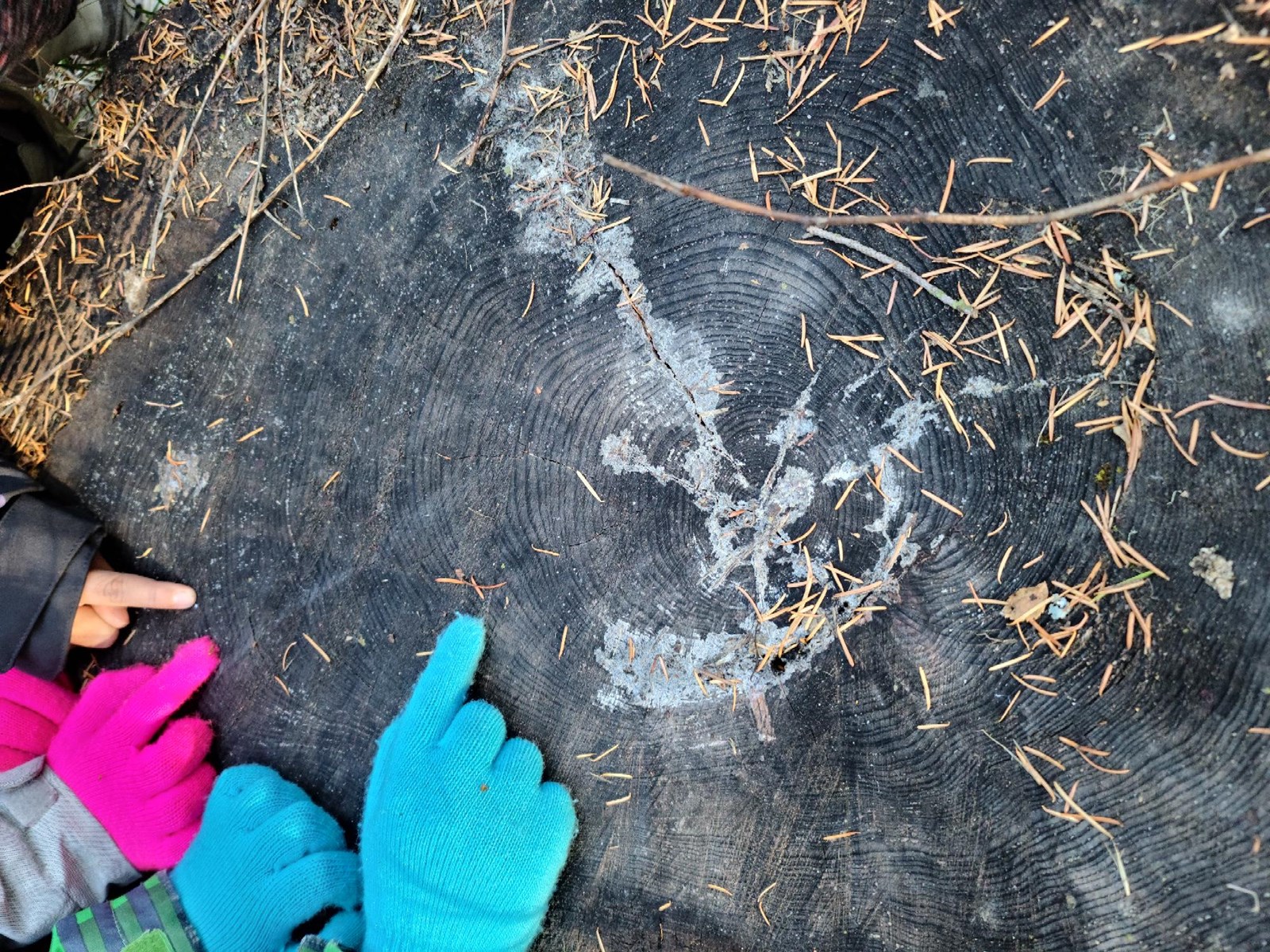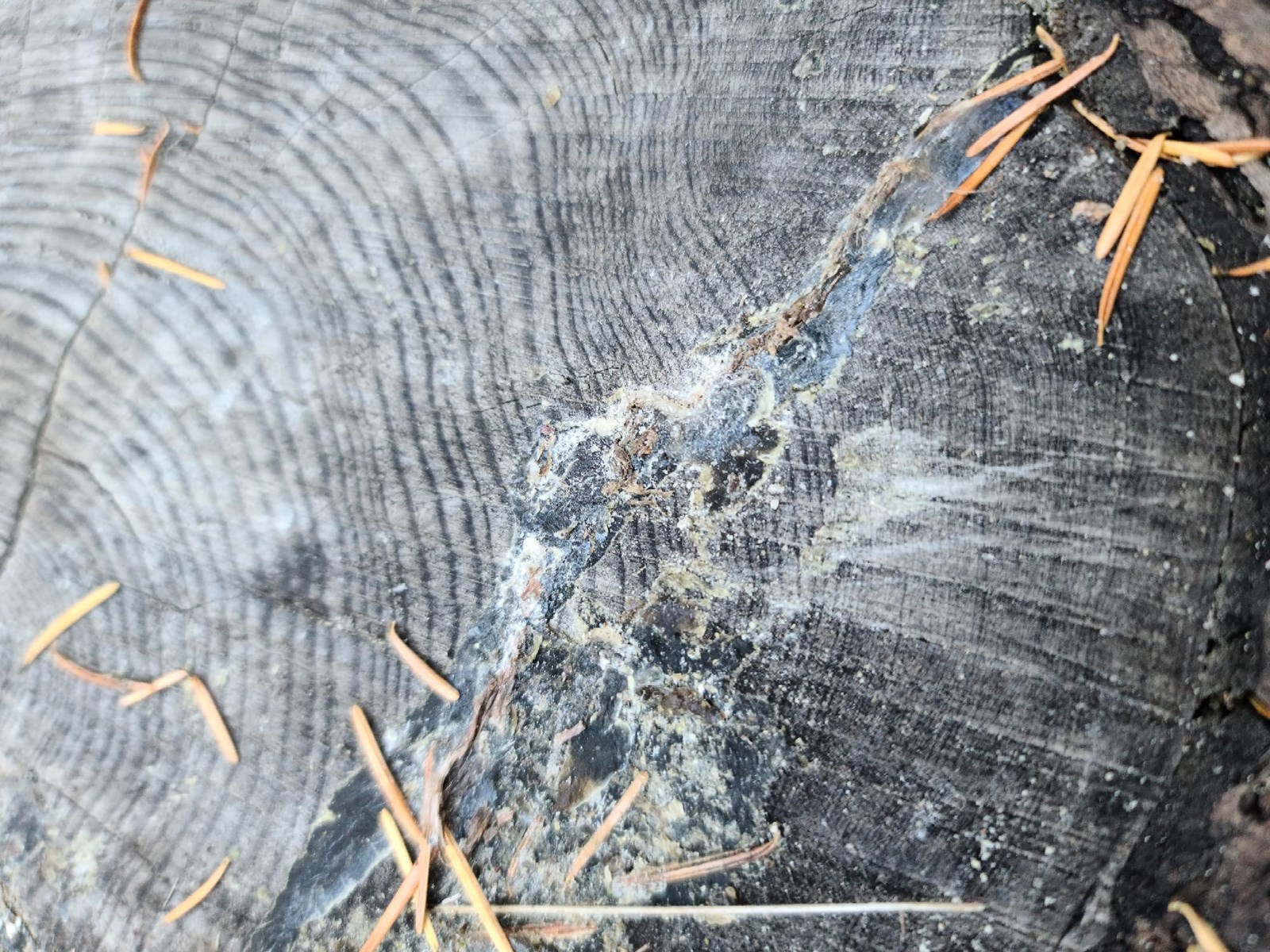 ---
Nesika Outdoor Winter Play
Nesika Elementary
At Nesika our commitment to outdoor learning and play is an important part of our Successful Learners Plan. In our school, we believe in a balance of child-directed playful learning, teacher-directed playful learning, and fundamental structured learning. Outdoor play is an important part of successful learning in all grade levels. In open-ended nature play, students can be found building snow jumps, negotiating fort making politics, or collecting sticks for imaginary play. In more structured outdoor learning, students may write in journals at their sit-spots, listening to a lesson at our outdoor classroom space, participating in a walking challenge, or building stories with loose parts.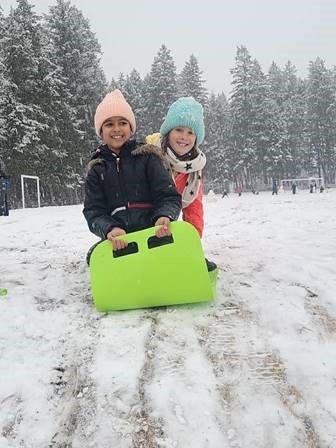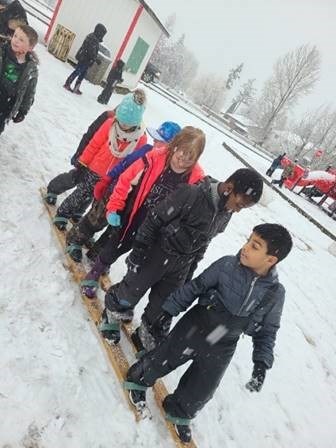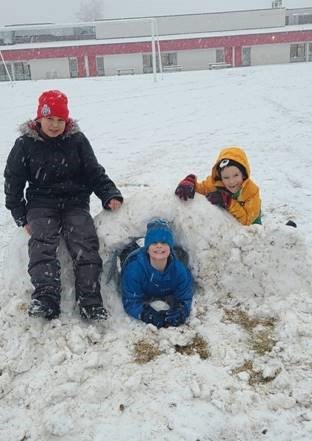 ---
The Salmon Trip 2021
Lake City Secondary
Lake City Secondary teacher Nara Riplinger leads watershed learning that sees students in hands-on activity alongside field researchers, graduate students, teachers, and First Nation Education coordinators.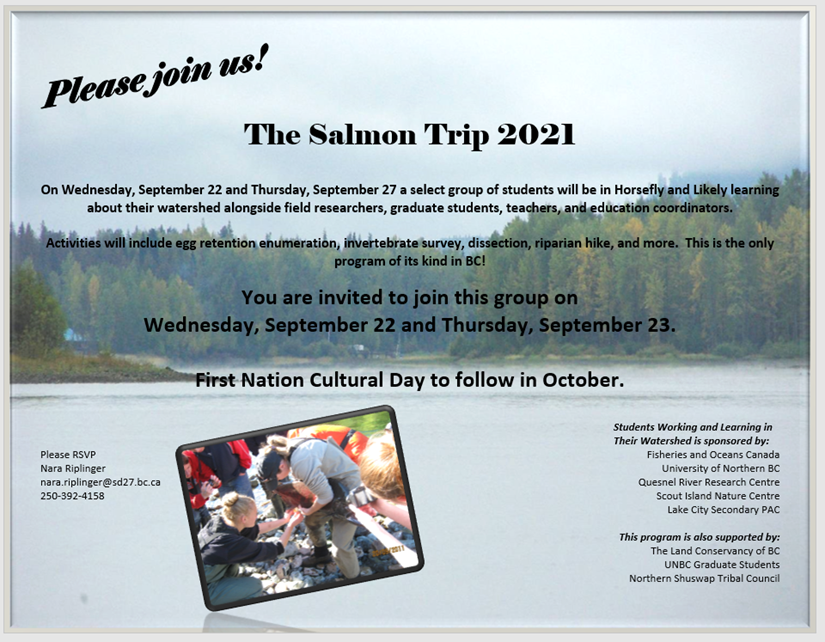 ---
Walking Curriculum
Anahim Lake Elementary
Many SD 27 teachers are using the Walking Curriculum as a way to enhance learning by incorporating movement and nature intentionally in learning. These Anahim lake student enjoyed a treat as they explored their local environment.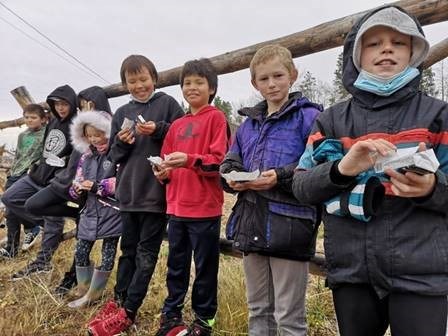 ---
Looking at Local History Through a New Lens
Columneetza Jr. Secondary
Columneetza Grade 7 teachers Tess Riley and Frances McCoubrey presented at the Oct 22 virtual Classrooms to Communities provincial conference. They shared their plans to teach the balanced and true history of the Cariboo including having students reference primary source documents, visit historically important sites, and learn about land use and significance before settlers.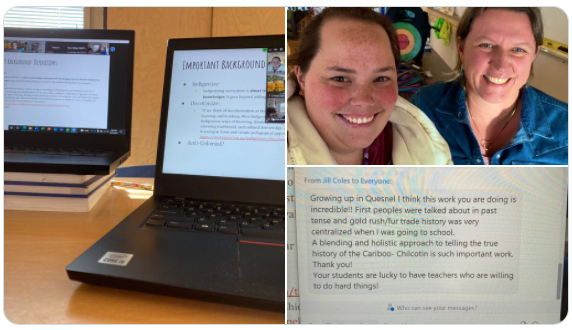 ---
In Conversation with Jane Goodall
District-wide
Students from across the district participated in a live virtual conversation with Jane Goodall as part of the Take Me Outside For Learning Week activities Oct 18-22.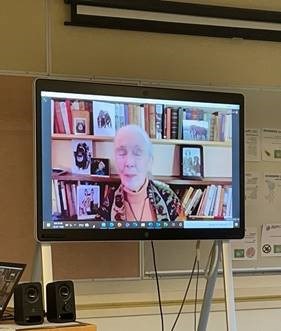 ---
Land Tour for Dog Creek Students
Dog Creek Elementary
Dog Creek School joined the Land Tour led by the Lands department of Stswecem'cand Xgat'tem. The trip started at the hot springs and then went to "20 Mile" meadow where they used to hay.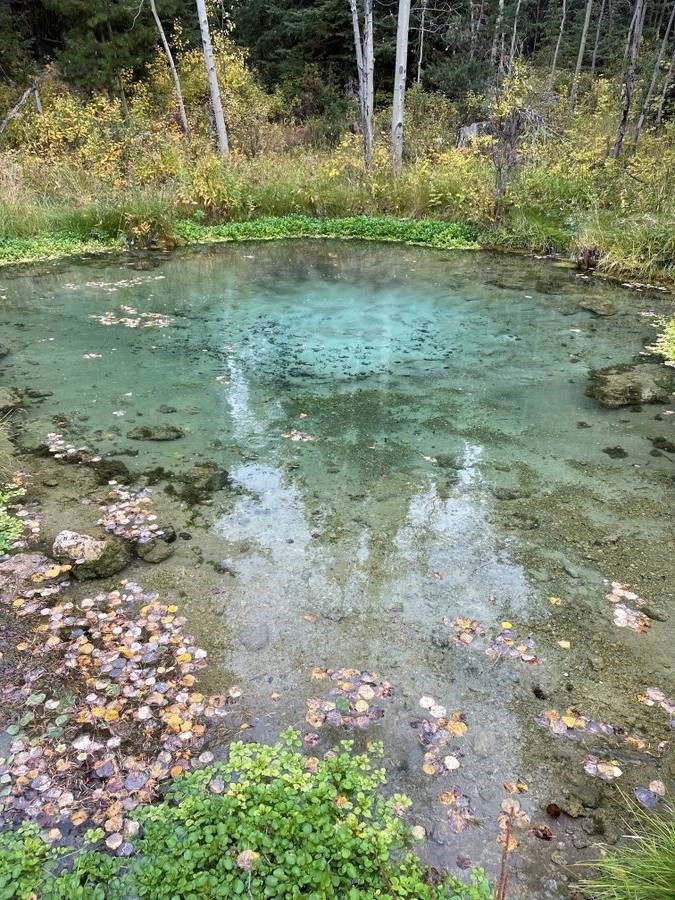 ---
Gavin Lake Society
Marie Sharpe Elementary
SD 27 is thankful for Gavin Lake Society providing an amazing site and learning opportunities for our students. Grade 6 classes are invited to participate in a curriculum-based experiential learning program at no cost to the schools. Field trips for other grades can be arranged and Gavin Lake is engaged in extended programming with a few schools, including Marie Sharpe as they expand their nature program.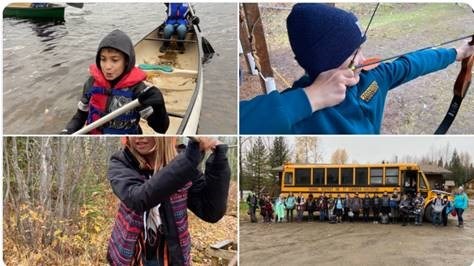 ---
Getting Started with Outdoor Learning
Nesika Elementary
This Nesika teacher was nervous to start moving learning outdoors but is having success. Her hot tip for other reluctant T's? Try a learning task you've already done in the classroom (more practice). Then it's not too much "new" at once.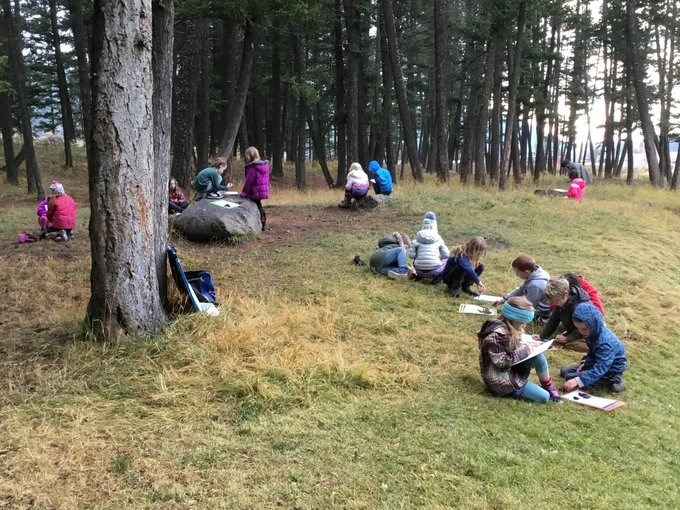 ---
HCTF Environmental Exchange Box Program
Cataline Elementary

Kelly Glen provides prep coverage for teachers at Cataline by taking their classes outside for learning. This class spent a nice October day exploring their favourite spaces to share with their partner class in the HCTF Environmental Exchange Box program.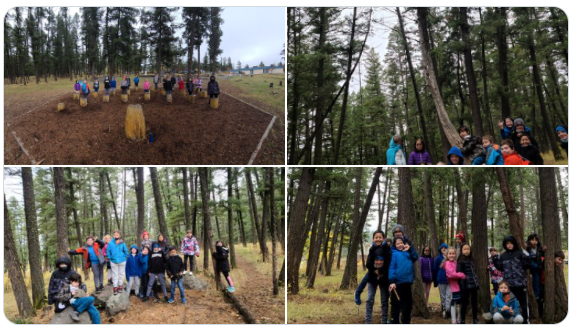 ---
Take Me Outside For Learning (TMO4L) Yearlong Challenge
District-wide
School District 27 is pleased to have more than 100 educators engaged in the 2021-2022 Take Me Outside For Learning (TMO4L) Yearlong Challenge. These teachers and principals have committed to take their classes outside for learning at least once a week for the full school year. They are part of a Canada-wide network of educators who share ideas and resources to enhance outdoor learning. We look forward to the health and learning benefits they will realize and to seeing what adventures they have.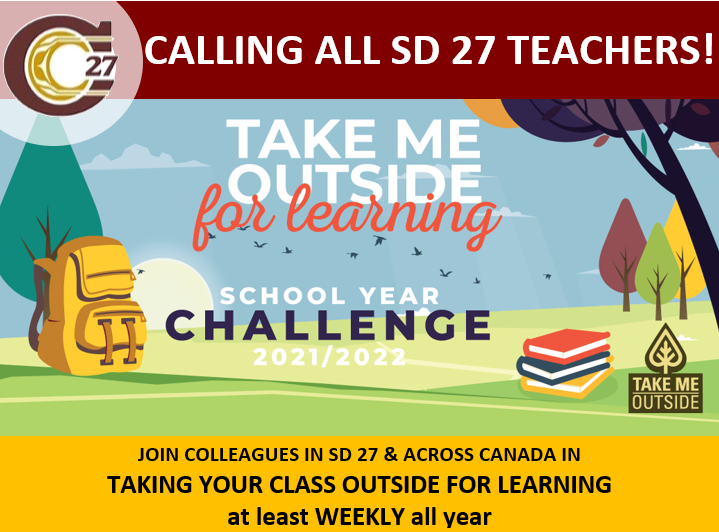 ---
Learning with WLFN Archaeology Team
Marie Sharpe Elementary
Cecilia Harry's grade 1 class from Marie Sharpe and Kirsty Bowers Grade 1 and 2 students from 150 Mile spent a day on the land with Brittany from Williams Lake First Nation's archaeology team. The students learned how to look for artifacts and how to leave them undisturbed to preserve the site.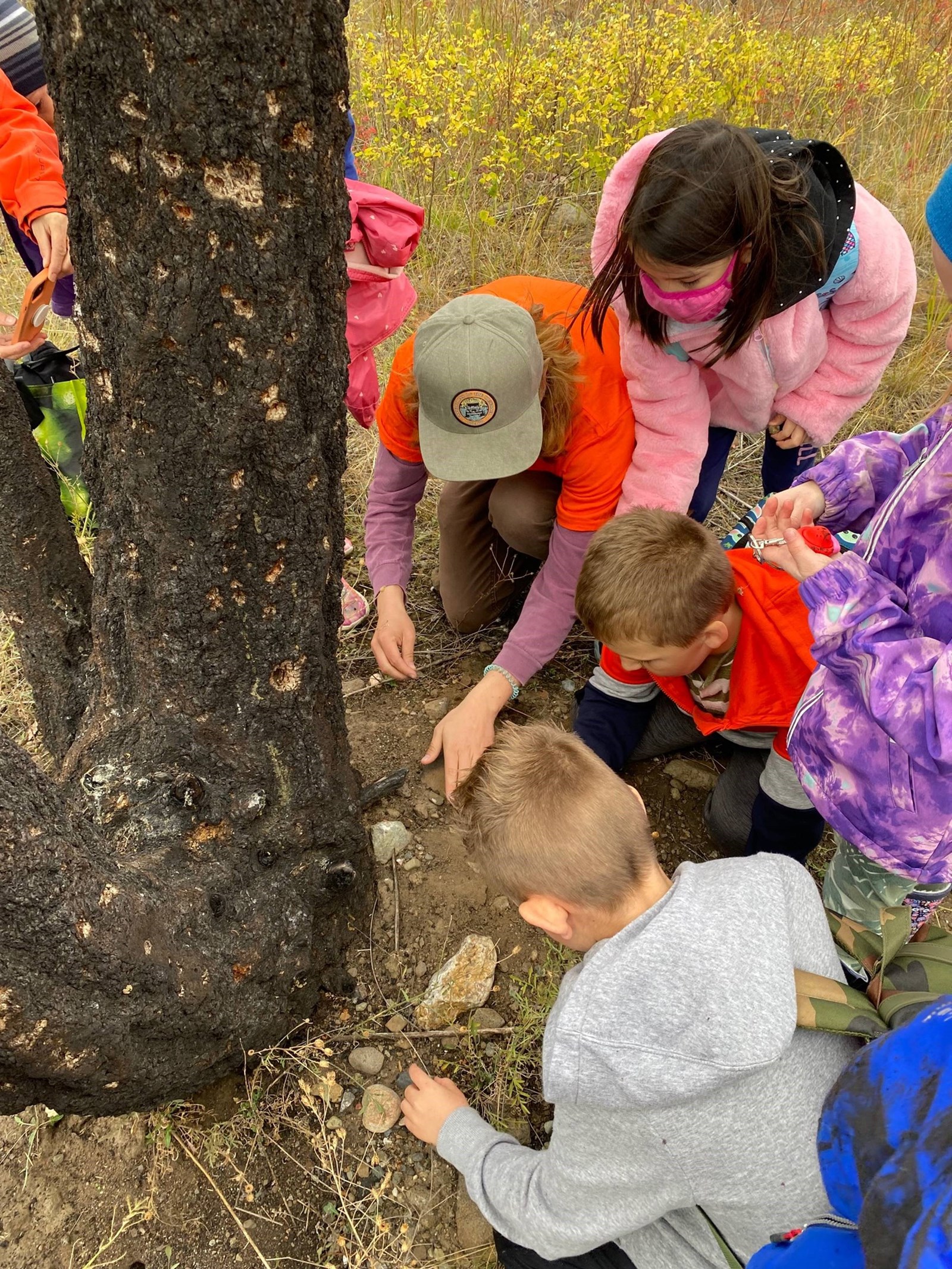 ---
Learning about Salmon
Naghtaneqed Elementary
Naghtaneqed students learn about salmon from Scout Island presenter Martin Kruus.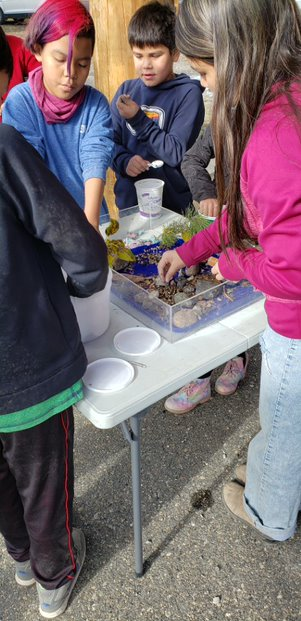 ---
Take Me Outside Week
Marie Sharpe Elementary
Tracy Walton's class at Marie Sharpe spent time outside during Take Me Outside Week noticing and recording what they detected with their senses and then came inside to create art to reflect their experience.