Collective Responsibility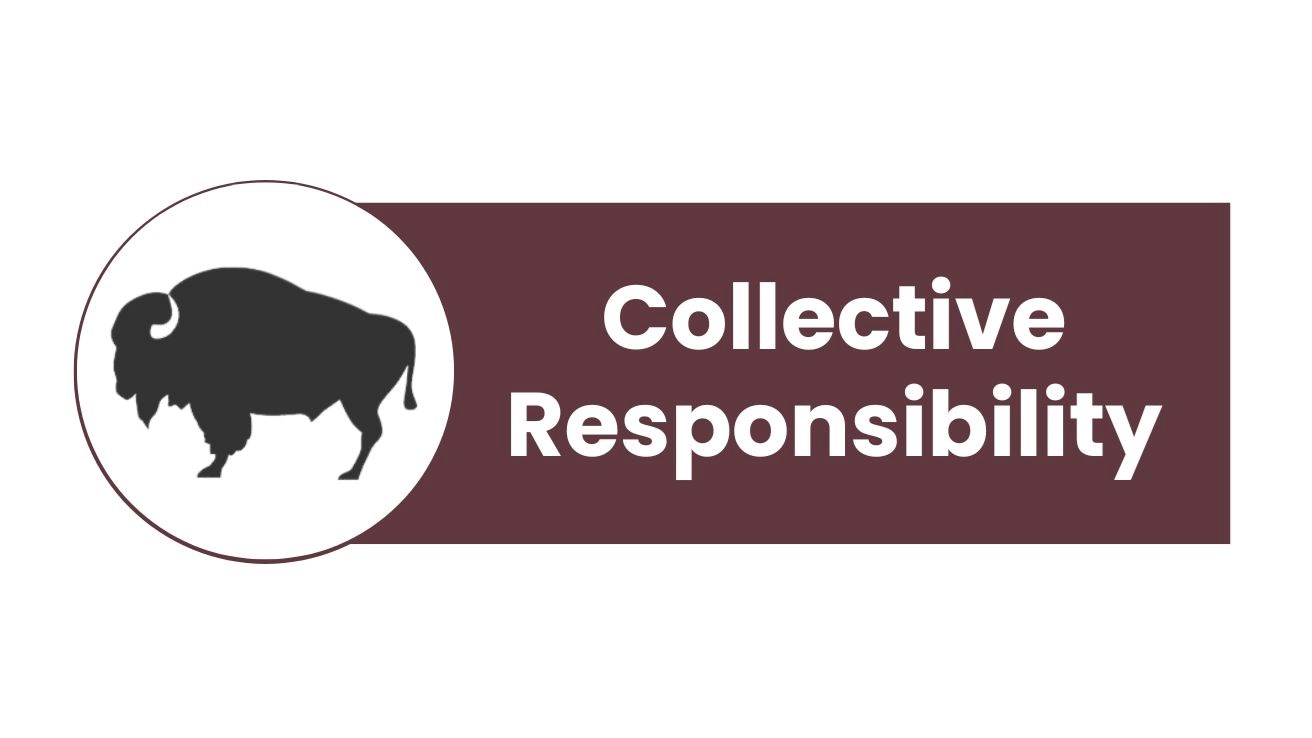 We are more effective when we work collaboratively and seamlessly to support student needs. We are ALL responsible for working together for the success of ALL students. Improving communication and access to common information, establishing effective instructional and support teams, and focusing on wrapping around and strengthening the core relationship of teacher-student-families will improve student success.
We have developed a Framework for Collective Responsibility that will help guide the work we do from creating, implementing and monitoring School Plans for Learner Success, Local Education Agreements with First Nation communities, Individual Education Plans (IEP), and interventions by School Based Teams (SBT). Common district assessments, with results made available in a timely and user-friendly format, support collaborative learning conversations by teams. Collective responsibility is a theme that emerges across all the other focus areas as we all do our parts toward common goals.
Keep scrolling to see how our district has been demonstrating collective responsibility over this past year!
---
Bi-weekly Interdepartmental Meetings
Finance, HR, and Maintenance Departments
Improved interdepartmental communication by implementing bi-weekly meetings between the Finance and Maintenance departments and the Finance and HR departments. This allowed us to address issues quicker, streamline processes, and engage our departments in working together to solve problems.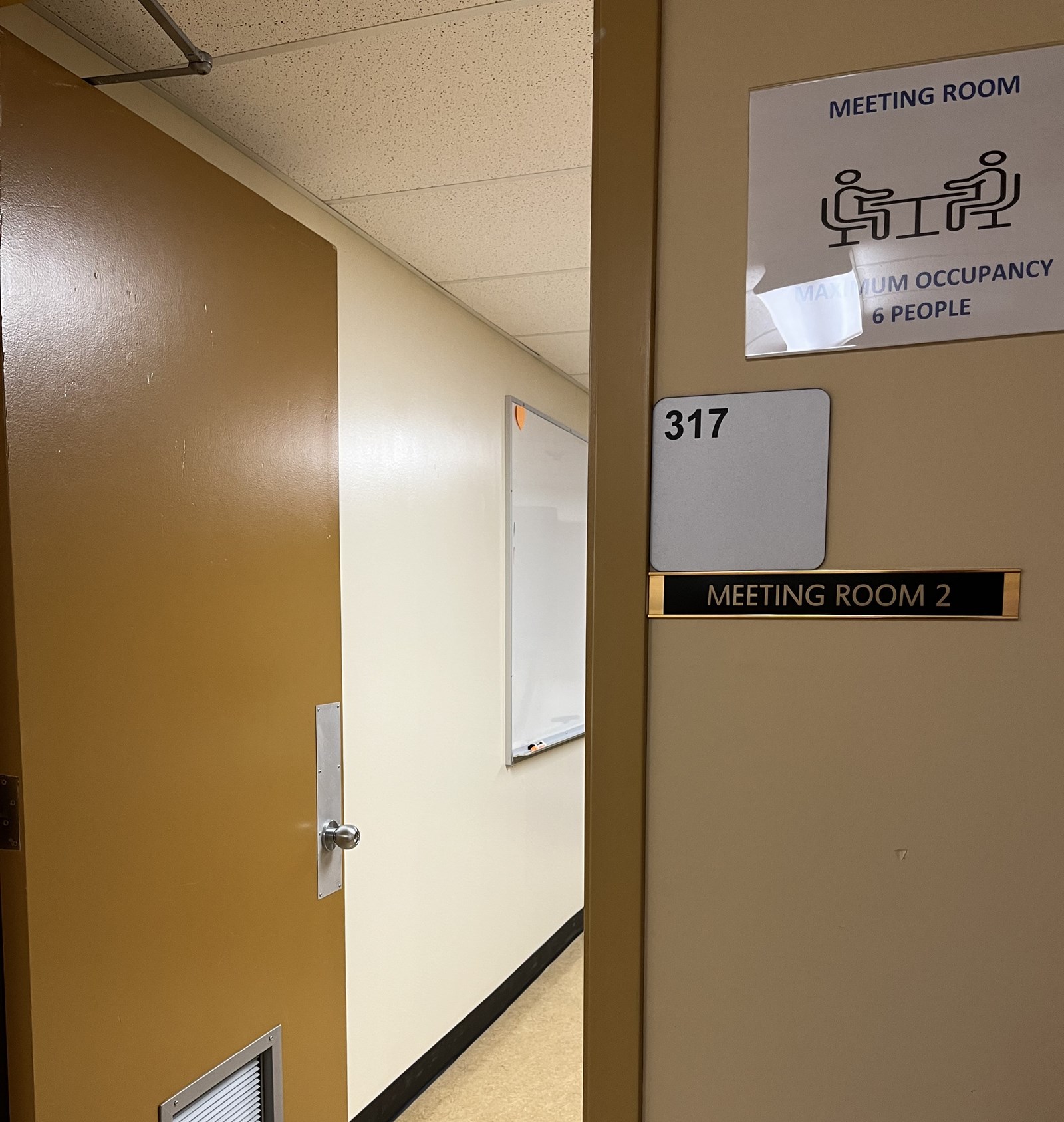 ---
PAC Provides Hot Turkey Dinner To Entire Student Body
Horse Lake Elementary
In an effort of epic proportion, the Horse Lake PAC and other volunteers provided the entire Horse Lake Elementary staff and student body with a hot and nutritious Turkey Dinner with all the fixings on December 13th, 2022. We took over the entire gymnasium and sat in family-style classes to share a welcoming experience for every member of our school community. Our thanks go out to the many volunteers that made this special event happen!
Thank you Murray Helmer for sharing.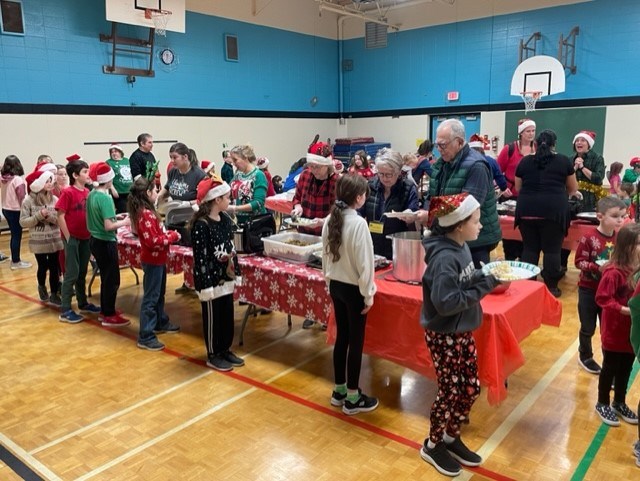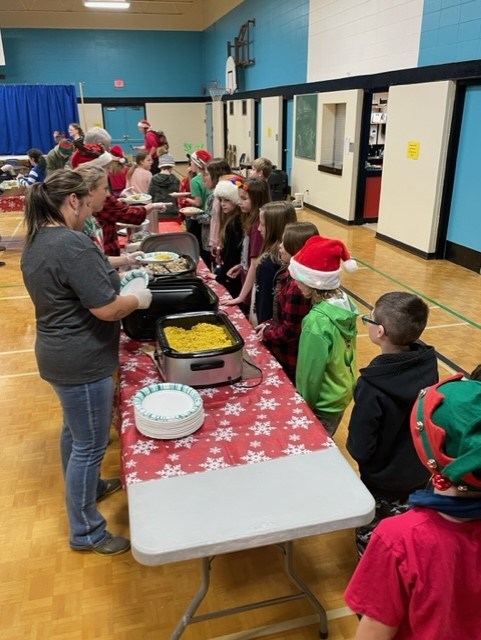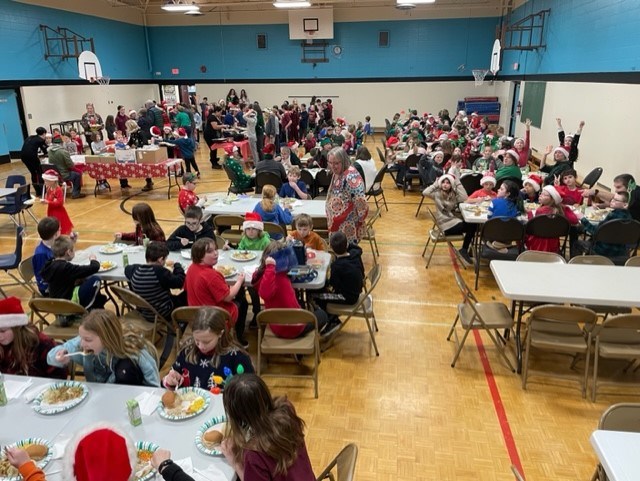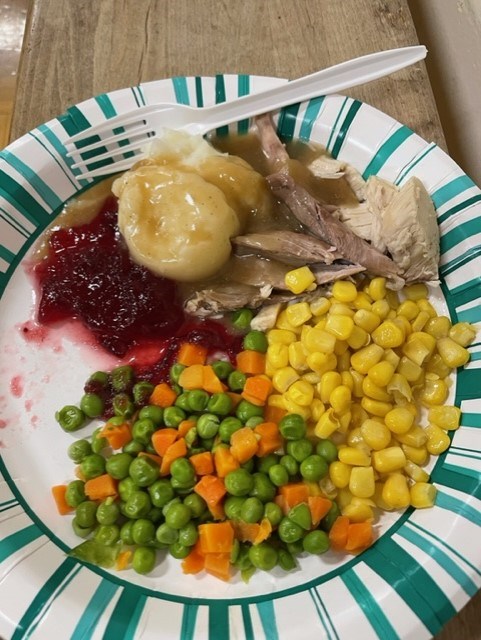 ---
Remembrance Day Assembly Collective Effort
Lake City Secondary
Lake City Secondary students filled the gym to pay respects to veterans and fallen soldiers. Our assembly was a solemn event hosted by several leadership students and featuring the school band, a solo performance of Travelling Soldier by Dallas Moe and a slide show prepared by our Film & TV class.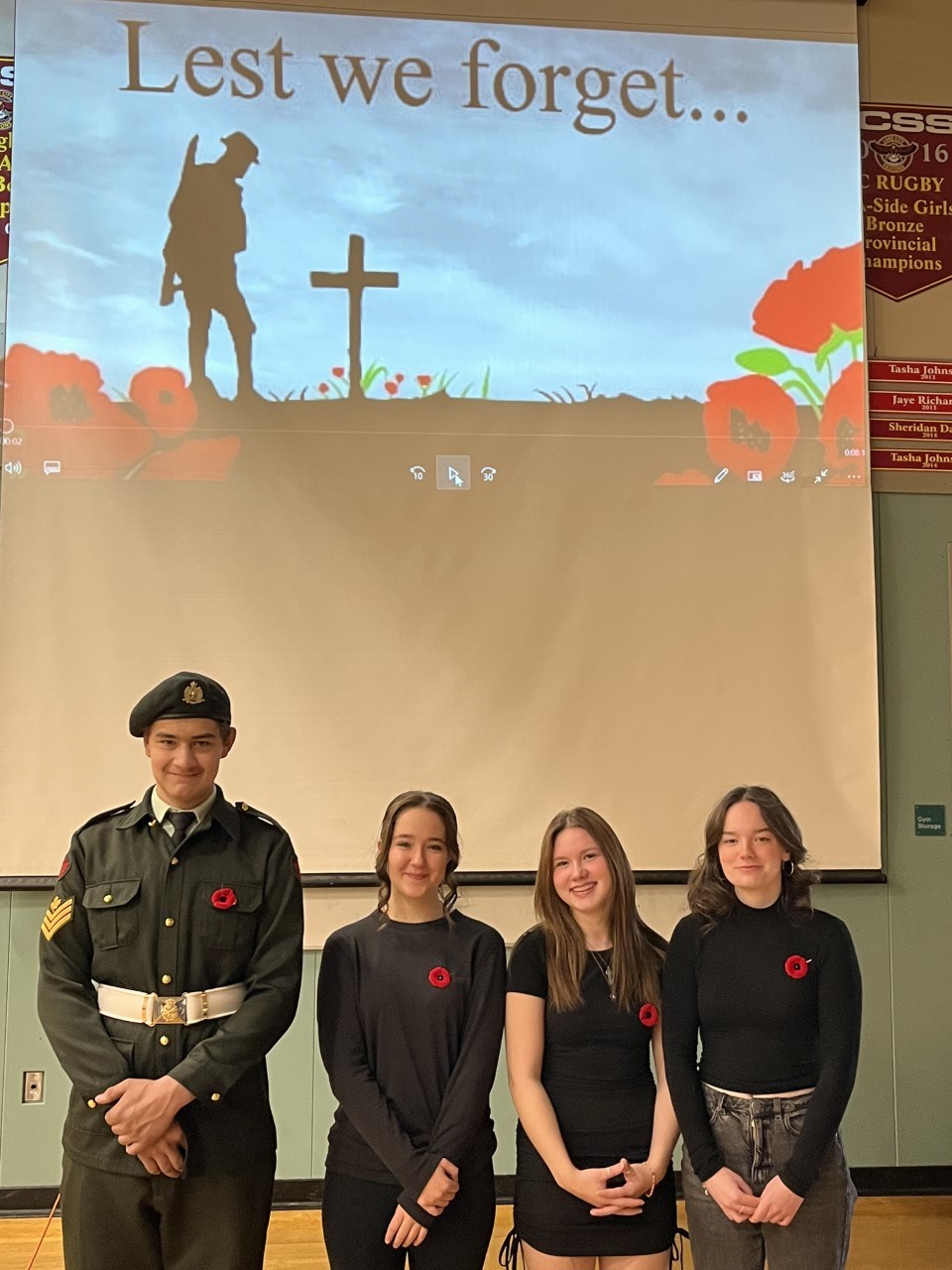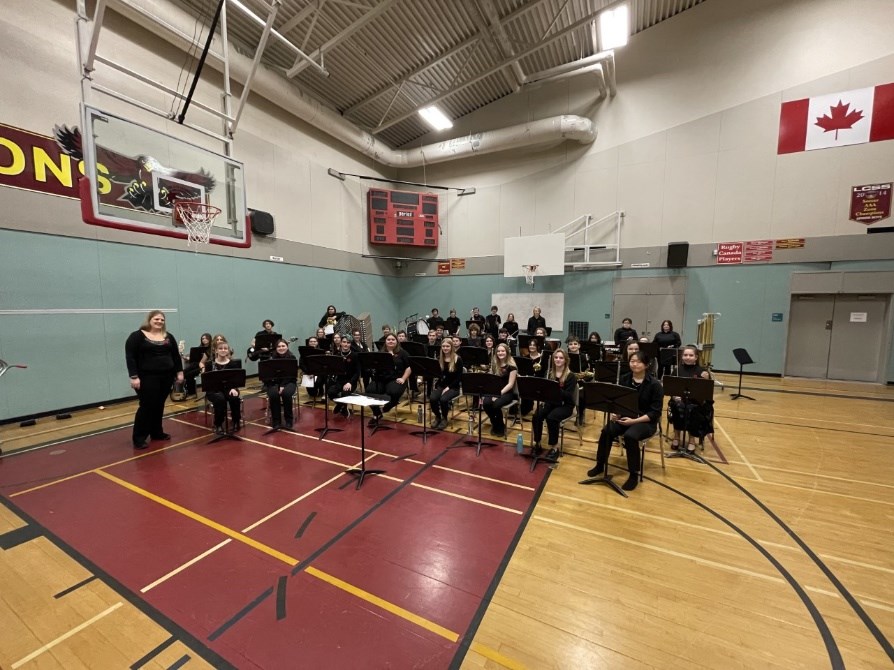 ---
Shipwreck - 100 Mile House
Early Learning - Ready, Set, Learn
On Saturday, June 10, 57 children and 54 adults participated in a number of pirate themed activities to promote family health and well-being by connecting with outdoor community spaces, even in the rain! Thank you to the community service providers from enhancing the experience for families: Metis Nation BC, Cedar Crest Society, BC Ambulance, Child Care Resource and Referral, and CRC Library.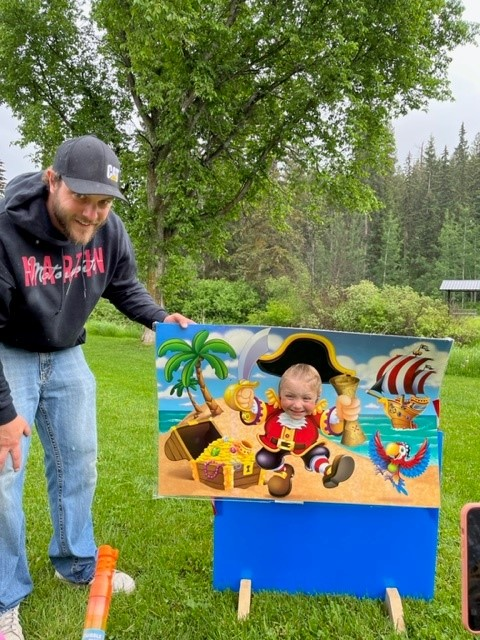 ---
Social Media Awareness and Online Safety
Columneetza Junior Secondary
Steven MacDonald from Safer Schools Together visited School District No 27 on Feb 21-23, 2023. Steven specializes in Social Media Awareness and Digital Threat Assessment and has worked for other technology industries in the areas of language analytics and artificial intelligence.
Steven spoke to Grades 7, 8 & 9 students at Lake City Secondary Columneetza Campus about staying safe online (who their "friends" are), how to navigate social media apps (privacy settings, strong passwords and using location services), the legal ramifications of worrisome online behaviour and cyberbullying and what information students should and should not be revealing online. Steven talked to students about the permanence of their posts and chats and ways to handle uncomfortable requests or interactions (sexting and sextortion). The presenter used humour to introduce sensitive topics that kept our students engaged and asking questions. It was great to hear students leaving the assembly saying, "Wow, I never knew that..." and "That was cool," and then watching students take out their cellphones to start changing the settings on their devices to become more protected online. Finally, Steven encouraged all students to use the online reporting tool ERASE, a QR code that can be found in classrooms around Columneetza.
Steven hosted a parent session in the LCSS WL Commons. He presented to Grade 10, 11 & 12 at the WL campus and then to the Grade 8-12s at PSO. He also held an "all staff" presentation both in person at PSO and online.
Thank you Hattie Darney for sharing.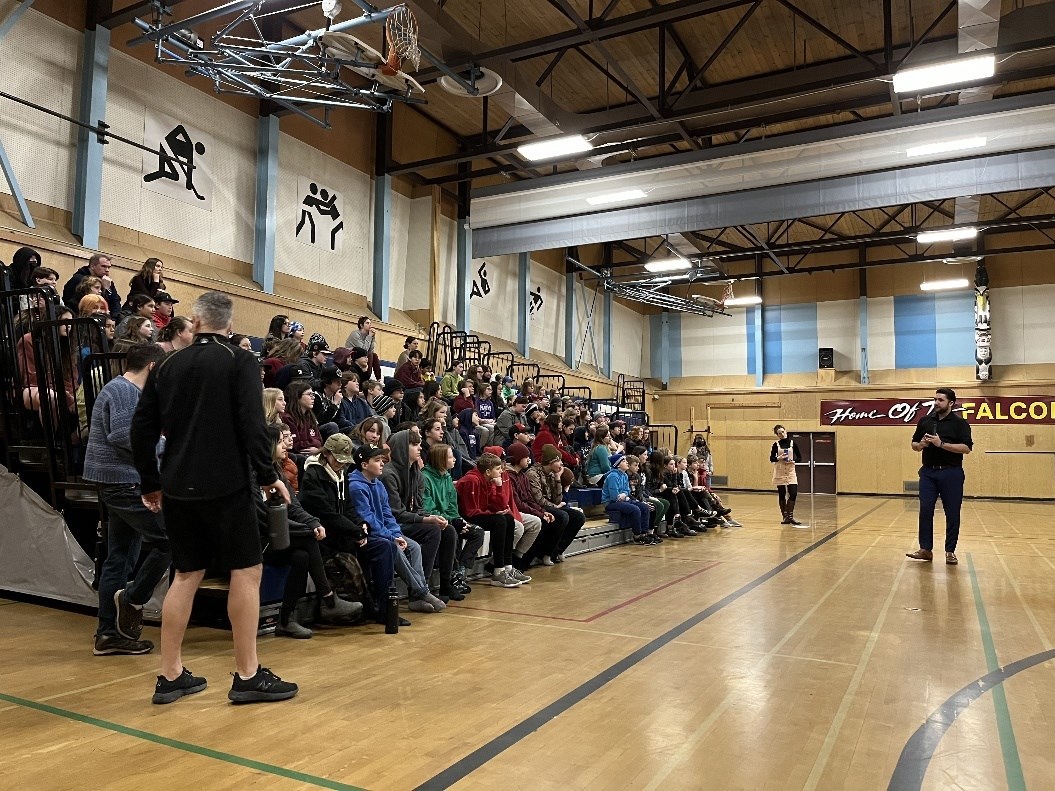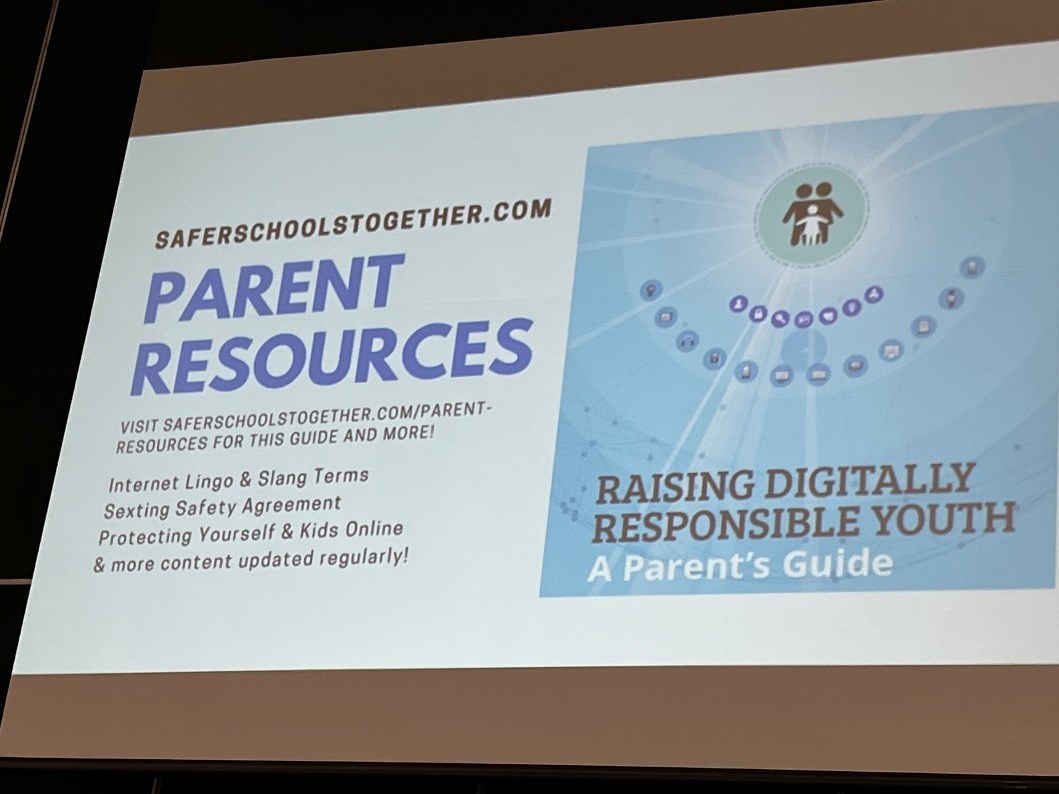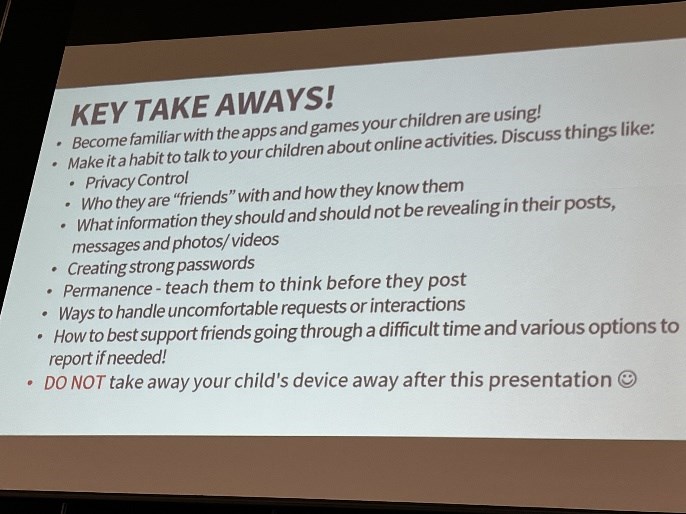 ---
Community Connections
Marie Sharpe Elementary
Being driven by the philosophy that "these are all our kids," teacher Kaarina Fichtner has created working relationships with many community groups such as Little Mukluks, Williams Lake Secondary, and Skyline Alternate. Here we see Mrs. Fichtner's grade 2/3 class buddy reading with Mr. William's group from Skyline. The engagement seen during these times together is amazing.
Thank you Kelly Glen for sharing.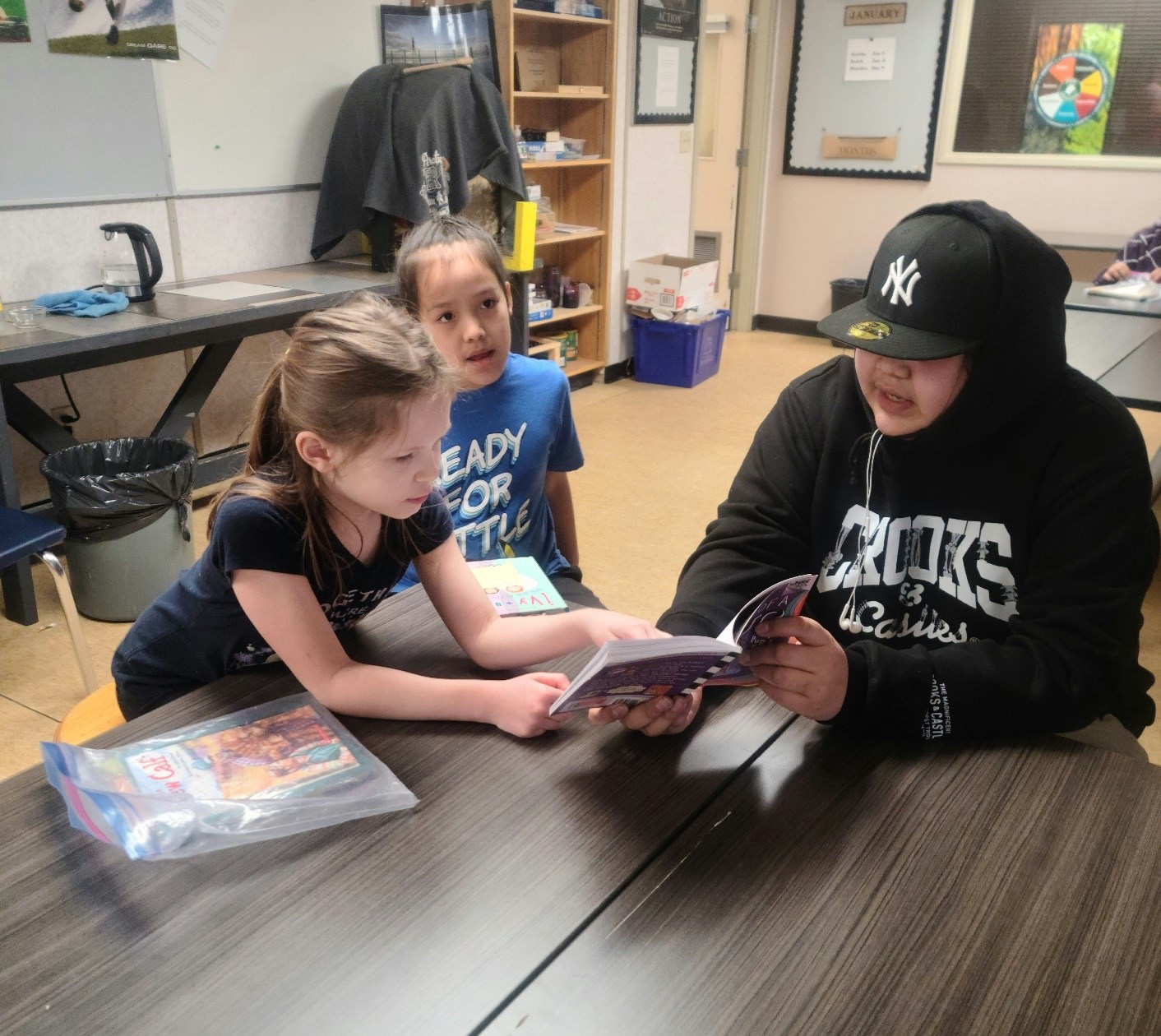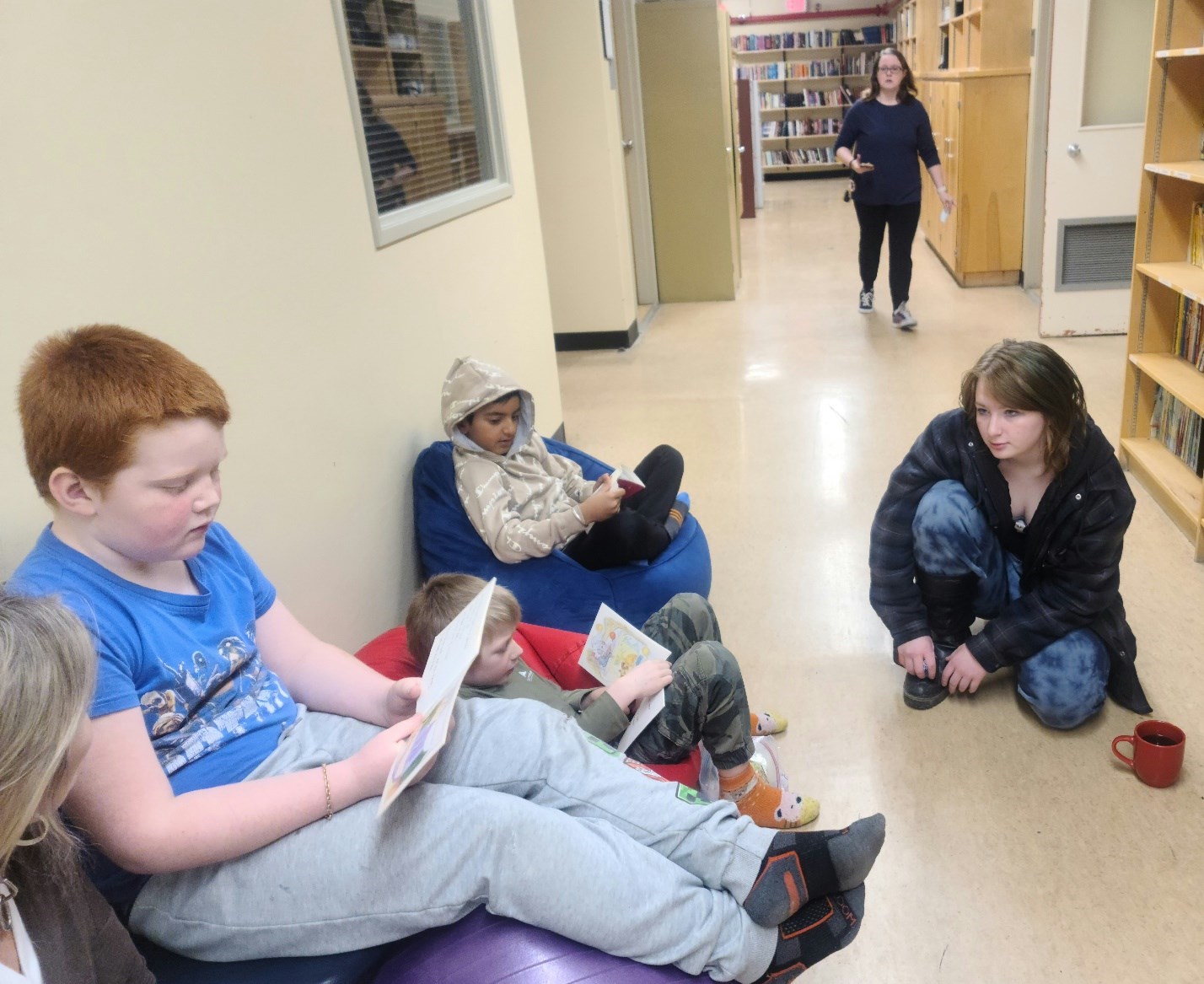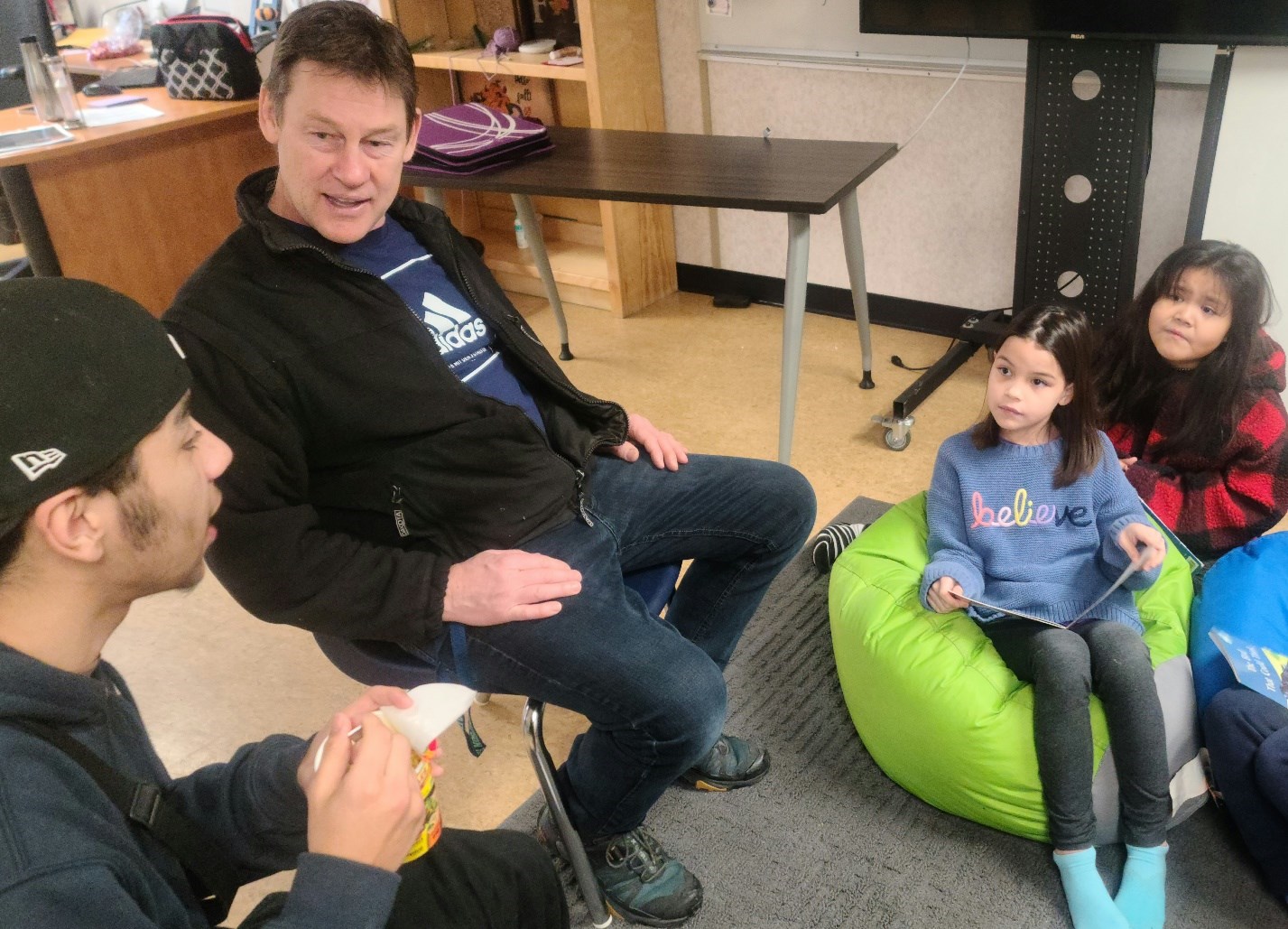 ---
2022 Fall 3 Year Old Round Up
Early Learning
Through "Ready, Set, Learn" funding, provided by the Ministry of Education, a "giddy-up" good time focused on 3-year-old development took place in Williams Lake on September 24 and in 100 Mile House on October 1st this year. A total of 144 family members engaged in fun activity stations. Learning resources and developmental information packages were distributed by 34 staff members participating from 21 different service agencies.
Thank you Beulah Munson for sharing.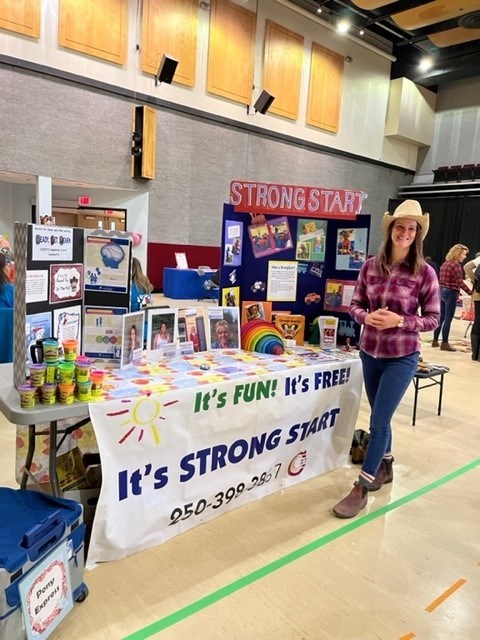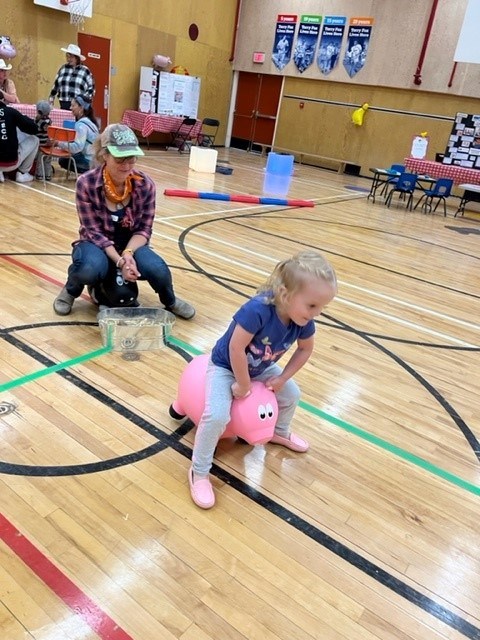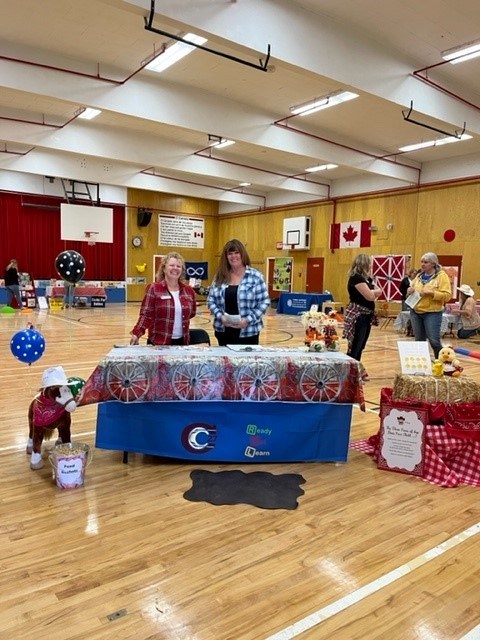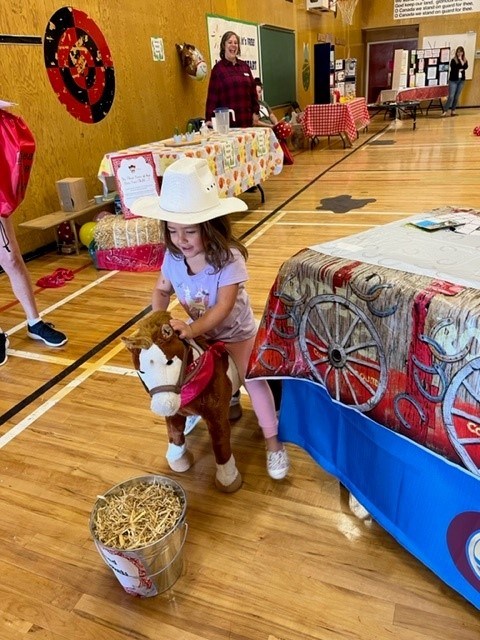 ---
Bike Recycling and Bike Bus
Cataline Elementary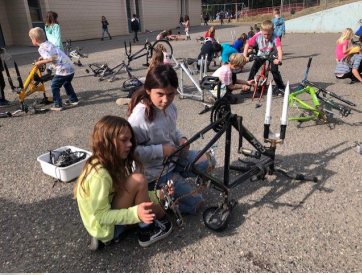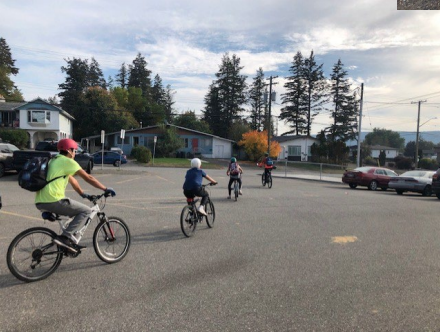 A fantastic two days with Mary Forbes and Denise Duchene sharing their bike Recycling program with Cataline students, K6. Each class had a time to explore deconstructing and reconstructing the bikes. Engagement was observed in all students with this excellent experiential hands-on learning opportunity.
Thanks you to a group of community volunteers organized by Denise Duschene, our students were given the opportunity to participate in the bike bus. Students were picked up at their home in the morning and joined the cyclists as they safely biked to school. Bike safety was taught after school before they cycled each student home safely. What an amazing community!
Thank you Yvonne Davis for sharing.
---
Cataline Connects With Students
Cataline Elementary
Every morning at Cataline, students, staff and parents meet on the lower field or around the school to have a shared morning walk. This time allows for adults to check in with students and students to check in with each other. Staff members have shared that this time in invaluable for building relationships with students and starting their day in a good way. This morning check in demonstrates our collective responsibility as every adult takes the time to meet students where they are and students are welcome to connect with any adult in the building. We continue to ensure our school is a place where students feel safe, loved, and cared for.
Thank you Tess Riley for sharing.
---
We Are In All This Together
Columneetza Junior Secondary
In Columneetza, we have been moving forward with full and meaningful inclusion for all our students. As an LST staff, we have been researching, promoting, building capacity and applying Shelley Moore's research in our school setting. Now, we have the opportunity to host Shelly in our school and continue to learn from her. This is an incredible step toward having our staff "Fully join the inclusion bus," as Shelly would say.
Thank you Alina Cameron for sharing!
---
Shadow Boxes
Big Lake Elementary
With the help of a community member and his wood working shop - students at Big Lake School built shadow box cases. These boxes will be secured to posts along the Big Lake Community Trail, which is next to the lake. Students and staff enjoy this trail daily during our morning walks and outdoor learning activities. Next year, students will fill the boxes with artwork, science, nature signage, stories etc and the community will be invited to walk the trail and enjoy the interpretive signage.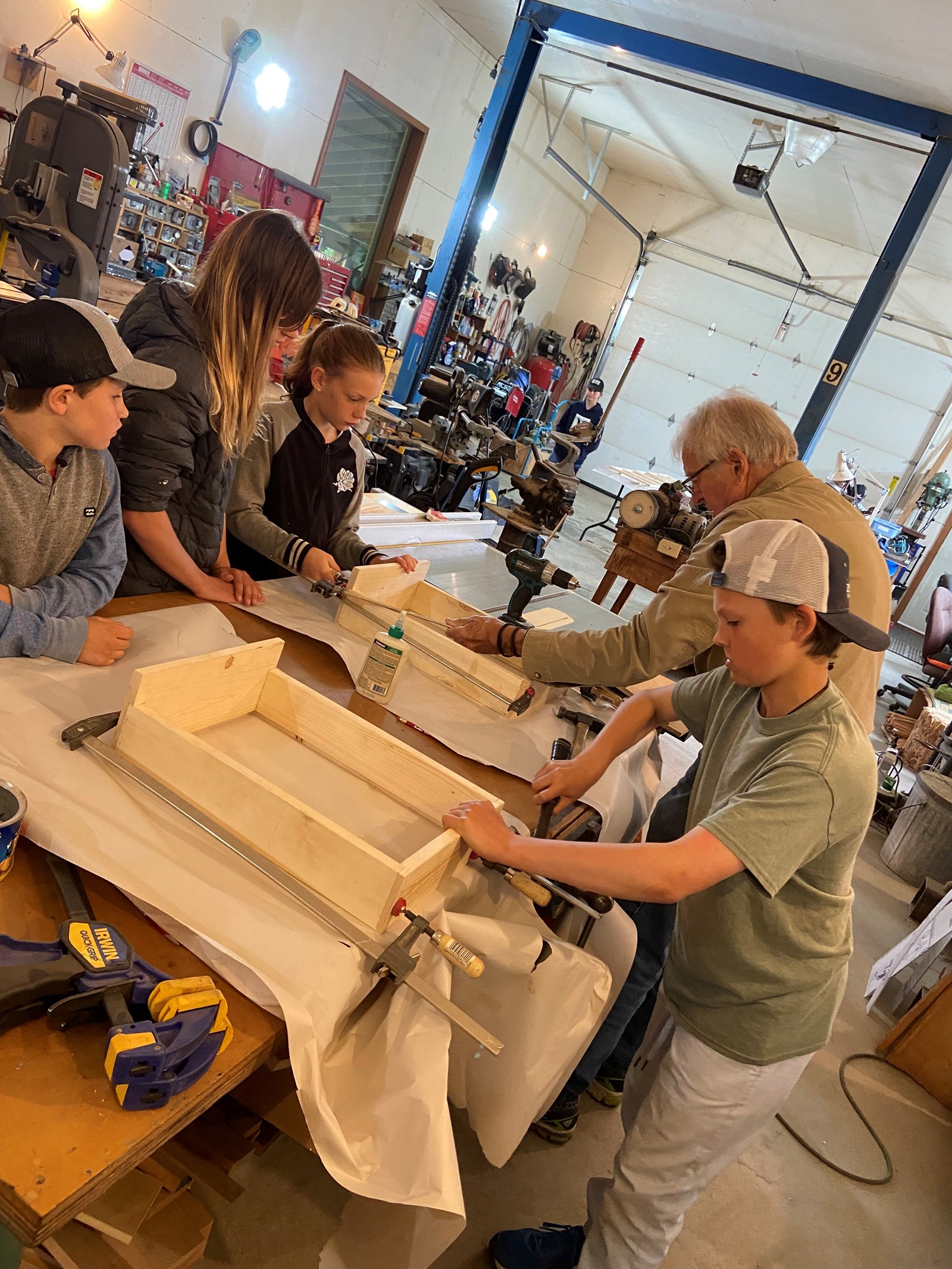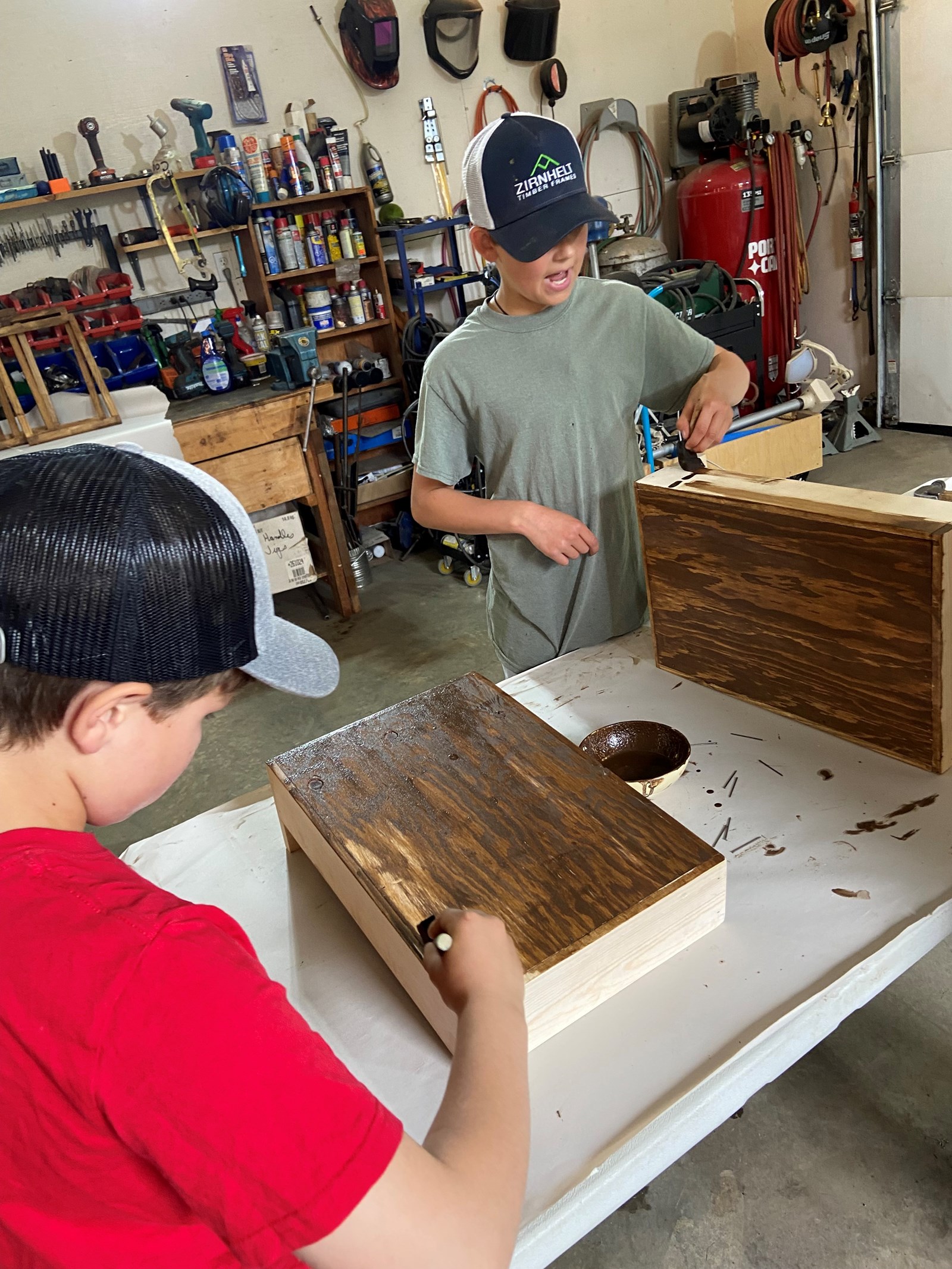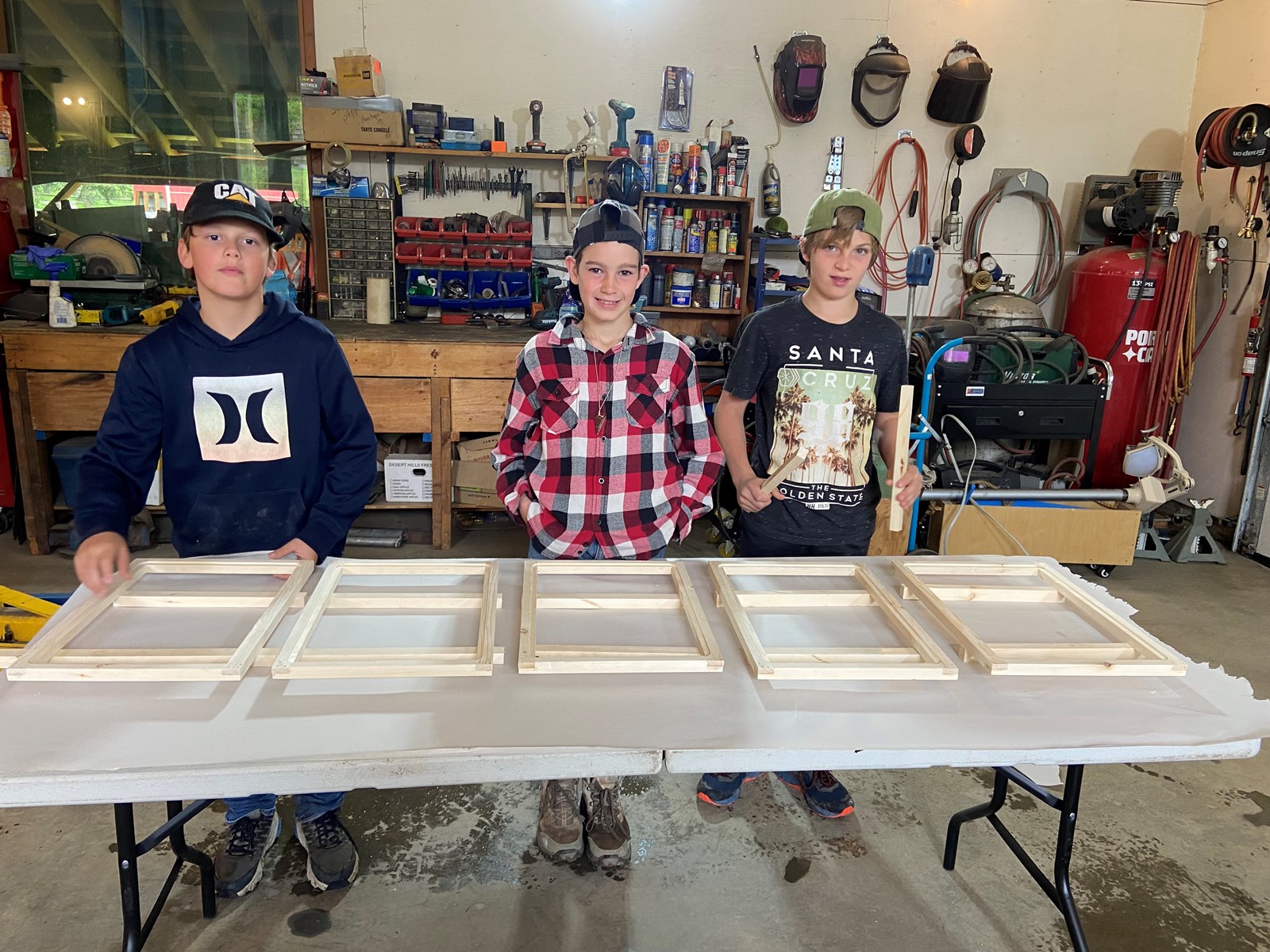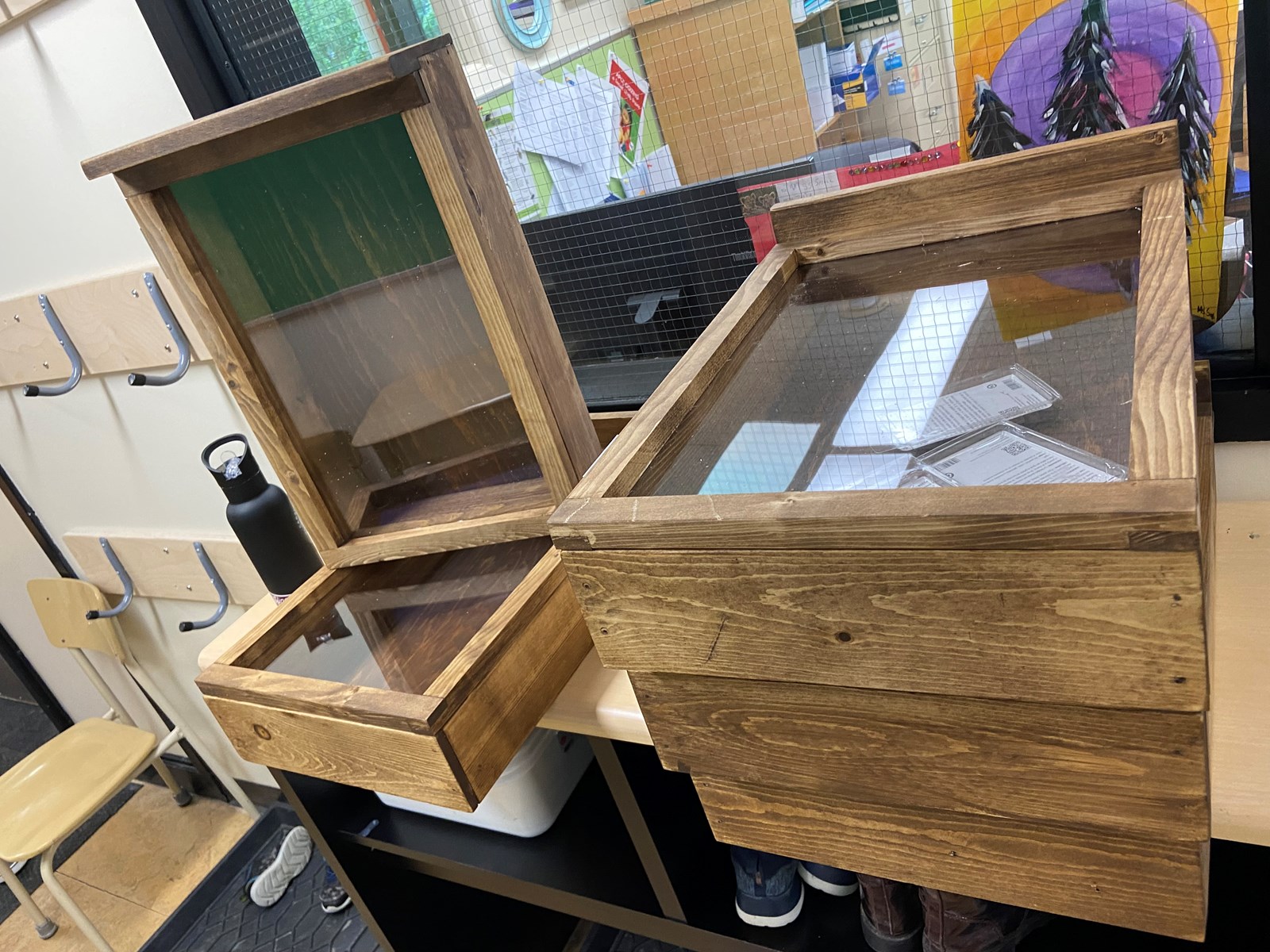 ---
Big Brothers & Big Sisters
100 Mile Elementary
100 Mile Elementary has had a strong and lasting relationship with Big Brothers & Big Sisters of the South Cariboo for many years now. The BB&BS coordinator works closely with the school principal to match elementary students with high school mentors. This year 7 students are fortunate to have been matched with mentors from PSO. The mentors and mentees learn and grow from each other, which creates an invaluable relationship that often last for years. The elementary students look forward to their time with their BB or BS, and actively engage in activities suited their interests and abilities. The program is designed to be flexible and work around both participants school schedule and course load. Typically, the PSO mentor comes down to the elementary school once a week during the school day to connect with their mentee. The program has such a positive influence that many of our elementary students become mentors themselves when they are in high school, as they recognize the power in widening the involvement of people and supports and how intentional action can make all the difference in the world.
---
Thanks to a Special Bus Driver
Tatla Lake Elementary
Tatla School thanks multi-talented bus driver Zoe for volunteering to teach students how to make pom pom chicks for Easter! We love how our staff works collaboratively to support students.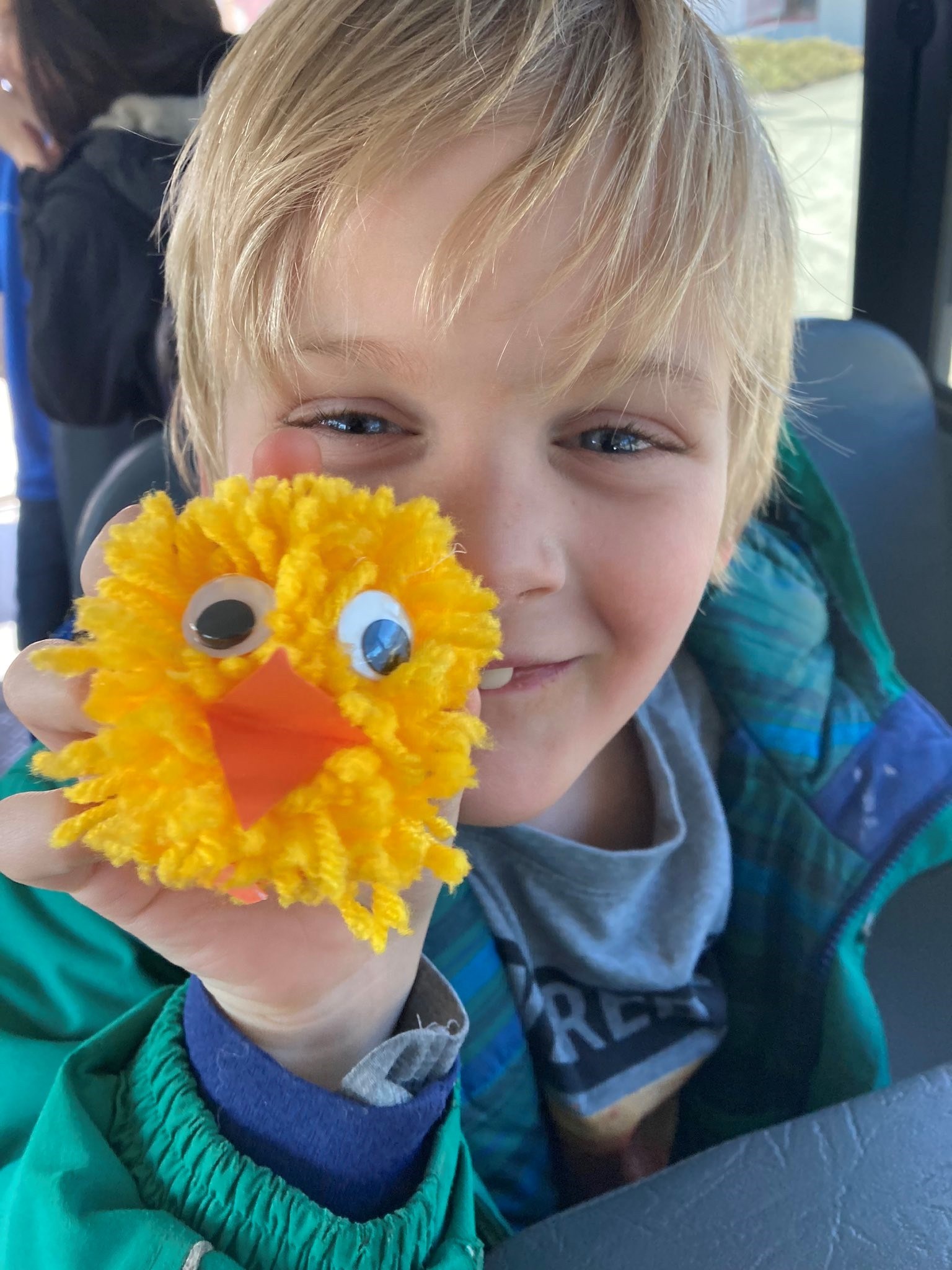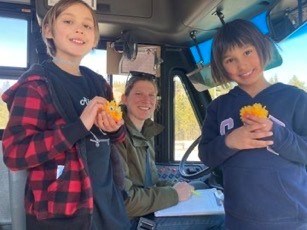 ---
Cooking for Better Health
Marie Sharpe Elementary
Today Mrs. Fichtner and Mrs. Davis' class at Marie Sharpe made tacos using the school's Comprehensive School Health grant to cook for better health. Students are responsible for preparing and cleaning up the meals they prepare. They are learning valuable skills such as using a knife safely and preparing healthy snacks with a variety of foods. Thank you to School District 27 for the grant!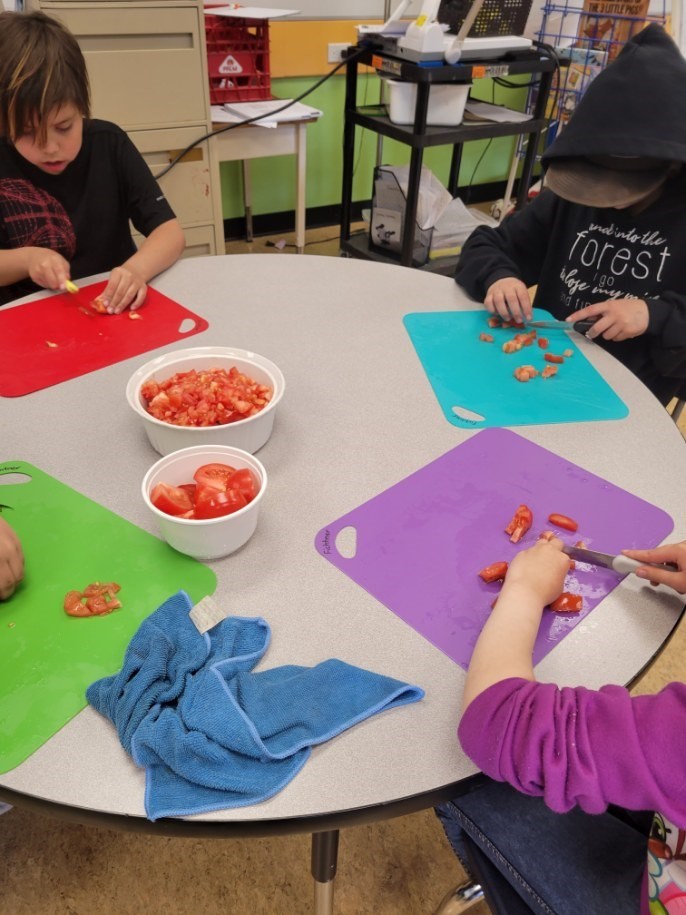 ---
Ready, Set, Learn
Early Learning
As part of the SD 27 commitment to community engagement and health education through Ready, Set, Learn funding provided by the Ministry of Education, Beulah Munson, Early Learning Coordinator, took part in the health fairs in Xeni Gwent'in and Yunesit'in. During the events, families moved through various stations and had the opportunity to have eyes, teeth, hearing and speech and language development conversations with service providers. SD27 provided information and resources to support play-based learning and early literacy opportunities.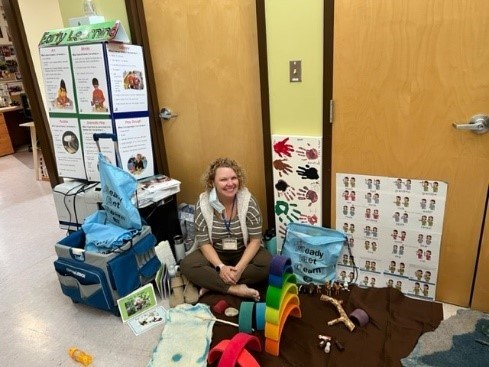 ---
Be Kind
Nesika Elementary
Our Nesika noon hour supervisors work hard to keep kids safe and also spread some fun! They think of all kinds of ways to keep kids moving, engaged and having a good time during lunch break. Today they're modeling our new staff toques with an important message BE KIND! Thanks ladies for all you do.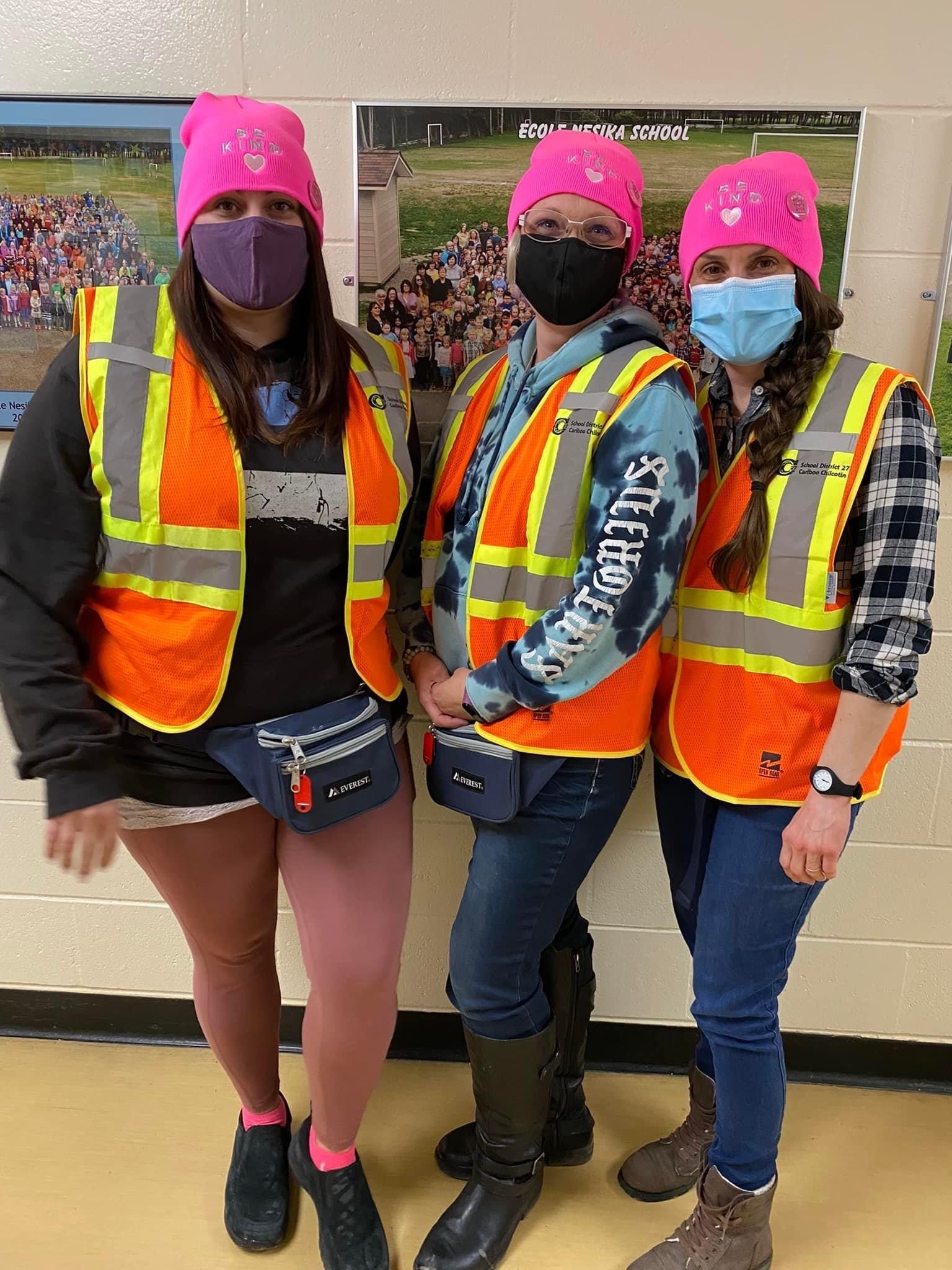 ---
Mary Forbes
Marie Sharpe Elementary
The amazing Mary Forbes has been at Marie Sharpe presenting lots of great lessons to our students. Here she is showing how big a shark can be to our kindergarten class. She presented to all our classes this week about bears. We are loving having in Mary and all her knowledge to help support our students here at Maire Sharpe.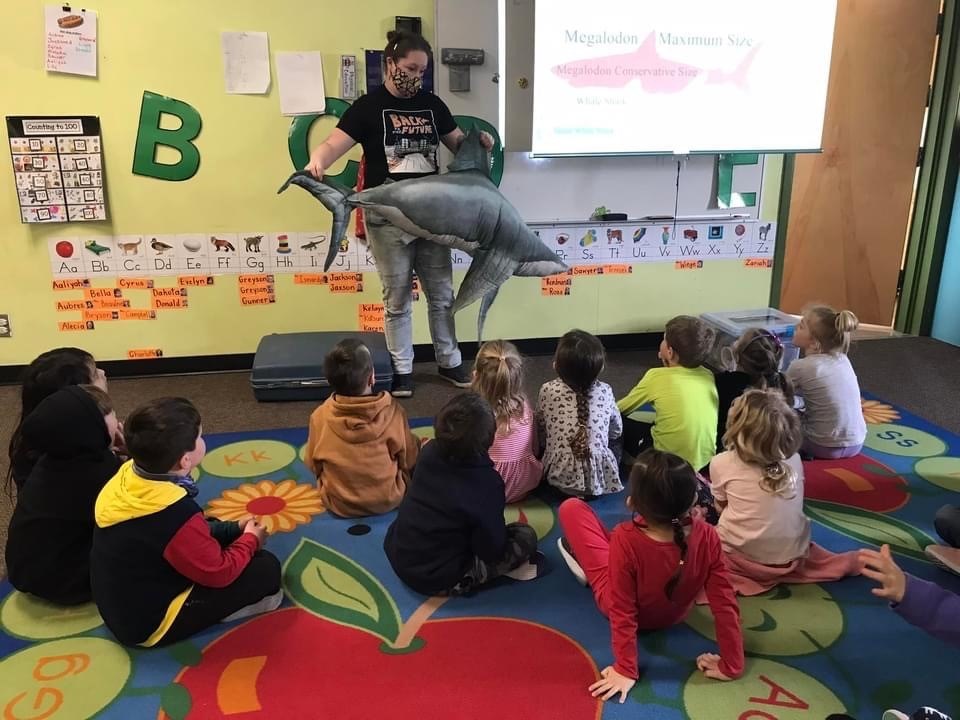 ---
Williams Lake First Nation Wellness Fair
Indigenous Education Deptartment
SD27 was pleased to have a booth at WLFN Wellness Fair on March 31. It was wonderful to have children, families, and community partners together face to face.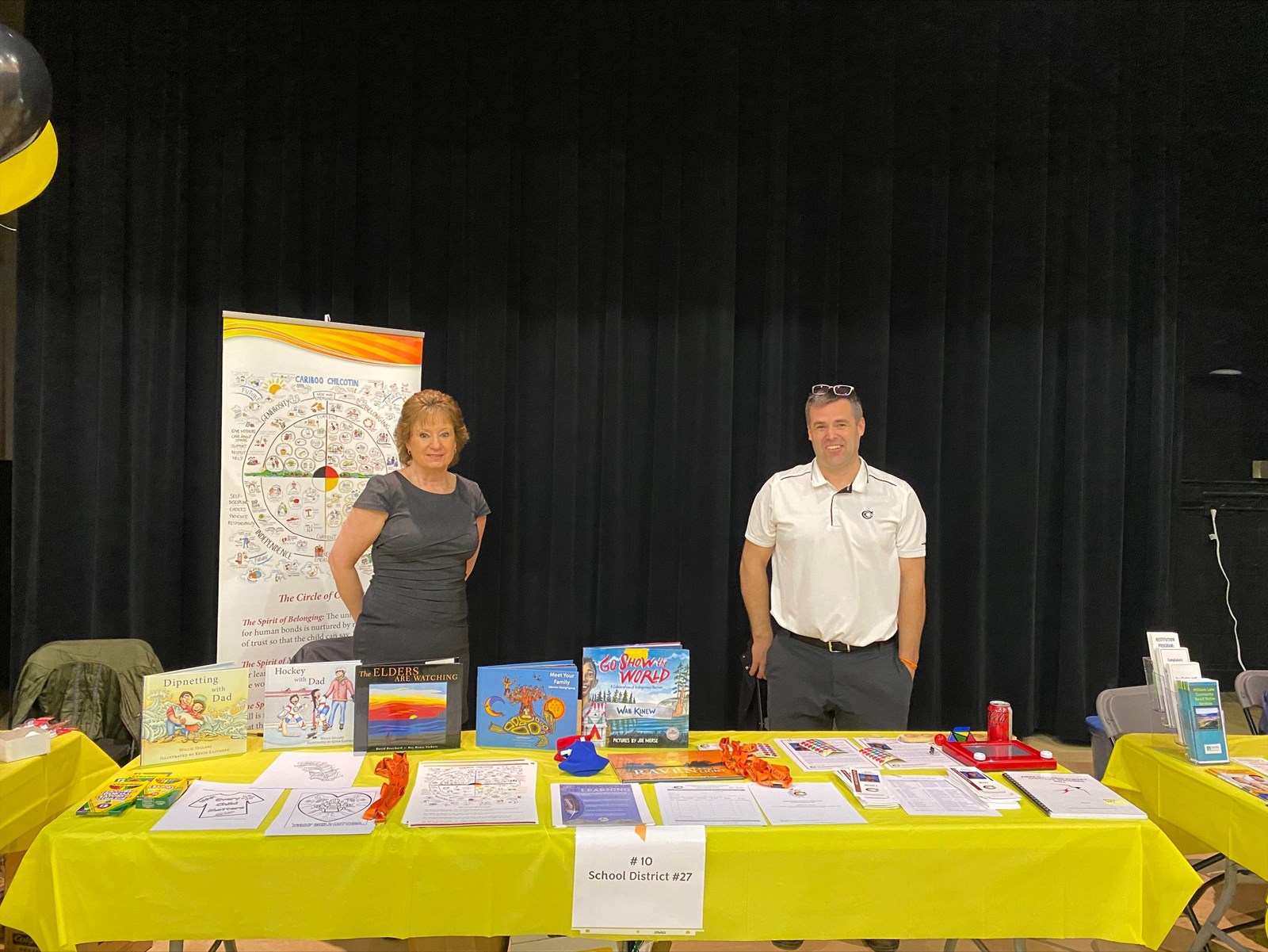 ---
Breakfast Club of Canada
Lake City Secondary
Funding from the Breakfast Club of Canada! LCSS WL Campus has received a special Covid 19 funding grant from the Breakfast Club of Canada in the sum of $16 000. This funding will allow for us to update our site-based dishwasher system for special events, purchase an ice machine to make fruit smoothies and provide more food options for our morning breakfast and student food security program.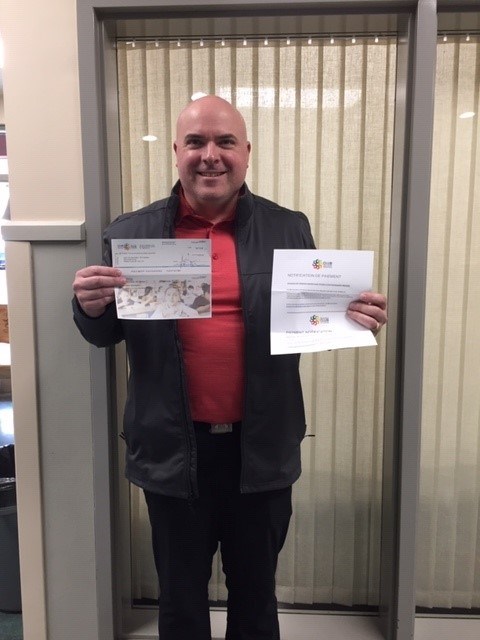 ---
Nonviolent Crisis Intervention Training
District Pro-D
Nonviolent Crisis Intervention Training provides educators with the skills to safely recognize and respond to everyday crisis situations. SD 27 provides training opportunities three times per year. All education staff are welcome to participate in the training. The next training for the 2021-2022 school year is scheduled for April 21, 2022.

---
BabyFest
Early Learning
Ready, Set, Learn - On November 27th, 2021, Beulah Munson, Early Learning Coordinator, represented SD#27 at BabyFest, a community event put on by members of the Early Years Development Network in Williams Lake. Providing an opportunity for families to connect with community service providers and programs, this year's event was organized by the Woman's Contact Society. The event was a great success with 72 adults, 46 children (ages 0-2), and 18 service and program providers in attendance.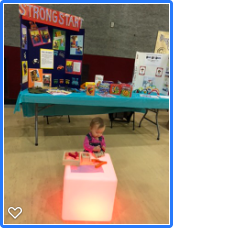 ---
Student Success
Lake City Secondary
Terry Duff (left) from Lake City Secondary School and Kelly Carson from Chemo RV pose in front of the new equipment trailer for the LCSS Hockey Program. Chemo RV generously donated the trailer to the Hockey Program which will transport student gear back and forth from the school to Cariboo Memorial Complex and Total Ice. A huge thank you to Chemo RV for this amazing donation!!!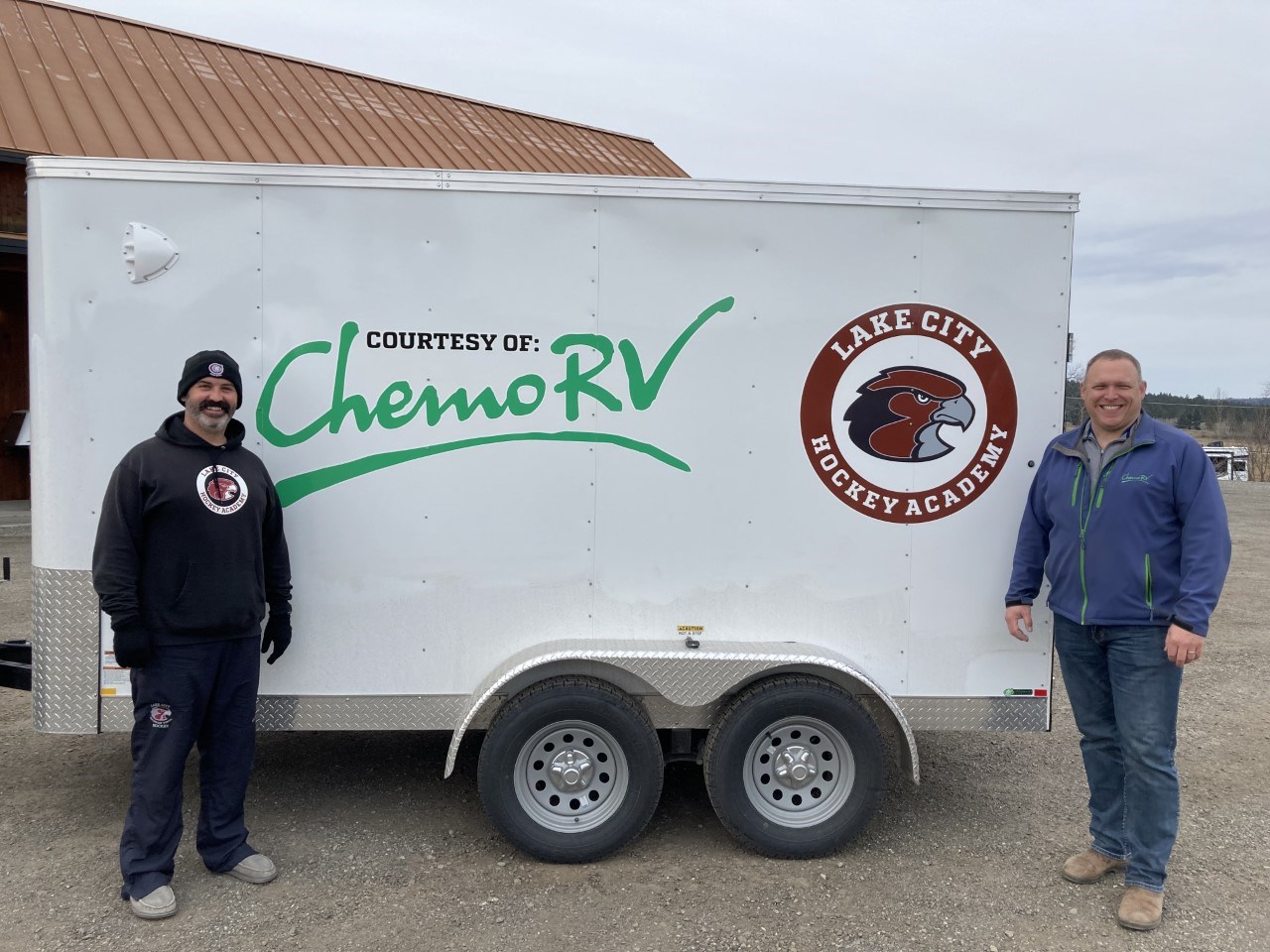 ---
3-Year Old Round-Up
Early Learning
3-Year Old Round-Up took place in Williams Lake on September 25th and in 100 Mile House on November 6th. Through Ready, Set, Learn funding provided by the Ministry of Education, families engage in activity stations set up and facilitated by Early Year Educators and community service providers.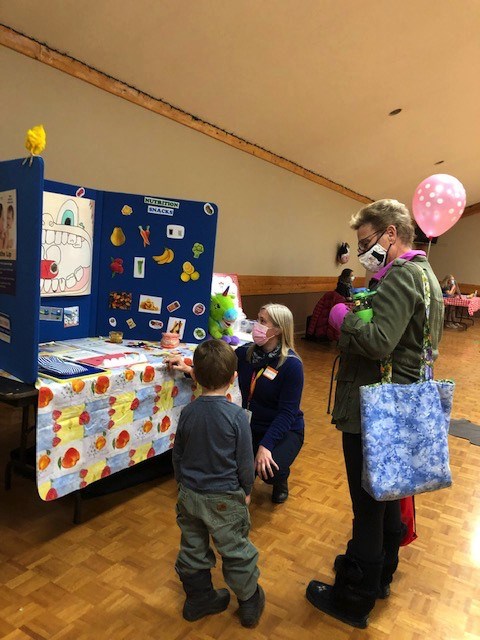 ---
Appliances
Tatla Lake Elementary & Junior Secondary School
Tatla Lake Elementary & Junior Secondary School is privileged to have the support of their Parent Advisory Council. Recently the Tatla Lake PAC provided a new washing machine, dryer, stove, and dishwasher to upgrade our kitchen. In addition, the PAC purchased new pots, pans, meat thermometers, scales, and other tools to support our breakfast program and our Home Economics class.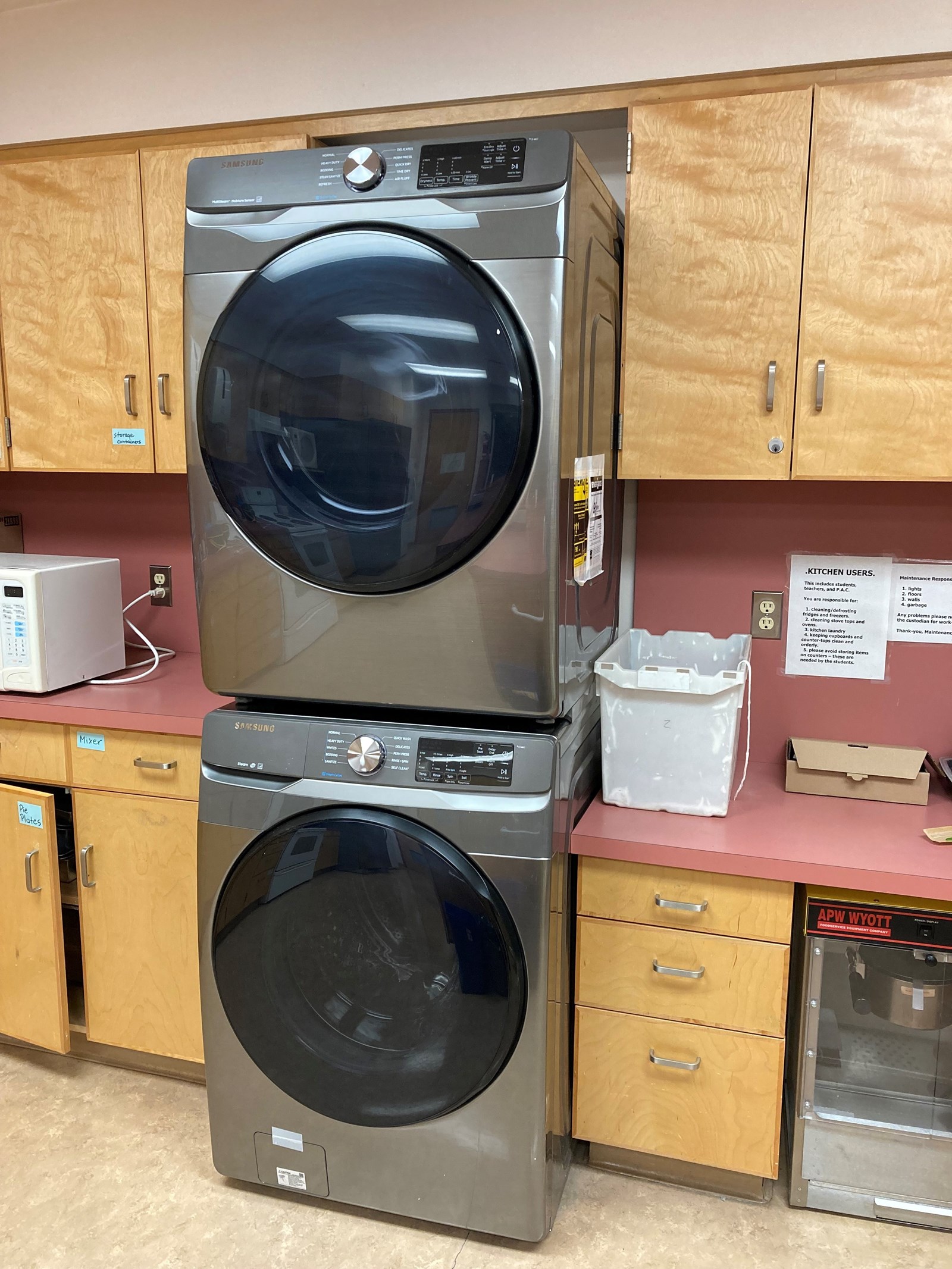 ---
Thank you
District-wide Appreciation
Teacher Allison Bos shared this photo of cookies (and apples) that were sent to staff of SD27 to thank them for their work to support students, especially during a challenging time.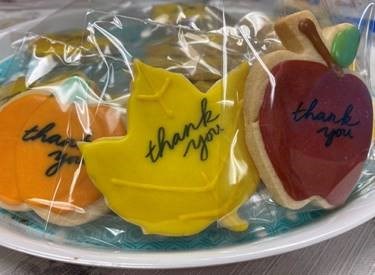 ---
Partnering for Pumpkin Fun
Nesika Elementary
Students, parents and community partners worked together to make pumpkin patch dreams come true. PAC and FreshCo provided 350 pumpkins which were delivered on a flatbed by Home Hardware. All parents and sixth graders spread them through the playground and forest in a team effort! Here happy students are dragging the biggest pumpkins they could find home.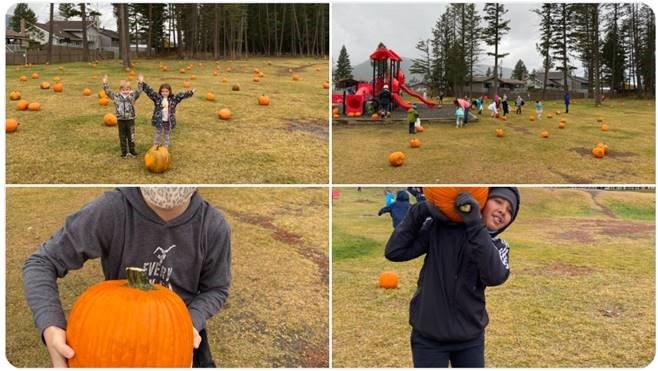 ---
Learning About Bus Safety from the Experts
Nesika Elementary
Nesika sends a big THANK YOU to SD27 Transportation (Drivers Gayle and Karen!) for coming to the school to walk through bus safety with our primary students. Merci!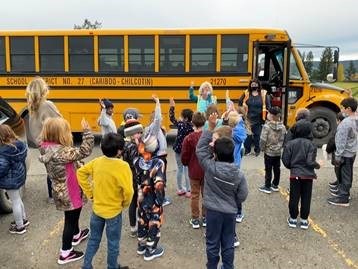 ---
Reflecting on First People's Principles of Learning and Collective Responsibility
Tatla Lake Elementary
Kimberley Ikebuchi, principal of Tatla School, shared this image from the Oct 22, 2021 Non-Instructional Day session led by district First Nation curriculum teacher Dancing Water Sandy. Kimberley said she "Enjoyed the opportunity to pause, reflect, and learn how to make rattles today with Dancing Water. A meaningful opportunity to intentionally implement the First People's Principles of Learning and reaffirm the importance of collective responsibility."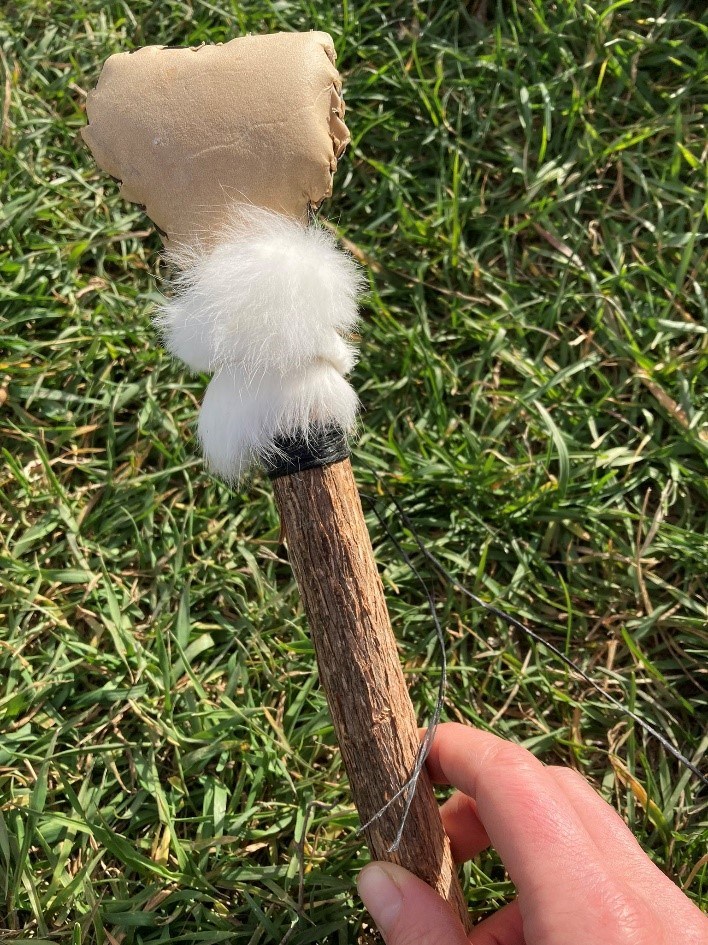 ---
Monique Gray Smith District Welcome Message
District Pro-D
Monique Gray Smith addressed the full staff of SD 27 with a video message on District Day. She spoke to the book Speaking Our Truth which was gifted to each staff member to invite them to begin or continue their personal journey of Truth and Reconciliation. She introduced her online course The Ripple Effect of Resiliency which is being made available to all SD 27 staff to support understanding history, trauma, culture and resilience and how they influence us in ways we may or may not be aware of.